Milestone Reunions
On
19 Jun, 2013
By
admin
0 Comments
Every reunion year at Whittier College is a special one. More recently, the 25th and 50th reunion classes have formed significant class gift campaigns by striving for participation and dollar goals that reflect the magnitude of their reunion celebrations.
Class of 1963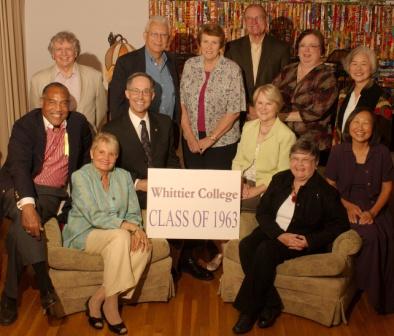 Let's celebrate! It's been 50 years since we graduated from Whittier College, and we hope you will come back for our 50th Reunion and Homecoming activities. Whittier Weekend is a special time to reunite with classmates and friends – it provides opportunities for catching up, reminiscing about old times, and getting a glimpse of the current campus and student life.
Here is what we have planned for the Class of '63 :
Golden Anniversary Club Induction Luncheon, October 18
Reunion Homecoming Tailgate Party (Memorial Stadium Parking Lot), October 19
Class of 1963 Reunion Dinner (President's House), October 19
Additional activities are planned by the College and will be in the Whittier Weekend 2013 brochure, mailed this summer.
To make your 50th Class Reunion Gift, click here.
Class of 1988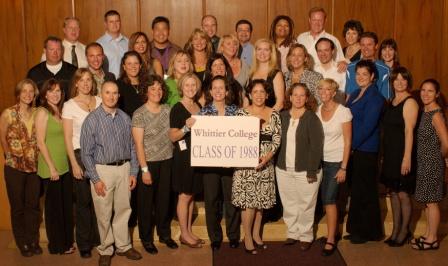 Join us for a night of fun, beginning with a special 25th & Friends dinner, and rolling on to the the "WC Jam" with D.J. Richard Blade of KROQ fame! In addition to our class activities, there will be reunions of both the Quaker Campus staff (it's centennial year!) and the Whittier College Choir. This will be a Whittier Weekend for the records – you don't want to miss it! Look for your  Whittier Weekend 2013 schedule in the mail soon – we look forward to seeing you in October!
Class of 1988 Reunion Committee:
Leda (Mintzer) Muller, Kelli (Hokanson) Jones, Esq., Randall Davidson, Kwan Lee, Julie Rytand, Sarah Jamison, Kevin Burke, Michelle Cervantes, Nina (D'Anna) Santo,
Karen Wright, Damon Hess, Steve Sather, & Mike Boswell '89