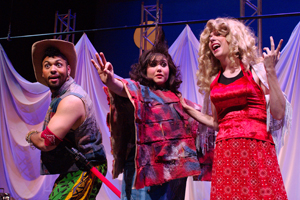 The Department of Theatre & Communication Arts offers students the opportunity to participate in a variety of clubs and organizations that promote academic and professional growth, and, more importantly, connect students to peers who want to have fun and build upon their passions.
Recognized student clubs and organizations affiliated with the department are listed below:
Whittier College Improvisation and Sketch Comedy Club
The first Whittier College Improv and Sketch Comedy Club was founded in September 2009. Since then, the club has worked to allow members a safe space to express themselves through performing original skits and releasing stress through laughter. All students are welcome and are able to submit their original sketches. For more information about the club, contact improvisation@poets.whittier.edu.
Video Production Studios (VPS)
Video Production Studios is for people who are interested in the main aspects of video production. VPS works together to make videos and plan events like the annual Whittier College Film Festival. For more information, please contact video@poets.whittier.edu.