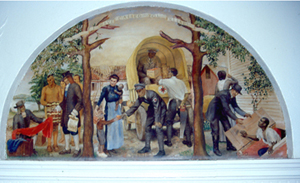 Quiet and intimate, Wardman Hall houses the Whittier Scholars Program and classrooms.
Wardman first opened in 1924 through the generosity of Aubrey Wardman, a Whittier area pioneer of the oil and telephone industries during the early part of the twentieth century who also served on the Whittier College board of trustees. 
The building was once the residence of Harry Nerhood, an outstanding faculty member in whose name an annual award is given to a faculty member in recognition of extraordinary teaching abilities.
The fireplace mantle in the interior lounge of Wardman includes an historic mural depicting the work of the Society of Friends, the religious denomination that founded Whittier College. Painted by Richard Harris '34, its central portion depicts Quaker relief work in France during World War I, flanked by two additional scenes showing William Penn with the Indians and Levi Coffin with a runaway slave.