Location:
Ruth B. Shannon Center for the Performing Arts
Event Description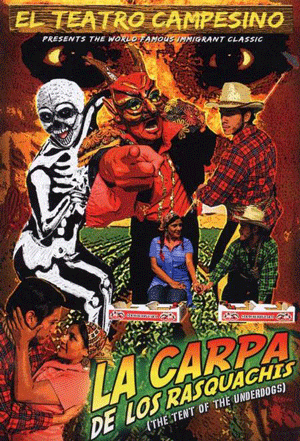 El Teatro Campesino
presents
"La Carpa de los Rasquachis"
("The Tent of the Underdogs")
Written by Luis Valdez ("Zoot Suit," "La Bamba," etc.)
Directed by Christy Sandoval 
Founded in 1965 by Luis Valdez, El Teatro Campesino was initially the cultural wing of the United Farm Workers union in California's central valley. With a pointed political mission, ETC performed their actos in the fields, agitprop improvisations communicated eloquently with the workers, who could neither read nor write, but recognized themselves and their values in the actors. By 1970 ETC had gained an international reputation, with major contributions to Chicano culture in the U.S. and to the development and expansion of the boundaries of theater everywhere. Theirs is a popular theater rooted in the American streets, early California history, Mayan/Aztec mythology and Mexican folklore and spiritualism, all geared toward expression of social, political and cultural perceptions. 
To learn more, visit the Ruth B. Shannon Center for the Performing Arts. 
Contact:
Ruth B. Shannon Center for the Performing Arts, 562.907.4203