Location:
Ruth B. Shannon Center for the Performing Arts
Event Description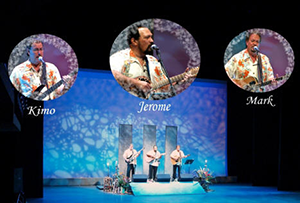 For 40 years, the Makaha Sons have committed themselves to perpetuating traditional Hawaiian music throughout Hawai'i and around the globe. In 1976 the Makaha Sons of Ni'ihau began its professional career with five members as an opening act in a small nightclub known as "Uptown Yokos."
Throughout the years the group has reorganized several times; from members seeking other professional careers, to the untimely passing of two key members of the original group. Eventually, the Makaha Sons evolved into a trio, consisting of members Louis "Moon" Kauakahi on 6-string guitar, John Koko on upright acoustic bass and Jerome Koko on 12-string guitar. After the passing of John Koko in 2012 and the retirement of Louis "Moon" Kauakahi in 2014, the group has started afresh.
To learn more, visit the Ruth B. Shannon Center for the Performing Arts website.
Contact:
Ruth B. Shannon Center for the Performing Arts, 562.907.4203