The Center For Engagement with Communities annually hosts notable individuals, experts in their respective field, as visiting CEC Fellows.
During a week-long residency, visiting fellows will typically give a large lecture, participate as a guest instructor in Whittier College classrooms, meet with local community partners and visit local high schools.
Past CEC Fellows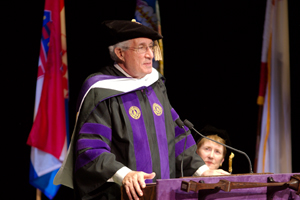 Dr. Freeman A. Hrabowski
Dr. Freeman A. Hrabowski, President of the University of Maryland, Baltimore County (UMBC), spoke to an audience of faculty, students, and city leaders on "Holding Fast to Dreams: Creating a Climate of Success for all Students" at Whittier College on February 23, 2015. Dr. Hrabowski discussed innovative initiatives implemented at UMBC in order to create a culture embracing academic innovation and inclusive excellence. Dr. Hrabowski focused on issues of diversity and innovation in STEM fields.
Dr. Hrabowski spent the following day visiting with small groups of students from Whittier College and local high schools as well as faculty from Whittier College and teachers from the surrounding area. These intimate conversations allowed community members to discuss in a wide array of topics with Dr. Hrabowski.
Richard Solomon
Richard Solomon, former U.S. Ambassador and president of the United States Institute of Peace, gave the keynote speech at the 2012 Whittier College New Student Convocation, "Be a Change Agent! Lead Us Into New Worlds." As an expert on world peace, Solomon shared his insights into the world that college students will inherit and the role that they should play in engaging and leading positive change. Dr. Solomon's visit was co-sponsored by Whittier College's Office of the President and the Nixon Library Foundation.
Linda Biehl '65
Alumna Linda Biehl '65, founder of the Amy Biehl Foundation, was the keynote speaker at the 2011 Whittier College New Student Convocation. Biehl spoke about her philanthropic work in South Africa and encouraged Whittier students to commit themselves to service and to the protection and furthering of human rights. She also was the guest speaker at a dinner event for invited community partners, faculty and students. In 1993, Biehl's daughter Amy was killed in post-apartheid South Africa while contributing to the development of civil rights and civil society. Biehl and her late husband Peter founded the Amy Biehl Foundation as a living memorial dedicated to activities that provide transformative experiences for young people in under-served communities.