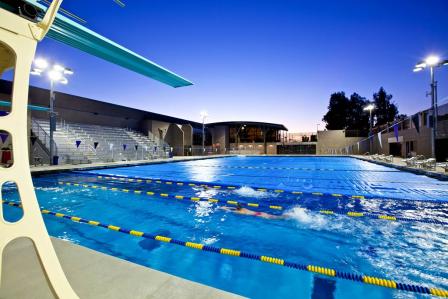 Graham Athletics Center Renovation
Poet athletes rejoiced in early 2012 when the Whittier athletics facilities reached a whole new level of excellence. An expanded Graham Athletics Center (GAC) Welcome Center, Hall of Fame Conference Room, and the renovated Lillian Slade Aquatic Center opened to rave reviews.
"This state-of-the-art facility represents an extraordinary step forward for our already outstanding athletic program and will allow us to continue to attract student athletes of the highest caliber, host a broader range of post-season events, enhance pride in the college community and create new opportunities in connecting with the College's neighbors," said Special Assistant to the President and Executive Director of Athletics Robert Coleman.
The Lillian Slade Aquatic Center is home to the Poet water polo, swimming, and diving teams as well as many programs serving the community, such as an annual summer camp. The upgraded Center now features a larger pool (43 meters x 25 yards), increased seating for 500 spectators, a Daktronics four-color video display scoreboard, five banks of Musco lighting, locker rooms for the men and women teams, and administrative offices.
The new Hall of Fame gallery, doubling as a conference room, showcases past and current student athletes on illuminated color displays and features a 52-inch interactive screen with career highlights and photos of all Hall of Fame inductees.
The Welcome Center inside the GAC was expanded to include views of the Richard Ettinger Tennis Courts and the aquatic center, a welcome desk staffed with sports information personnel, and two administrative offices. The GAC also houses the Dave Jacobs Court, George Allen Fitness Center, team locker rooms for home and visiting teams, and athletics faculty, coaching, and staff offices.
This $9-million renovation project of the GAC is an example of Whittier pride and dedication to enhance the campus and continue to provide extraordinary opportunities for students beyond the classroom.
To learn more about opportunities to support campus improvement projects at Whittier College, contact the Office of Advancement at 562.907.4219 or giving@whittier.edu.