2019
Marwa Abdul-Rahman: Eternal Return
Exhibition dates: October 16 - November 26, 2019
Abdul-Rahman creates sculptures out of clothes deemed too tattered for donation. She transforms them through a process of manipulation using string, wire, glue, lacquer and paint until they become compressed, tense and precarious figures with anthropomorphized characteristics. While they read as sculptures first and foremost, they are as much about object-making as they are about painting. Their surfaces are a rich complexion of colors, textures, values and materials that in some areas unify form and in others, create chasms. Abdul-Rahman's source materials (discarded clothes) are nearly completely transformed, but there remains a sense of familiarity in the works. It takes the viewer some time to realize that one sculptures is merely a single pair of jeans, manipulated to the point of near complete abstraction. 
 
The title of the exhibition comes from Nietzsche's idea of eternal return or recurrence which posits that time is cyclical; that life and all of our experiences–traumatic, ecstatic, mundane–will repeat ad infinitum. Abdul-Rahman's work asks us to ponder whether this prospect is frightening or liberating; confusing or clarifying, while simultaneously inviting us to consider the implication of this idea for our bodies, our lives and the universe.
Christiana Caro: What We Don't See
Exhibition dates: September 4 to October 11, 2019
In "What We Don't See," Seattle-based artist Christiana Caro addresses themes of vision, observation, and the collaborative potential of human creativity and machine intelligence. The exhibition includes Caro's recent work made in Sardinia, one of the sites of the International Latitude Observatories, a group of six now-defunct observatories (also located in California, Italy, Maryland, Turkmenistan, Ohio, and Japan) that once measured the earth's wobble on its axis from the same point of latitude. Caro's photographs depict the observatory and its surroundings, collectively reflecting on the relationship of scientific measurement and technological progress to our fundamental modes of viewing and observing the world. 
Paul Crow: Forest
Exhibition dates:  March 7- April 19, 2019
In Forest, Paul Crow presents a record of the trajectories of his attention as he moves through landscapes. Traditional notions of composition and subject are put aside in order to represent both moving through, and being in, at once.
Crow is an artist and educator living in Ogden, Utah.
Yun Shin: Embedded
Exhibition dates: January 21 - March 1, 2019
Using humble materials and referencing objects belonging to family members, Yun Shin creates delicately subtle, abstract drawings which speak to her interest in preserving time, memory and emotion. By recreating the crocheted patterns made by her mother through her intensely contemplative process of drawing, line and mark act to memorialize both the object and the histories embedded in it. Shin states, "I transform objects to preserve not only the objects but also my memories and relationships. I appreciate the objects when they portray themselves as vulnerable and delicate, and when they reveal a hidden story that a person may conceal." Whether working in oil on panel, graphite on paper or toner transfer on wood, Shin's practice explores the subtleties of line, grid, color, decomposition and repetition as they relate to the documentation of lost moments.
Yun Shin is the Associate Professor of Art at Northwestern College in Orange City, IA. Shin has earned several art degrees, including a M.F.A. in Studio Arts from the University of Texas at Austin, a B.F.A. in Craft and Material Studies from Virginia Commonwealth University, and a B.F.A. in Industrial Design from Cho Sun University in South Korea. She is a grantee of a 2017 artist fellowship from the Iowa Arts Council, and She has exhibited in solo and group exhibitions in cities throughout the United States, including New York, Chicago, Los Angeles, Austin, Des Moines and Minneapolis.
2018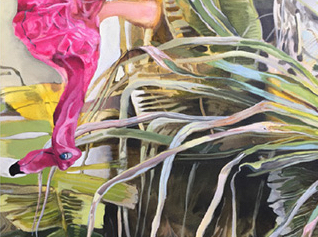 Jim Graham: Adaptation
Exhibition dates: November 29, 2018 - January 17, 2019
Many of Jim Graham's paintings are naturalist in subject, expanding upon the traditions of both landscape and narrative genre painting. His work often features synthetic reproductions of organic material–a nod to the commercial interests of tourist economies. A long-time resident and environmental advocate of two coastal communities, Graham's work has been heavily influenced by the low-lying areas along the Eastern seaboard and the Gulf Coast region of the United States. For these communities, the cultivation and erosion of public perception remains as important to livelihoods as the physical adaption to the changing land. His work borrows a "high water mark" aesthetic, depicting entangled combinations of organic sediment and smaller refined objects that remain when the water recedes. Extending this vision towards his own studio practice, Graham's paintings depict a civilized present beginning to move towards a more primitive past.
Graham is a research fellow at the Hambidge Center for the Creative Arts, Rabun Gap, Georgia (2018) and was a Joan Mitchell Foundation Emerging Artist Grant Nominee (2016). Select solo exhibitions include the Cole Pratt Gallery, New Orleans (2016), the Sella-Granata Art Gallery, University of Alabama, Tuscaloosa (2017), and the Greenleaf Art Gallery, Whittier College, Los Angeles (2018). Articles relating to these exhibitions have been published in the Winter 2017 New Orleans Review, reviewed by Judith Bonner and featured in Art + Design Magazine, Environmental Issue, Summer of 2017. Graham is currently a Visiting Assistant Professor at the University of Arizona and is represented by the Saladino Gallery in Covington, LA.
Image: Coastal Lot with Pink Flamingo, oil on canvas 48"x72" (diptych), 2018
This project has been made possible by Garrett and Hartley Houses as well as by donors to the University of Arizona College of Fine Arts Fund for Excellence.
Sara Hunsucker: Dogmatic Fanfares Always Succeed
Exhibition dates: October 15 - November 20, 2018
The title of Sara Hunsucker's exhibition, Dogmatic Fanfares Always Succeed is derived from a banner raised above the bizarre, carnivalesque scene in James Ensor's 1888 painting, Christ's Entry into Brussels in 1889, which reads FANFARES DOCTRINAIRES / TOUJOURS RÉUSSI. Ensor's crude and heavy-handed painting provides a scathing social commentary. At the cusp of modernism, the satirical painting mocked everything from romantic nationalistic paintings to religion, imperialism, and new conventions in art. His attacks were symbolic and took the form of the grotesque; a sea of disembodied caricatures, masks, and archetypes. 
Hunsucker draws parallels between Ensor's painting and our current social-political moment. Using dark humor and symbolism to raise questions of power, she explores the political and social chaos of what she describes as, "the American descent into burlesque," while constructing open narratives that utilize a disembodied cast of characters. Her sculpture employs a range of media including polyurethane foam, carboard, paper mache, ceramic and plaster. She makes dramatic stylistic and metaphoric shifts from simplified "happy faces" to fully rendered naturalistic busts to accentuate the carnivalesque environment her installation creates. 
Ensor's painting is part of the Getty collection and is currently on view at the Getty Center. 
Sara Hunsucker is a multi-disciplined visual artist and educator. She is an adjunct sculpture instructor at Pasadena City College. Her artwork had been exhibited both locally and nationally at Los Angles Contemporary Exhibitions (L.A.C.E), Fellows of Contemporary Art in Chinatown, LA, University Art Gallery in La Jolla and the Museum of Fine Arts in Tallahassee, Fl. Hunsucker has had an extensive career in museum education and has worked for the American Museum of Ceramic Art, the Los Angeles County Museum Art and Museum of Contemporary Art, San Diego. Hunsucker holds a BFA from Otis College of Art and Design where she studied painting and drawing, and an MFA from the University of California, San Diego.
Steve Budington: Here From There
Exhibition Dates: September 10 - October 12, 2018
Here from There, the title of this exhibition of recent work by Steve Budington, originates in the common New England phrase and sentiment, "you can't get there from here." In recent years, the artist has been working with concepts of mapping and historical modes of documentation, in particular twentieth-century world maps and enlightenment-era anatomical compendiums. Whereas these earlier forms of mapping sought to present exhaustive overviews of a whole system (global maps, complete documentations of the body's systems), today's forms of mapping, with GPS and data archives, offer users only selective windows onto a situation for specific, limited uses. The paintings and drawings in this exhibition consider this difference by working with obstructed views, partial maps, and fragmentation. "I'm interested in creating opportunities for improvising larger meanings from the cultural fragments and limited points of view that constitute a relationship to the world," Budington says. "I recognize a kind utopian personal desire to see or create a 'big picture' in things, to make sense of it all and have clarity and perspective and order, while at the same time I distrust grand narratives and overarching worldviews, which so often stifle the here and now of lived experiences."
For his exhibition at the Greenleaf Gallery, Budington presents a single shaped painting built of triangular canvases, themselves taken from the shape of a well-known world map by Buckminster Fuller; a selection of works on paper that respond to nineteenth-century anatomical diagrams and more contemporary forms of imaging; and an archive of found image works collected in plastic document sleeves and arranged in a vertical scroll reminiscent of social media feeds. The works together form a field of associations, impressions, and physicalities that consider how the visible world is constructed and received, how one might or might not be able to navigate to here from there.
Steve Budington is a painter, professor and sometimes musician. He received his MFA in painting and printmaking from the Yale School of Art and his BFA in painting and art history from the University of Massachusetts, Amherst. Budington's work has been exhibited nationally and internationally, including in New York, at Exit Art, Misc. Gallery, and Dorsky Gallery Curatorial Programs; in San Francisco, at Mirus Gallery; in Austria, at Hotel Pupik Schrattenberg; and in Italy, at the Fondazione Ambrosetti Arte Contemporanea. His paintings have been discussed in frieze magazine, Art in America, and other publications. Budington lives with his wife, son, and daughter in northern Vermont, where he is an associate professor of art at the University of Vermont and plays electric guitar in a Middlebury based collective dedicated to improvised music. 
Katie Jenkins-Moses: When I listen, I hear those queer sounds
Exhibition Dates: March 25 – April 20, 2018

When I listen, I hear those queer sounds is a solo show that is a personal exploration of how language and iconography affect the body. The artist, Katie Jenkins-Moses, interrogates labels of queer, obese, female, and unstable. This show explores how language and image affect agency to claim possession of bodies.
Jenkins-Moses embraces the idea that the personal is political. Recognizing that language has a powerfully lasting legacy, she argues for recontextualizing and reclaiming representation and agency, exploring these themes through a combination of mediums—first with her durational performance and installation, Piece- Work, and in subsequent mixed-media works and installations. This exploration exposes the tensions and ironies of constructing the self in the context of normative forces.
Katie Jenkins-Moses will be performing PieceWork in the Greenleaf Gallery on March 25 at 6:00 p.m. The results of that piece will be on display throughout the exhibition in addition to a series of mixed-media and installation works. 
Katie Jenkins-Moses is an artist and teacher living and working in Fresno, California. She is an interdisciplinary artist working primarily in installation, performance, fiber arts, and collage, discussing issues of agency, feminism, and representation. Jenkins-Moses received her MFA from the San Francisco Art Institute in 2016 and her BA in Studio Art and Political Science from Whittier College in 2013. This is her first solo exhibition but has had her work in recent group exhibitions in ShockBoxx Gallery in Hermosa Beach, Fort Mason in San Francisco, and Smash Gallery in San Francisco. To see more of Jenkins-Moses' work on her website. 
2017
Jenene Nagy and Joshua West Smith: From the guts of stars
Exhibition dates February 12 - March 16, 2018
The work of Jenene Nagy and Joshua West Smith deploys the structure of language as a regimented system for communication but replaces the words with marks and material. The goal is to speak to the body and to evade, momentarily, the mind. 
Nagy's works on paper speak on the surface of geometry and rationality but when addressed simultaneously manifest as shimmering surfaces, which embrace, embody, and occupy our attention more as a phenomenological experience than a static image. Graphite, laboriously built up by individual pencil marks or floating in a medium and applied to a surface, plays off ambient light and shifts as the viewer passes by or approaches for closer inspection. It is this locating of the body before the image that completes the work. 
Smith's sculptural inquiry is an attempt to address issues of language and certitude through the visual and haptic languages of material and formal relations. By exploring a range of materials and methods of manipulation he strives to put the viewer in relation with not only an object of interest but with something that momentarily evades a name. Smith relies on his history as a welder and fabricator and as a furniture maker to make things that relate to the body and consciously engage the viewer in a choreographed looking. Though the use of multiple materials the work creates a multi-textured experience that promotes close looking and an awareness of where his body has been, where the thing lives, and where the viewer is.
Jenene Nagy is a visual artist living and working in the Inland Empire. She received her BFA from the University of Arizona in 1998 and her MFA from the University of Oregon in 2004. Nagy's work has been exhibited nationally and internationally at venues including the Portland Art Museum, Weatherspoon Art Museum, Southern Exposure in San Francisco, Takt Kunstprojektraum in Berlin, and Samuel Freeman in Los Angeles, among others. Her work has been recognized with grants and awards from the Foundation of Contemporary Art, the Oregon Arts Commission, Colorado Creative Industries, and the Ford Family Foundation. Along with a rigorous studio practice, Nagy is one half of the curatorial team TILT Export:, an independent art initiative with no fixed location, working in partnership with a variety of venues to produce exhibitions. From 2011-12 she was the first Curator-in-Residence for Disjecta Contemporary Art Center in Portland, Oregon. Nagy's work is represented by Samuel Freeman Gallery in Los Angeles, PDX CONTEMPORARY ART in Portland and Michael Warren Contemporary in Denver.
Joshua West Smith is an artist, curator, and furniture maker who lives and works in the Inland Empire of Southern California. Smith received his MFA in Visual Art from the University of California Riverside and a BFA from the Oregon College of Art and Craft. Smith is one half of the curatorial team TILT Export: an independent art initiative with no fixed location, which works in partnership with a variety of venues for its exhibitions.
Sabrina Marques: Menagerie
Exhibition dates January 9 – February 9, 2018
Artist Talk Tuesday, January 9, 12:00pm in the Wardman Art Gym
Sabrina Marques' work uses storytelling to explore memory, place and politics. Her gouache on paper paintings are part personal history and part political commentary, employing magical realism and anthropomorphized creatures within surreal, invented landscapes. Marques' mother fled Cuba for the United States in the years following Castro's revolution, and at a young age, Marques became aware of humor's ability to provide solace in the face of hardship. Using both humor and absurdity to tackle more painful issues, Marques' characters become stand-ins for the characters of her family's past. They inhabit landscapes based on her grandfather's ranch and on her family's ancestral home in Camagüey. They tell the stories, both mundane and monumental, of her family's struggles under the Castro regime; they describe fantastical landscapes and relationships inspired by the oral tradition of her family; they collage present, remembered, described and invented experiences and serve to visually unify this lost history with her present life. Marques "longs for and obsesses over not something once known and then lost, but something–someplace–that may never be known and can therefore only be found in the imagination." The humorous portrayal of figures in Marques' work subversively articulates dissatisfaction with a regime that censors art while also revealing the shortcomings of an ideological government.
Mystery Cult
Religious and ritual narratives—often as they intersect with female experience—have long been a rich source of material for Los Angeles-based artist Maya Gurantz' works in video, performance, and installation. If dreams are how our unconscious speaks to our conscious mind—rituals are how our conscious mind speaks back to our unconscious. Ritual acts affirm to our deepest selves the values of certain hopes, fears and yearnings. Developed with dancers over multiple residencies, Mystery Cult interrogates how to make and manifest an ideal world into being through ritual enactment.  
The videos and performances draw together diverse threads of Gurantz' ongoing research into experimental performance and spiritual inquiry: 1970s radical feminist spiritual practices; occult homosocial Scottish Rite Masonic "Lodge Hall" Ceremonies from the late 19th and early 20th century (which Gurantz connects to vaudeville); and 1960s "poor" theater (Jerzy Grotwoski, Richard Schechner and Judith Molina).
As an ongoing project, Mystery Cult imagines a world that elevates the urgent importance of women's experience and asks—what do we want to ask our unconscious mind to value and celebrate?  How do we enact that through movement? What different potential futures and worlds does that crack open?
Julie Wills & Cody Vanderkaay: Two Voices Carry Farther than One 
The shortest distance between two points may be a straight line, however the connection between said points might only be possible by way of a third, alternative point, making the longer path the most direct. In the case of the moon, distance is circumvented by the enormous shared visual overhead. If the moment of discovery matches the moment of need, nothing is ever too distant or too late.
Julie Wills and Cody VanderKaay met through coincidence, and their introduction to one another's work revealed profoundly similar interests and thoughts, prompting a dialogue that continues to inform each artist's creative output. These collaborative sculptures, collages, and installation works embody the artists' shared thoughts, experiences, ambitions and desires.
Daytime Moon/Nighttime Sun is one work in two. The two parts, conceived by each artist independently, are rooted in the history of knowing one another. Other works in the exhibit are explicitly about the methods and means of maintaining connection.
Julie Wills is an interdisciplinary artist working in the expanded field of sculpture, including installation, collage, performance, video and site-specific practices. She holds an MFA from the University of Colorado, and an MA in art criticism from the University of Montana. Wills has been an artist-in-residence at Pyramid Atlantic Art Center, Jentel, PLAYA, and the Hambidge Center, among others. Recent solo exhibits have been presented at Arlington Arts Center in VA, Hillyer Art Space in Washington, DC and Kohl Gallery at Washington College in Chestertown, MD. Wills is an Assistant Professor of Studio Art at Washington College.
Cody VanderKaay produces sculpture, installation, drawing and collage. He received his MFA from the Lamar Dodd School of Art at the University of Georgia. VanderKaay has been an artist-in-residence at Jentel, Joshua Tree Highlands House, and the Bemis Center for Contemporary Arts. Recent solo exhibits have been presented at Oakland University Art Gallery in Rochester, MI; Athens Institute for Contemporary Art in Athens, GA; and TwinKittens Gallery in Atlanta, GA. VanderKaay's artwork is included in the Drawing Center, Artists Space and White Columns artists registries in New York. VanderKaay is an Associate Professor of Art at Oakland University. 
Special thanks goes to Garrett House for making this event possible. 
I Remain, Very Cordially Yours
The Greenleaf Gallery at Whittier College presents "I Remain, Very Cordially Yours," a wall drawing in shorthand by Los Angeles-based artist Ginny Cook.
Cook's recent work examines the link between the visual and lingual symbols requisite to the communication of meaning through writing. She explores the ephemerality of these symbols as they erode and evolve as with the fluctuation of language. In this exhibition Cook employs shorthand, a method of rapid and temporary writing that, for the sake of brevity and efficiency, uses markings in place of words. Invented centuries ago in many different versions throughout the world, shorthand became popular in the United States in the early 1900s, around the time clerical labor came to be considered women's work. This visual language, a precursor to cyber-slang, emoji and other contemporary writing shortcuts, has all but disappeared, rendered obsolete by recording devices and other technological advances in dictation.
In "I Remain, Very Cordially yours," Cook has taken a once common business valediction (the closing of a letter) from a Gregg shorthand exercise manual and enlarged its symbol into a massive wall drawing. Distorting the abbreviated and temporary qualities of shorthand, she exaggerates and elongates the formation of a single gesture and then enacts its disappearance by inviting the audience to participate in erasing fragments of the drawing throughout the duration of the exhibition.
Ginny Cook received her MFA in Photography and Media from the California Institute of the Arts (Valencia, CA) in 2005 and her BA in Art History from Emory University (Atlanta, CA) in 2000. Select exhibitions of her work include Ours is a City of Writers, Los Angeles Municipal Art Gallery (Los Angeles, CA, 2017),daemon, Reed College (Portland, OR, 2014); Yesterday Amphoric: Ginny Cook, Rosemary Mayer, David J. Merritt, Regina Rex (New York, 2012), and Complicity: Contemporary Photography and the Matter of Sculpture, Rena Bransten Gallery (San Francisco, 2009). Cook is also the co-founder and co-editor of MATERIAL, a journal of writings by visual artists. Her work has been most recently published in the journals Prospect: Necropolis (2015), MATERIAL Issue 4 (2015), and Public Display #5 (2014). Cook lives and works in Los Angeles.
Art & Visual Studies Senior Exhibition
Opening reception: Saturday, April 22, 4-6 p.m.
The Greenleaf Gallery at Whittier College presents an exhibition of artwork from seniors in the Art and Visual Studies Department.
Artwork in the gallery was produced by Mario Almaraz '17, Rachel Barron '17, Sara Chiu '17, Dezi Donnersbach '17, Ashley Fuller '17, and Indigo Halverson '17.
Cutting Garden
Karri Paul
Exhibition: March 6 to April 14, 2017
While the sublime as subject in 19th century American landscape painting appears as an ever-widening expanse, Karri Paul's structural works insist upon narrow verticality. Though they often allude to nature and grand landscapes, these paintings are more like bulwarks than illusionistic windows. Skewed perspectives, shifts in scale, and ambiguous forms fracture these topographies. This is the sublime of the 21st century.
"Cutting Garden" refers to one of the many books that were appropriated for this series as well as to the constant pruning that is intrinsic to Paul's process. Building multiple paintings at once, the artist imposes one piece's vocabulary and syntax onto another, welcoming contradictions in surface, subject, or vantage point. For instance, when glimpse of the drought-plagued Sahara in a 1974 National Geographic meets a sliver of diagram from an electrician's textbook and a gesture made by hand with pencil, countless adjustments follow. The result is an accretion of wooden supports, appropriated book covers, collaged photos and illustrations, drawing media, and layers of gouache painting. A whole emerges gradually during the viewing process, but its terrain remains distinctly stratified.
 
Britain at War
Nils Schirrmacher
Exhibition: January 15 to March 3, 2017
Artist Statement:
A year before the US entered World War II, New York's Museum of Modern Art staged an exhibition of British War Artists titled Britain at War. The War Artists were painters, printmakers, and photographers enlisted by the British government to depict scenes on the frontlines and at home. During both World Wars, Britain actively sought to employ its artists to "enliven the idealism" of the nation, "enoble the scene of [its] common suffering," and "provide visual imagery of their great cause and peril." This effort to keep the arts from being sacrificed during wartime austerity was part of a larger effort to preserve the nation's civility in the midst of conflict.
I have titled a series of photo collages after the 1941 exhibition, the works derived from a single photo that appears in the show's catalog. This image of a British soldier is one of a group of portraits depicting citizen-soldiers in typological fashion: men and women, old and young, fulfill the roles of sailor, nurse, and pilot, each wearing welcoming and diligent expressions. 
Construction of the artworks combined model making, photography, and collage. First, individual elements of the source image were constructed as small-scale sculptures. Then these sculptures were photographed under different light sources, and the photographs printed. Finally, the prints were cut and pasted in an arrangement that matched the source, reconstructing the original photograph. 
Seventy-six years after MOMA's Britain At War, it is easy to dismiss the exhibition as a quaint rallying of Allied forces. However, it is worthwhile to consider Britain's concern for civility in time of war within the contemporary contexts of our current War on Terror, whose interrogation and intelligence-gathering techniques at home and abroad have threatened our own civility; and the racial rhetoric of our president-elect, whose proposed immigration policies have echoed the discourse that preceded the criminal treatment of Jews and Japanese-Americans during the Second World War. 
Considering Britain's War Artist program also begs the question: could such a program exist in the United States today? How would contemporary artists respond to the needs of their government in time of armed conflict?  
My engagement of MOMA's exhibition continues an ongoing aspect of my work: the mining of visual artifacts of the Second World War. While past works explored architectural expressions of totalitarian and utopian ideals, Britain At War brings me closer to my family's relation to war. With parents who grew up in Germany during WWII, and brothers who served in Iraq, this remade image of a British soldier serves as cypher and surrogate for those lost to, and lost within, the defense of their country.
2016
Notched and Uncomfortable
Davis Gerber '14
Exhibition: December 5, 2016 to January 13, 2017
Artist Statement:
"It was a time when the past had lost its sweetness and its sap. You'd go a good long road before you'd find a man, and he very old, who wished to bring back a golden past. Men were notched and comfortable in the present, hard and unfruitful as it was, but only as a doorstep into a fantastic future."
–John Steinbeck, East of Eden
In this series of sculptures I have explored ways in which I can repurpose found objects to highlight a bold but restrained synthesis between rusted, tarnished, or natural scavenged items and fabricated surrounding environments. Beginning with these objects, novel or mundane as each may be, I aim to construct slightly enigmatic interactions between them and their present surroundings. By placing each selected object as a stroke of 3 dimensional visual nostalgia--embedded, cradled, or breaking through a neutral modern building material, each work becomes a brief moment of cohesion between the old and the new. Despite however successfully cohesive, there will always be a tension between the notched (in one way or another) building material and the object, perched or held in its uncomfortable position. I believe the neutrality of the modern building materials communicate that I have no bias against the future or modernity; I simply wish for focus to always remain on the defining qualities of objects worth appreciating and preserving. Whether through elegance in a simple form, or the appearance an object may retain having endured or been delicately crafted from a time not of this day and age, all possess characteristics that I believe denote beauty, which nowadays may easily be overlooked or forgotten.
I enjoyed the problem solving throughout this series; it challenged the instinctive and calculating process I rely on. My choice mediums also brought a physical challenge as well as intellectual; I found it was often the physically hard or monotonous work that I depended on to focus my mind. In that dependence the process and selected mediums began to assist instilling the very message I aimed to charge each piece with— one of unrelenting hard work, appreciation of fine craft and natural beauty, and a longing to see such attributes remain central in all society.
Tinker Spill
Alison Petty Ragguette
Exhibition: October 17 to November 23, 2016
Navigating between images of the body and concepts of technology, Ragguette's work explores the ways in which natural and synthetic worlds intersect as inspired by theories of synesthesia and biomimicry. Combining porcelain, glass, and rubber, she has developed an interdisciplinary approach to making sculptural and installation works that are dialectically playful and alien, chaotic and messy, and encapsulating and encroaching.
These works become hybridized forms that incorporate a "mash-up" of objects evoking children's toys, tools, automotive, plumbing, and medical parts that appear to actively spill, bulge and burst. These sculptural objects confront both natural and artificial forces, as they embody the physicality of protection, preservation, and containment. Her work explores these potentially hazardous scenes of recreation with the objective to discover the awkward beauty within the precariousness of every day life. Surrendering to the irony that the contemporary world is beyond human control, Ragguette's intention is to elicit full engagement, even if just a momentary sensation of the inherent values of curiosity and play. 
Dear Volunteers
A Tra Bouscaren and John Schlesinger Project
Exhibition: September 3 to October 13, 2016
Dear Volunteers is speculative installation project that seeks to re-present toxicity as spectacle. Salvaged neon, rebar, lab equipment, styrofoam and other trash form the basis of this collaboration. The artists seek to refocus the lens of authorship through a reanimation of found objects. Concerned with asking rather than answering questions of relational teleology, "Dear Volunteers" weaves together mysteries of histories unknown to us through the combination of orphaned objects and images.
Founded in Philadelphia,"Dear Volunteers" is a collaboration between Tra Bouscaren and John Schlesinger. Bouscaren is a post-disciplinary artist represented by N2 Gallery in Barcelona. His work has been featured at the Museum für Naturkunde of Berlin, Victor I Fils Gallery in Madrid, Centre Cultura Contemporania de Barcelona, Santa Cruz Museum of Art and History, Fort Mason Center for Art and Culture in San Francisco, Hallwalls in Buffalo, Annenberg Center for the Performing Arts in Philadelphia, and New York's Lincoln Center. John Schlesinger is a photographer turned sculptor. His work has garnered a Rome Prize, a Tiffany Award and NEA Grants. Collected broadly, Schlesinger's output can be found at the Walker Art Center, the San Francisco Museum of Modern Art, the Houston Museum of Art, the Dallas Museum of Art, the Hamburg Kunsthalle, the Art Institute of Chicago, the Brooklyn Museum, and the MOMA.
Borders and Screens
Sandy de Lissovoy
Exhibition: March 8 - April 15, 2016
Borders and Screens brings together two bodies of works by Sandy de Lissovoy. Questioning the divisions of painting, sculpture and architecture, the hinged wooden frames of Screens hold inserted panels of metal, plexiglass, textured and hand printed surfaces. "The screens of interlocking frames can be folded, extended and repositioned to create varying configurations of space and perception. Depending on where the viewer stands, the metal sheets reflect the color panels; the solid panels in the foreground obscure those in the background; and the plexiglass offers a transparent view through to those panels behind it. The mobile screens envelop neither interior nor exterior spaces, holding only the surfaces of the frames and inserts," (independent curator Chương-Đài Võ.) Screens also functions as a repositionable lens or window whose changing status is partially made open to see through and partially made flat like a painting by shifting its positions on the floor and occasionally altering the content of its inserted panels. The ongoing work takes on different insertions over time. In the present iteration, it contains inserted panels that belong to the other body of work in this exhibit, Borders.
In Borders, de Lissovoy juxtaposes partial images of the international borderlines of Syria and Hungary through a series of large color Monoprints, made from sculpted aluminum plates. Through multiple printing processes of traditional intaglio printing, relief printing, overprinting, ghost printing, and partial printing, the images of these plates float in different relationships of opposition, various geographical positions, and literal merging and overlapping. These plates describe Syria's northern, Western and Mediterranean borders, and Hungary's southern border, as well as non-specific forms that question the specificity of borders. The edges of these conflicted territories hold between them some of the most fraught and critical international migratory and xenophobic relationships of our time. The logic of color for this work begins with ink separations of the colors of the two countries' flags– black, white, red, green– as well as mixtures of those same inks.
Sandy de Lissovoy was born in Berkeley, California. He received his M.F.A. from U.C. Irvine, a B.F.A. from the California College of the Arts and a B.M. from Oberlin College. His interdisciplinary work aims at discovering a medium in the boundaries between sculpture, painting and architecture, creating both solid and ephemeral results. He has had solo shows in Los Angeles at Commonwealth and Council, Monte Vista Projects and Las Cienegas Projects. He is a recipient of an ARC Grant from the Center For Cultural Innovation and was in residency at the Banff Centre with Silke Otto-Knapp and Jan Verwoert. He is Visiting Assistant Professor of Art at Whittier College, and maintains a studio practice in Los Angeles where he lives with his wife and young daughter. 
Observations in No Man's Land
Derek Coté
Exhibition: January 18 to March 4, 2016
"Observations in No Man's Land" presents a grouping of sculptures and small video installations based on several years of physical research and visual observation in the Arctic regions of Alaska, Iceland and Svalbard. The exhibition will also feature Bardo, a short, twelve-minute film shot entirely in the abandoned Soviet utopia of Pyramiden, the soundtrack for which was recorded on the world's northernmost Red October grand piano. Bardo is a testament of 1990's Soviet tenacity but also documents the lonely and pristine landscape above the 78th parallel. 
As a frustrated architect, explorer, and aspiring social examiner, Derek Coté received his MFA in sculpture and extended media at Virginia Commonwealth University. He has exhibited nationally and internationally including exhibitions at the Brooklyn Museum of Art, Tacoma Art Museum, Art Museum of the University of Memphis, Houston Center for Photography, Exit Art, AC Institute and Roebling Hall in New York City, Marmara University in Istanbul, Marc DePuechredon Gallery in Basel and Kunsthaus Rhenania in Cologne. Coté has received a professional artist fellowship from the Virginia Museum of Fine Arts, research and support grants from the Canada Council for the Arts, the Pollock Krasner Foundation, the Adolph and Esther Gottlieb Foundation and the Foundation for Contemporary Art. Additionally Coté and has been a resident artist at the Bemis Center for Contemporary Art, The Arctic Circle expedition and the Anchorage Museum's Polar Lab.
2015
stuff i did on a spiritual journey
Jane O'Neill
Exhibition: December 1, 2015 - January 15, 2016
The Greenleaf Gallery at Whittier College presents "stuff I did on a spiritual journey", a body of work by Los Angeles-based artist Jane O'Neill. Through a series of reversals, duplications and negations, systems of belief and the concepts of the real and artificial, the consumed and repurposed are presented in two installations, two wall-mounted reliefs and two large digital prints. The show responds to and relies on a filtering of the physical world through a digital lens.
The installation "the artist's studio", is a recreation of O'Neill's studio wall. Each object has been created or painted to appear as the color photo negative of the original elements and space. The effect is a decorative, hyper-artificial set design reminiscent of an Anthropologie catalog image. Through the use of a Negative Me app or the Invert command in Photoshop, O'Neill's consistent portal motif finds its digital counterpart. A viewer can photograph the installation and transform their capture to see the blue-painted wood in its original salvaged form, the sparse ink drawing of crystals from the LA County Museum of Natural History become a full color photographic print, the "signals and tones" collage return to its original desert palette; the painted clip light on the floor become illuminated.
The wall-mounted relief, "This Place is So Classy!!", resembles a Torii gate, a structure rooted in the Shinto religion often used to signify the passage from the physical to the spiritual world. By appropriating or mimicking this form through discarded materials, a longing for more and better is explored. "defeating the silver system of belief (eclipse/ariadne)" also attempts to transcend its humble materials and achieve status in league with ancient myths and the power of the moon.
The digital prints "pretty baby negative" and "that joke about the rug matching the drapes" are inverted photographs of physical sculptures. By turning the objects into image, they are transformed and released into an infinity of Instagrammable digital reproduction.
The final installation, "before you were a pattern of electrical signals", is an imagining of one's own consciousness and brain activity as it begins to develop in the womb. The feminine treatment of the space attempts to engage the history of the building the gallery is housed in: an old Elk Lodge restricted to male members only.
I Die Because
Thinh Nguyen
Exhibition: October  12 – November 25, 2015
On Wednesday October 14 from 6-8 p.m., while entombed in an installation of beaded curtains made of shotgun shells, Thinh Nguyen laid in midair on a bridge made of a single horizontal bamboo rod. Inspired by the passion story of Jesus Christ's crucifixion, this exhibition is Nguyen's way of re-imagining his own resurrections (as told to him by his mother) from the childhood maladies of Polio, Malaria, and a head injury, after each of which he was pronounced dead.
A few weeks earlier, Nguyen performed as The Saint of Painterly where he posed motionless for three hours in his installation "Composite: Trinity", which comprised of three chairs, the seats and backs of which were woven with strips of discarded paintings by other artists; three framed wall objects, also constructed from painting remnants; and floor mats made of hand-sewn hexagonal remnants. The exhibition currently runs through October 11 at Offramp Gallery in Pasadena.
Also on August 28 Nguyen presented a two-hour spoken word performance where he read aloud an art history book backwards word for word while whiting out each word as he sat in a white school desk. The performance is called "White Out History" as part of a second installment of "Biomythography: Secret Poetry and Hidden Angers" exhibition at California Lutheran University on view through October 16th.
Nguyen is engaged by way of conceptual blending as a strategy to continue further critical and aesthetic transgression. He is literally interjecting his remixed work into art history, recycling materials and concepts while generating new perspectives. He considers himself to be a global artistic citizen.
Thinh Nguyen grew up in a rural village of central Vietnam that had neither electricity nor running water. He had no art supplies, so he would pick up sticks and tree branches to draw on the ground. At the age of eleven, Nguyen immigrated with his family to California, which gave him an open environment to pursue an art education. 
Shared Articles
Joe Hardesty, Matt Nichols and Stash White
Exhibition Dates: September 6 - October 9, 2015
Each of the works in Shared Articles was created through a process of collaboration between a pair of artists. The completed works record the back and forth exchange between two people engaged in a conversation. As identity has become intertwined with carefully constructed social media profiles and self worth measured in "likes", the artists in Shared Articles cultivate connections with each other that blur the edges of individuality, preference and ego. 
Over the last 5 years, Stash White and Joe Hardesty have sent in-progress collages between their homes in California and Massachusetts via the U.S. mail. Each artist made additions and subtractions to pieces that traveled back and forth as many as 8 or 9 times before complete. Visually, the works are an accumulation of gestures and materials that have been built up and deconstructed; elements are added, copied, repeated, repurposed, obfuscated, and disassembled with each successive iteration. The results reflect a conversation heavy on experimentation, playfulness, and non-attachment. 
Billy Klubb is the work of Matt Nichols and Joe Hardesty. Billy Klubb was conceived in response to the hermetic isolation of individual studio practice. Both artists thought it wise to start talking to someone other than himself. With one foot in a bucket of ice and the other in a bucket of corn, Billy Klubb's concerns include the subconscious, intuition, death, and a celebration of the absurd. 
The Council for Art Education: Youth Art Month
Exhibition Dates: April 2015
Creative works from Southern California art students in grades K through 12 will be on display at the Whittier College Greenleaf Gallery until April 17.
The annual Youth Art Month (YAM) administered by The Council for Art Education (CFAE) takes place across the nation each March, and is designed to celebrate visual arts for grades K – 12. The Youth Art Month Program emphasizes the value of art education for all children and encourages support for quality school art programs.
The California Art Education Association (CAEA) sponsors county Youth Art Month exhibitions each year. The first, second and third place winners in each county and of each age group (K-2, 3- 5, 6-8, and High School) go on to an area show. This year's southern area show at the Whittier College Greenleaf Gallery has students from Los Angeles, Orange, Riverside, San Bernardino, and San Diego counties.
The California Art Education Association (CAEA) is the professional educational organization for pre-K through university educators working in all areas of the visual arts. The mission of CAEA is to strengthen visual arts education by providing professional development, a collaborative network for visual arts education professionals, and advocacy. 
Diana Behl: Maybe Bermuda
Exhibition Dates: January 19 – March 6, 2015
Artist talk: Monday, January 19 at 7 p.m.
Maybe Bermuda draws its name from a happenstance juxtaposition of collage elements. The works in this exhibition encompass a fusion of multiple sources, acknowledging Henri Matisse's paper cutouts and William S. Burrough's literary Cut-Ups. Salvaged printed proofs, forgotten then found scribbled notes, painted and cut paper are culled together to connect disparate fragments. Though, contrary to the writer's chance-based (Cut-Up) practice, I am most often reconfiguring and re-contextualizing years of collected material in a gestated manner—at times, seeking both a textural harmony and discord.
Diana Behl's recent work embodies an assortment of material exploration, including print media, collage and drawing. Her images are prompted by specific instances—memories of places visited, passages read, bits of everyday references, or interactions of material and form—both in and outside of the studio. Using these prompts, her practice then evolves around the improvisation and discovery uncovered while making, further enabling form to embody the evolution of that specific cue.
She has exhibited works in the Upper Midwest at the Soo Visual Arts Center, Highpoint Center for Printmaking and Minnesota for Book Arts (Minneapolis, MN); the South Dakota Art Museum (Brookings, SD) and Ipso Gallery (Sioux Falls, SD); as well as at venues such as the International Print Center New York (NY, NY) and SPACE (Pittsburgh, PA). Her works on paper have been featured in the Western Edition of New American Paintings (Volume 66) and the 2004 New American Paintings MFA Annual.
A past recipient of a South Dakota Arts Council grant, Diana Behl holds an MFA from The University of Iowa, and a BFA from Bowling Green State University. She is an Assistant Professor in the Department of Visual Arts at South Dakota State University.
Troy Richards and Ashley John Pigford: twoLovers
Exhibition: December 1, 2014 - January 16, 2015
Artist Talk and Reception: December 2, 2014 7 p.m.
Reception: October 19, 2014 3:00 p.m. to 5:00 p.m.
twoLovers is one of a developing series of works that embody technology with human qualities in order to investigate interpersonal relationships, issues of power and group dynamics.  These works are created utilizing simple robots built and programmed by the artists to write/draw while navigating space.
The two robots circumnavigate the gallery, but never come in contact with one another and never unite; there is a romantic love that goes unconsummated. In doing so they cover the floor writing, searching, and yearning.
Through this work we are interested in exploring the idea of just what it means to be human when, as philosopher Joel Marks has written, "Today it seems plausible to postulate that we are material mechanisms of a high order, who have evolved from common ancestors with the other animals (and plants) and may eventually merge with our digital creations to become 'trans-human' cyborgs." Where once we understood ourselves in relation to animals and some kind of divine being or beings we now can add a new category- robots.
2014
"Storytelling" by Ihrie Means
Exhibition: March 4 – April 18, 2014
Artist Talk: Tues., March 4, 7 p.m.
"This exhibit is arranged to give an unedited, non-glorified look at the process of putting together a graphic novel. By bringing my studio into the gallery space visitors will get the chance to see what goes into the making of two very different genres of graphic narrative. The Saltines Are… Getting By, a completed graphic novel, will be displayed in both its finished form and in its various stages of completion. The Saltines…  is a dark, humorous look at the unexplored world of saltine crackers. An Apartment for the Disappearer, a graphic novel in progress, will be shown in its current unfinished state.  An Apartment…  is an intertwined love story centering around two high school students whose lives converge in adulthood in a seemingly very unpleasant way. Both book projects are constructed out of drawings and paintings pieced together into more complex layouts. Visitors to the exhibit will be able to flip through all the rejected layouts, rejected drawings, completed layouts, revisions and sketches. This is an opportunity to see an artist's process. Interaction is encouraged and thoughts and suggestions are welcome."
Means was born in Frederick, MD in 1976. She earned her BFA in Painting from the Maryland Institute, College of Art in 1998 and her MFA in painting and printmaking from Yale School of Art in 2003. She also studied fine-furniture making at the Penland School of Art and Craft. Her studio practice includes intaglio printmaking, sculpture, painting, illustration and video work. Her drawings have appeared in the New Yorker Magazine, in Simon and Schuster's Johnny Appleseed: The Man, The Myth, The American Story and on the covers of Clockroot Book's trilogy of narrative works by Margarita Karapanou. She has also designed album art for Thrill Jockey Records. Her work has been exhibited at Moravian College, Brooklyn Fireproof Gallery and Capsule Gallery, among others. Means teaches video art at the Educational Center for the Arts in New Haven, CT and is an adjunct professor of fine arts at Southern Connecticut State College. 
Mindy Shapero
Spring 2014
March 27, 7:00 p.m.
Los Angeles based artist Mindy Shapero earned her BFA from Maryland Institute College of Art and her MFA from UCLA. Her work has been shown widely at galleries and museums across the nation and abroad including the Wexner Center for the Arts, Santa Barbara Contemporary Arts Forum, the Hirshhorn Museum and the UCLA Hammer Museum.
The work of Los Angeles-based artist Mindy Shapero fuses an elaborate, crafty materialism with spiritual undertones. As Village Voice critic Jerry Saltz writes, Shapero's amazing feel for color and materials results in a tactile and visually intensive work with a mesmerizing jolt. Her drawings become transformed into totemic spirits, while the sculptures look like matter organizing itself into other life-forms or states of ecstatic consciousness. These elements of colorful, labor-intensive, shamanistic sensationalism that result in works charged with an archetypical, totemic presence. Their highly visual impact and transgressive logic reinforce the connotations towards a critique of rationalism, while staying true to the postmodern tradition of assemblage that unveils the metaphysical/paranormal undertones of Mindy Shapero's fantasy world."My work is not about thing-ness, its not object-oriented; it's narrative-based", this is how Mindy Shapero describes her art. She is not the only artist who tells herself wild stories as a way to make her work come to life. In surprising ways the narrative trajectory of her work ricochets off the likes of Lucas Samaras, flies past Louise Bourgeois and lands somewhere near Mary Shelley. Her influences include the paranormal images of English Romantic painter Henry Fuseli, Andre Breton's automatic writing and offbeat works of fantastic literature like Jan Potocki's 1804 Saragossa Manuscript – the last a transfixing mise en abyme that abounds in supernatural forests, esoteric rites and gothic horror. – The Breeder Gallery
Bob Alderette and Margaret Lazzari: Place, Change, Light
Exhibition Dates: January 22 - February 28, 2014
Reception: Wednesday, January 22
Whittier College is pleased to present two discreet bodies of work by Los Angeles artists Bob Alderette and Margaret Lazzari. Place, Change, Light juxtaposes these artists' approaches to the act of painting. Through the physical abutting and layering of both representational and non-representational imagery on traditional and non-traditional surfaces, Alderette's work explores the idea of paintings as portable, non-permanent objects. Conversely, Lazzari's work is rooted in a more traditional approach to painting. While her large works reference landscape space, they are devoid of anything specifically representational. Through color, saturation, density and layering, she explores ideas of tension, energy and movement in space.
Klutch Stanaway: Return to the Unknown
Exhibition Dates: December 2, 2013 – January 17, 2014
Reception: Tuesday, December 3
Klutch Stanaway is a sculptor investigating artifice and exploration. He has had solo shows at SolwayJones, Haus Gallery, and at Spacecraft Gallery. His work has been reviewed in Art Scene, ArtForum.com, Artweek, and LA Weekly. Stanaway's sculptures and drawings have been exhibited throughout the US, as well as in Germany and the Netherlands. Klutch received an M.F.A in Sculpture from Cranbrook Academy of Art and a B.F.A. from CSU Chico. He is a sculpture professor at Fullerton College. "Like bad sci-fi films from the 1950s, my sculptures are layered with faux surface treatments, futuristic efficiency, and anachronism," said Stanaway. "NASA explorations, '50s science fiction films, and common building materials are springboards for Return to the Unknown. I explore the act of exploration by constructing simulated instruments and props. The sculptures resemble lunar probes, modernist sculptures, and Exquisite Corpses with faux marble bodies on spindly legs. I'm trying to create objects that are multi-faceted and ridiculous. NASA, DIYers, and amateur tinkerers strive to understand their universe. I feel their ambition is universal, and so I am more interested in the act of their pursuits as opposed to the results."
2013
Jennifer D. Anderson: Reminiscent
Exhibition Dates: October 16 - November 22, 2013
Reception: Wednesday, October 16, 2013
Jennifer D. Anderson is an artist and educator with a creative and scholarly focus in printmaking. Through the combination of traditional hand printmaking processes and digital imaging, Anderson examines in her creative work the complexity of the human form and life, creating hard, harrowing images tempered by their vulnerability and ephemeral nature. Her work has been exhibited in both national and international venues and is included in several public and private collections including the Royal Museum of Fine Art, Antwerp, Belgium and the Ben Shahn Center Galleries at William Paterson University. She received a MFA from the University of Georgia and has taught at public and private institutions across the United States including workshops at the J Paul Getty Museum and the Craft and Folk Art Museum in Los Angeles. She is currently assistant professor of art at Hollins University.
Carleton Christy: Give-Up
Exhibition Dates: September 9 - October 11, 2013
Reception: Wednesday, September 11, 2013
Give-Up is a solo exhibition by Long Beach-based artist Carleton Christy. Christy earned his MFA from Cal State Long Beach and his BFA from Brigham Young University. He has shown his work at such venues as the Long Beach Museum of Art, LACE, and Sam Lee Gallery. In his new body of work, Christy presents a series of drawings and sculptural pieces, some of which incorporate text and some of which are interactive. There is a political undertone to the works and an exploration of what it means for one party or another to "give up."  Some of the pieces address contemporary issues that we are all familiar with while others transcribe literal movements from conflicts centuries old. Christy states: "To give up in some cases, is a virtue." 
Senior Exhibition
Exhibition Dates: April 22, 2013 – May 3, 2013
Adrian Paules: Facts and Opinions
Exhibition Dates: March 4, 2013 – April 19, 2013
Reception: Saturday, March 9, 2013
Facts and Opinions is a solo exhibition of new sculptures and drawings by Los Angeles-based artist Adrian Paules. Paules earned his MFA from Yale University and his BFA from Tyler School of Art. He has had solo exhibitions at Parker Jones in Los Angeles and his work has been included in group shows at Black Dragon Society and Jail Gallery.
William Lamson: Mercy of the Waves
Exhibition Dates: January 22, 2013 - March 1, 2013
Artist Talk: Tuesday, January 22, 2013
Reception: Tuesday, January 22, 2013
Mercy of the Waves is a sculptural and sound installation in which sand from the beach and water from the Pacific Ocean form fragile structures that exist as undetermined durational events. Lamson is a New York-based artist who has had recent solo exhibitions at Pierogi, Brooklyn, Indianapolis Museum of Art, and Honor Fraser, Los Angeles, and Museum of Contemporary Art, Denver.
Martin Shenal: Secondary Nature
Exhibition Dates: November 26, 2012 - January 18, 2013
Artist Talk: Monday, November 26, 2013
Reception: Monday, November 26, 2013
A solo exhibition by Martina Shenal. Shenal is an Associate Professor of Art in the Photography division at the University of Arizona. She earned her MFA from Arizona State University and a BFA from The Ohio State University. Prior to relocating to Tucson, Shenal was an Assistant Professor of Art at the Memphis College of Art from 1998-2004.
2012
Kyle Riedel: She Speaks
Exhibition Dates: September 3-October 12, 2012
Artist Talk: Thursday, September 20, 2012
Reception: Thursday, September 20, 2012
A body of work from artist Kyle Riedel. Riedel received his MFA in Transmedia from University of Texas, Austin, and he is currently an associate professor at California State University, Long Beach. He has exhibited his work internationally, and he recently completed residencies at the Banff Art Center in Canada and the Nida Art Colony in Lithuania.
Tm Gratkowski: Accumulation
Exhibition Dates: January 2-February 10, 2012
Artist Talk: Thursday, February 9, 2012
Reception: Thursday, February 9, 2012
A new body of work from Los Angeles-based artist Tm Gratkowski. Gratkowski did his undergraduate work at University of Wisconsin and he earned his MA from Sci-Arch. He has exhibited his work widely with recently solo exhibitions at Blythe Projects and Gallery 825 and recent group exhibitions at the Torrance art Museum, LA Municipal Art Gallery and the Armory Center for the Arts.
2011
Artist Xana Kudrjavcev-DeMilner
Artist Talk: Monday, November 21, 2011
A new body of work from Los Angeles-based artist Xana Kudrjavcev-DeMilner. Kudrjavcev-DeMilner earned her BA from Swarthmore College and her MFA from Yale University, and she has exhibited her work nationally and internationally at venues including ACME, Los Angeles, ICA Philadelphia, Kunst-Werke Berlin and Nosadella.due, Bologna.
Dawn Hunter: Sid and Nancy Go Back to the Beach
Exhibition Dates: October 17–November 19, 2011
Artist Talk: Wednesday, October 19, 2011
A new body of work from South Carolina based artist Dawn Hunter. Hunter earned her BFA from Kansas City Art Institute, and her MFA from University of California, Davis, and she is currently an Assistant Professor at the University of South Carolina, Columbia. Hunter has exhibited widely throughout the country. Some of her most recent accomplishments include solo exhibitions at Ithaca College Handwerker Gallery, University of Wisconsin-Madison and at Brown University Sarah Doyle Gallery. In the exhibition, Sid and Nancy Go Back to the Beach, Dawn Hunter utilizes iconic images that explore fashion, lifestyle, and capitalism. Within her images of cultural displacement she charts a "history" of commodity and consumption that result in or represent "fiasco."
Jamie Sweetman: Layered
Exhibition Dates: September 5–October 7, 2011
Artist Talk: Wednesday, September 21, 2011
Reception: Wednesday, September 21, 2011
A new body of work from Los Angeles based artist Jamie Sweetman. Sweetman has exhibited widely throughout California, and in recent years, she has shown her work at the Brand Library, the Long Beach Museum of Art and the Los Angeles Municipal Art Gallery among numerous other venues. Sweetman earned her BFA from the University of California, Los Angeles, and her MFA from California State University, Long Beach, and she teaches drawing courses at the University of Southern California, California State University, Long Beach and the J. Paul Getty Museum.
Diana Baumbach: Heimlich Reset
Exhibition Dates: February 14 - March 25, 2011
Artist Talk: Monday, February 14, 2011
A new body of work from Wyoming based artist Diana Baumbach. Baumbach earned her BFA from Washington University in St. Louis and her MFA from Southern Illinois University Carbondale. Recently, she has had solo exhibitions at Dynamo Expo in the Netherlands and at Penn State University. Baumbach is currently an Assistant Professor at the University of Wyoming.
Stella Ebner: FOLKS IT DOESN'T GET ANY BETTER THAN THIS!
Exhibition Dates: January 10 - February 11, 2011
Artist Talk (part of the Garrett House Working Artists Series): Thursday, February 10, 2011
Opening Reception: Thursday, February 10, 2011
A new body of screen prints from New York based artist Stella Ebner. Ebner earned her BFA from the University of Minnesota, Minneapolis and her MFA from the Rhode Island School of Design. She has exhibited at the San Francisco Museum of Modern Art Artists Gallery, International Print Center New York, and Boston Center for the Arts and Kala Art Institute among other venues. Ebner is currently an Assistant Professor at SUNY Purchase.
2010
Lisha Bai, Nicole Belle, Alexa Forosty, Erik Frydenborg, Justin Horne, Adrian Paules and Rachel Roske: Material & Gravity
Curated by Jenny Herrick
Exhibition Dates: November 16 - December 17, 2010
Opening Reception: Saturday, November 20, 2010
Artist Talk with Adrian Paules made possible by the Garrett House Working Artists Series: Monday, December 6, 2010
Noah Thomas: Ten Years Gone
Exhibition Dates: October 11–November 12, 2010
Artist Talk: Thursday, October 14, 2010
Closing Reception: Thursday, October 14, 2010
Ten Years Gone is a solo exhibition of artwork by Noah Thomas. Thomas lives and works as a multimedia sculptor in Long Beach, CA. After receiving his BA in Piano Performance at Skidmore College, he studied sculpture at California State University Long Beach earning his MFA in 2003. He has shown his work extensively in the Los Angeles Area with solo shows at Raid Projects and Cypress College. His work was recently on view at The Attic Gallery, and Laguna Art Museum. His diverse studio practice includes sound installation and performance, public art, and sculpture. His work has been reviewed in the Los Angeles Times, and the OC Weekly.
Greg J. Hayes: Any of These (or Others Like These)
Exhibition Dates: August 23–October 8, 2010
Artist Talk: Thursday, October 7, 2010
Closing Reception: Thursday, October 7, 2010
Any of These (or Others Like These), a solo exhibition of artwork by Greg J. Hayes. Hayes is a Los Angeles based artist who studied for a year at the School of the Museum of Fine Arts in Boston before receiving his MFA from the California Institute of the Arts in 2010. In recent years, he has exhibited work in Boston, Los Angeles, San Diego and Troy, NY, and images from his current body of work will be on display in the GLAMFA exhibition at Cal State Long Beach through mid-September. This fall, Hayes will be an artist-in-residence at the Cultural Center at Eagle Hill in Massachusetts.
Danny Jauregui: There Goes the Neighborhood
Exhibition Dates: April 13 to May 11, 2010
Artist Talk: Thursday, May 6, 2010
Closing Reception: Thursday, May 6, 2010
There Goes the Neighborhood, a solo exhibition of recent paintings by Danny Jauregui. Currently as Assistant Professor at Whittier College, Jauregui earned his BFA from Maryland Institute College of Art, his MFA from the University of California, San Diego and attended Skowhegan School of Painting and Sculpture. He has shown his work widely and currently has a solo exhibition at Bowdoin Museum in Brunswick, Maine and has work in Phantom Sightings, a traveling exhibition now on view at El Museo del Barrio in New York City.
Kate Hoffman, Malisa Humphrey and Justin Michell: The Excavators
Curated By Danny Jauregui
Exhibition Dates: March 1 to April 2, 2010
Artist Talk: Thursday, April 1, 2010
Closing Reception: Thursday, April 1, 2010
The Excavators groups three Los Angeles based artists highlighting their exploration or "excavation" of sites, histories, and subject matter. Scientific excavation refers to the exposure, processing, and recording of 'archeological remains'. Through the artists working process, all three engage in a form of 'digging' that results in poignant revelations and discoveries.
Aili Schmeltz: La Fuente de la Vida
Exhibition Dates: January 26 – February 25, 2010
Artist Talk: Thursday, February 25, 2010
Closing Reception: Thursday, February 25, 2010
The La Fuente de la Vida (The Fountain of Life) project is a collaboration between American and Mexican artists, filmmakers, professors, writers, dance professionals, and students. The body of work is comprised of four elements: a video installation with sound, drawings, a catalogue, and still digital photographs. The video component of the project is a three-channel projection in which each video is edited by a different artist, one American and two Mexican.
Liz Carney, Walpa D'Mark, Mark Dutcher, Asad Faulwell, Wendell Gladstone, Willian Ransom, Ana Rodriguez:  Set the Controls For the Heart of the Sun
Artist Talk: Thursday, December 3, 2010 (with Walpa D'Mark and Asad Faulwell)
Opening Reception: Thursday, December 3, 2010
Exhibition Dates: November 24, 2009 – January 15, 2010
This group exhibition brings together a diverse group of artists who all, in some way or another, rely upon the psychedelic aesthetic made popular in the 1960s. While the works in the show address themes as varied as politics, religion, biology, identity, and popular culture, the visual iterations of these themes are exemplified by a visual language derived from the digital realm which explores complex patterns, biomorphic forms, intricate spatial and compositional relationships, and perplexing color combinations. The show's title, Set the Controls for the Heart of the Sun, is drawn from the 1968 Pink Floyd song of the same title and alludes to the passion, wonderment and confidence that drive these artists to create.
2009
Jerrin Wagstaff: New Paintings
Artist Talk: Thursday, October 22, 2009
Opening Reception: Thursday, October 22, 2009
Exhibition Dates: October 22 – November 19, 2009
Eunkang Koh: Cityscape–Landscapes of Human Mannerisms
Dates: September 14 – October 16, 2009
Opening Reception: Wednesday, September 16, 2009
Gallery Talk: Wednesday, September 16 at 5:15pm
Andre Woodward: Living In Taste Inside My Hit
Dates: April 6 - May 9, 2009
Opening Reception: Thursday, April 9, 2009
Gallery Talk: Thursday, April 9, 2009
In his installation "LIVING IN TASTE INSIDE MY HIT", Andé Woodward presents a solo exhibition of recent sculptural works.
Nick DeFord, Maps and Legends
Dates: February 25 - March 27, 2009
Opening Reception: Wednesday, February 25, 2009
Gallery Talk: Wednesday, February 25th, 2009
Nick's work explores the languages of geography, cartography and information systems which he edits and alters in order to codify the relationship between identity and place. Using maps, globes, calendars and cosmic charts, information is either revealed or obscured in relation to recognizable geographic imagery. These actions occurs through additive processes, such as stitching, drawing, White-out, tape, etc. This disruption of visual information examines the thin boundary between the known and unknown. In order to examine this boundary, he selects as subject matter, places that are infamous for their mystery. Such sites include a center of conspiracy, the habitation of monsters and a vortex of mysticism.
Julia Latane, "I Will Never"
Dates: January 21-February 20, 2009
Opening Reception: Saturday, January 24, 2009
Gallery Talk: Thursday, February 19, 2009
Julia Latané presents a solo exhibition of objects and drawings.
2008
Ron Christe, Impressions of China
Dates: October 22 - November 20, 2008
Opening Reception: Thursday, October 23, 2008
In July 2006 three educators from Whittier area schools traveled to Whittier's Sister City - Changshu in the Jiangsu Provence of China to conduct the "Changshu English Summer Camp" for approximately 90 public school teachers. They were William C., "Ron" Christie, Dean of Business and Economic Development at Rio Hondo College, Richard Gebhard, Principal of East Whittier Middle School and Raquel Gasporra Principal of Orange Grove
Elementary School. Christie, an avid fine-art photographer, documented his impressions of this fascinating country with the images on display in the Greenleaf Gallery.
Rachel Roske: Things in Themselves
Dates: September 15 - October 17, 2008
Opening Reception: Thursday, September 8, 2008
Things In Themselves is a selection of paintings, drawings and other two-dimensional objects by Rachel Roske, whose work employs subject matter as a means to an end of exploring the nature of representation, perception and abstraction. Trompe l¹oeil painting techniques, manipulations of surface and physical supports and collage are among the devices Roske uses to exploit the contradictions of the canvas as both literal, physical object and conceptualized pictorial space.
Drawing: Solo exhibition featuring recent work on paper by Assistant Professor of Painting and Drawing Jenny Herrick
Dates: April 10 - May 9, 2008
Greenleaf Gallery is pleased to present "Drawing" a solo exhibition by Whittier College Assistant Professor Jenny Herrick. According to Herrick, "I am interested in natural, constructed and social systems that are hermetic by nature and in the causal relationships between implied actions and reactions within these systems. My drawings meld architectural, diagrammatic and programmatic visual languages with naturalistic rendering techniques." Herrick was hired this year in the Art Department at Whittier College, having previously taught at Mitchell College in Connecticut. She earned her BFA from the Rhode Island School of Design and an MFA at Yale.