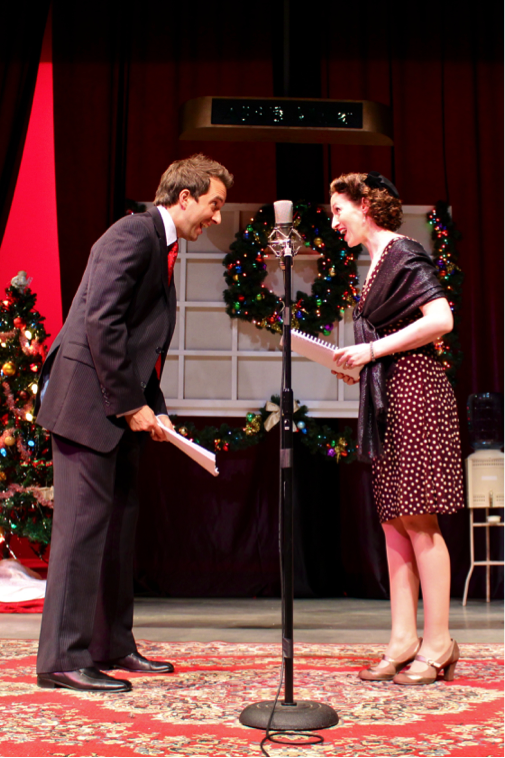 Joe Landry's adaptation of the classic holiday film, It's a Wonderful Life, will be staged as a benefit reading for the Enceladus Theatre Company on Wednesday, December 2, 2015 at 7:30 p.m. at the Ruth B. Shannon Center for the Performing Arts at Whittier College. Directed by Whittier College faculty and Enceladus Theatre Company Producing Artistic Director, Gil Gonzalez, the quick-paced and entertaining live performance will feature Whittier College faculty, students, and alumni.
The ensemble features Charlotte Bailey (Whittier College '13), Chris Cannon (Artistic Associate, Enceladus Theatre), Kyle Fox (Whittier College '12), Seamus Lagan (Professor of Physics), Katie Liddicoat (Managing Artistic Director, Enceladus Theatre), dAvid iAn pAddy (Professor of English), Christian Mohn (Whittier College '14) and stage manager Katryna Dillard (Whittier College '14.)
General admission ticket prices are $20 and $15 for students and senior citizens. Additional ticket information is available on the Ruth B. Shannon Center website shannoncenter.org and ticket reservations can be made by calling 562.907.4203.
Founded by Quakers in 1887, Whittier College is an independent, four-year college offering a traditional liberal arts program integrated with both professional and pre-professional courses of study. With an emphasis on diversity, community, and curricular innovation, the College's primary mission is to endow students with the education, skills, and values appropriate for global leadership and service. Whittier College is a designated Hispanic-Serving Institution (HSI).
The Enceladus Theatre Company is committed to presenting vivid, imaginative, and creative works of live theatre. We are passionate theatre artists determined to challenge audiences throughout the southern California region. Enceladus Theatre Company is a 501(c)(3) non-profit organization. If you are interested in making a tax-deductible donation, volunteering time, or would simply like further information, call 562.907.4833 or visit enceladustheatre.org