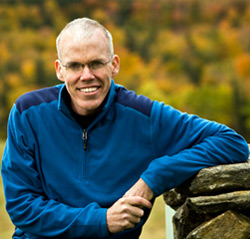 Author, educator, and leading environmentalist Bill McKibben will speak at Whittier College as part of the 2010 New Student Convocation. His lecture, Science and Society: Making Sense of the Most Important Number in the World, will take place Friday November 5 at 4:30 p.m. in Memorial Chapel, 13406 Philadelphia Street, Whittier, CA, Whittier College. McKibben will also receive an honorary degree from the College: a doctorate of humane letters (L.H.D.). This lecture is free and open to the public. Please note, seating is limited; first-come, first-served.
Viewew by many as the world's most influential environmentalist, McKibben is leading the largest global grass roots campaign to stop climate change. A noted author and advocate for alternative energy and localized economies, McKibben was named by Foreign Policy magazine to its inaugural list of the 100 most important global thinkers. In 2009 he led the organization of 350.org , which coordinated "the largest ever global coordinated rally of any kind," with 5,200 simultaneous demonstrations in 181 countries. The author of 12 books and countless articles for news dailies and journals such as The New York Times, Mother Jone, Rolling Stone, and others, he has been awarded Guggenheim and Lyndhurst Fellowships, and won the Lannan Prize for nonfiction writing in 2000.
This lecture is the culmination of the 2010 New Student Orientation, Poets Go Green, which is designed to promote an eco-friendly consciousness on the campus community.
According to the Princeton Review, Whittier College is among the country's most environmentally-responsible colleges. The nationally-known education services company selected Whittier for inclusion in a unique resource it has created for college applicants—The Princeton Review's Guide to 286 Green Colleges.