July 11, 2010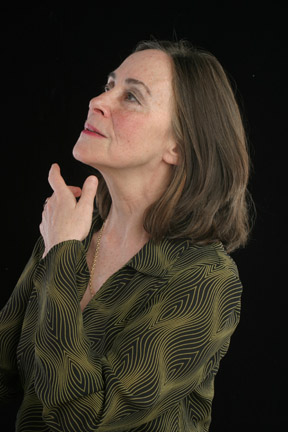 Nationally recognized performance artist, playwright and musician Claudia Stevens will give a talk and present her solo production, An Evening with Madame F, a play about women musicians at Auschwitz, for the 2010 Feinberg Lecture on February 18 at 7:30 p.m. in the Ruth B. Shannon Center for the Performing Arts, 6760 Painter Ave., Whittier, CA 90608. The performance is free and open to the public, but seating is limited and reservations are required. For more information or to RSVP please call Terrie Valenzuela 562.907.4219.
Steven's entire body of work is a collection of unique and multifaceted interdisciplinary pieces that engage topics such as hate crimes, issues of identity, hidden family past, history, and reconciliation. 
Stevens' original musical drama,An Evening with Madame F, stands among a handful of Holocaust-related theatrical pieces that give artistic expression to a catastrophe that defies comprehension, and since 1990, this one-woman show has been presented at more than 100 venues across the country and produced for public television. While drawing on several first-hand accounts by women musicians who survived the Holocaust,the story of Madame F primarily chronicles Fanja Fenelson, who, as a youth, performed in the women's orchestra at Auschwitz. The show's haunting musical score incorporates songs once performed by concentration camp inmates.
Herself the daughter of Holocaust survivors, Stevens also meditates—in the performance and in remarks afterwards—on the dilemma of using the Holocaust for artistic purposes.
Trained as a pianist, musicologist, conductor, and composer, Stevens holds degrees in music from Vassar College, University of California, Berkeley, and Boston University. She is currently a visiting scholar at the College of William and Mary.
Previous Feinberg Lecturers include Dr. Judea Pearl, Justice Richard Goldstone, radio talk show host and author Dennis Prager; John Loftus, prosecutor of Nazi criminals; Seymour Martin Lipset; John Rothmann, KGO talk show host; Rodger Kamenetz, author of the national bestseller The Jew in the Lotus, and Leonard Greenspoon, Klutznick Professor of Jewish Civilization at Creighton University.