March 3, 2010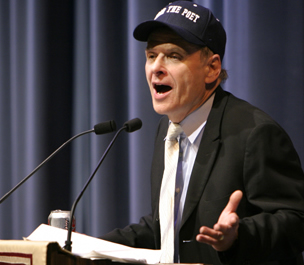 Tim O'Brien—award-winning author of The Things They Carried—will give the keynote address and Keith Jackson, lauded sports announcer, will be a special guest at Whittier College's 107th Commencement Ceremony on Friday, May 28, 9 a.m. in Memorial Stadium on the Whittier College campus. During the event, at which approximately 340 undergraduate and graduate students are expected to receive their degrees, O'Brien and Jackson will also each receive an honorary degree from Whittier: a doctorate of humane letters (L.H.D.).
[Tim O'Brien] O'Brien is an American novelist who writes about his experiences in the Vietnam War and the impact that the war had on the American soldiers who fought there.
As a recent college graduate in the late 1960s, O'Brien was drafted into the infantry and was sent to Vietnam, where he served from 1969 to 1970. He was part of the Americal division, infamous for its participation in the My Lai massacre, which occurred shortly before O'Brien's arrival in Vietnam. That event also figures in his writing, most prominently, In the Lake of the Woods.
Upon completing his tour of duty, O'Brien went on to graduate school at Harvard University and received an internship at the Washington Post. His writing career was launched in 1973 with the release of, If I Die in a Combat Zone, Box Me Up and Ship Me Home, a memoir about his war experiences.
In 1979, O'Brien received the National Book Award in fiction for Going After Cacciato. And, In the Lake of the Woods received the James Fenimore Cooper Prize for Best Historical Fiction in 1995 and was named the best novel of 1994 by Time Magazine.
In 2006, all entering Whittier students read O'Brien's book, The Things They Carried. As such, the commencement address will be a meaningful way to "bookend" the graduating class' Whittier experience.
O'Brien earned his BA in political science from Macalester College in 1968. He currently lives in Austin, Texas and is a visiting professor and endowed chair at Southwest Texas State University where he teaches in the creative writing program.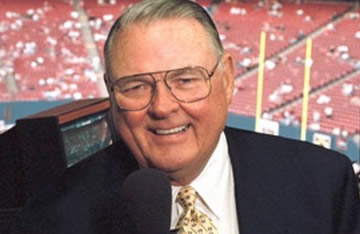 [Keith Jackson] Sportscaster Keith Jackson is well known for his 40-year long career with ABC Sports television, his coverage of college football that spanned more than five decades, as well as his deep voice and folksy, down-to-earth style commentary.
Though best known for his college football broadcasts, Jackson announced numerous other sports for ABC throughout his career, including Major League Baseball, NBA basketball, NFL football, boxing, auto racing, and the Olympic Games.
He began his career as a broadcaster in 1952 after graduating from Washington State University, which he did under the GI Bill. Working for KOMO radio in Seattle, in 1958 Jackson became the first American sports announcer to broadcast an event from the Soviet Union—a crew race between the Washington Huskies and a Soviet team. He subsequently became a radio news correspondent for ABC News Radio and sports director of ABC Radio West before joining ABC Sports in 1966.
For all his success, he received the most acclaim for his coverage of college football.
Jackson's long and illustrious career is marked by numerous recognitions. In 1995, he was inducted into the National Sportscasters and Sportswriters Association Hall of Fame, having won its National Sportscaster of the Year five successive times. In 1999 he was presented with three distinct top honors, the National Football Foundation awarded Jackson the Gold Medal Award, its highest honor; he was inducted into the Rose Bowl Hall of Fame for his many years of contribution to the game; and the Edward R. Murrow School of Communication at Washington State University awarded their alumnus with the Murrow Award for top leaders in the communication industry.
Jackson officially retired in 2006 at the age of 77. His last game call was the 2006 Rose Bowl featuring Texas vs. USC. He lives in California with his wife. Jackson is the father of Whittier College artist-in-residence and faculty member in Voice, Melanie Jackson.
Jackson will also be on the Whittier College Campus on March 23 to speak at the President's Club Luncheon for scholar athletes. The luncheon is for student-athletes who've maintained a 3.5 or higher grade point average.