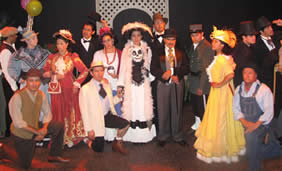 Whittier College and the Bilingual Foundation for the Arts present Un Domingo en la Alameda, a Spanish-language play inspired by the magnificent and famous mural by Diego Rivera, on Wednesday, September 15 at 7:30 p.m. in the Ruth B. Shannon Center for the Performing Arts, 6760 Painter Ave, Whittier, CA 90608. General admission is $5; free for Whittier College students, faculty, and staff. To reserve tickets or for more information contact the Shannon Center: 562.907.4203 or boxoffice@shannoncenter.org.
The play, A Sunday in The Alameda/ Un Domingo en la Alameda, takes you as if in a dream through the wonders of time, music, and dance, focusing on some of the characters who formed the history of Mexico, and who were immortalized in the mural of one of the greatest Mexican painters of all times. Historical personalities like Diego Rivera, Frida Khalo, Guadalupe Posada, Ricardo Flores Magon, Jose Martí, and other famous characters of that time meet together in a timeless place in Rivera's memory to present the audience their life's experience.
Presented by Bilingual Foundation of the Arts, a non-profit organization,Un Domingo en la Alameda is promoting the knowledge of Mexico's history and its culture among Hispanics and non-Hispanics in Los Angeles. 
After the show, the audience is invited to a reception with the actors. At 10 p.m. we will celebrate the 200th anniversary of Mexico's independence with a live telecast of "El Grito" from Mexico City. 
This event is being organized by the Garrett House, the Ortiz Programs, Ruth B. Shannon Center for the Performing Arts, and Department of Modern Languages.