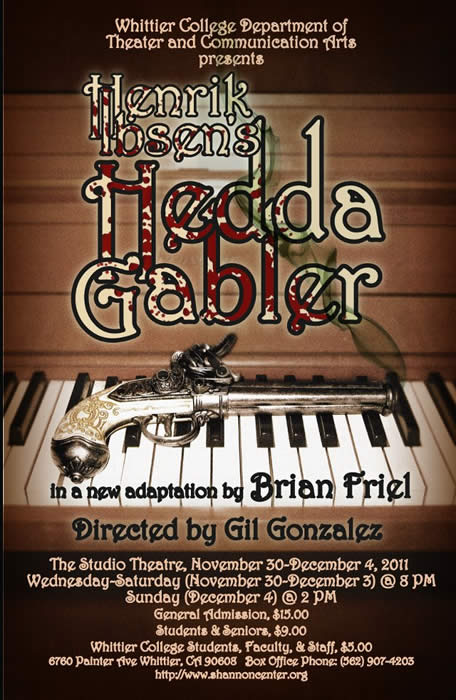 Hedda Gabler written by Henrik Ibsen and translated by Brian Friel will come to life in the Studio Theatre of the Ruth B. Shannon Center for Performing Arts, 6760 Painter Ave., Whittier, CA 9060. The play runs from November 30- December 3 at 8 p.m. and December 4 at 2 p.m. General admission is $15, students and seniors, $9; and Whittier College faculty, staff, and students, $5. For additional information, directions, or to purchase tickets, please call (562) 907-4203, or visit online,www.shannoncenter.org.
In the play, Hedda, a strong woman, bored and dissatisfied with her tedious life and new marriage, seeks to change and manipulate the lives of the people that surround her. To many, Hedda Gabler is seen as the female version of Hamlet whose rash decisions lead to climactic, devastating, and tragic events.
"Brian Friel's new version—taking liberties that only a master playwright might—invests Ibsen's social realist original with psychological realism, presenting the harridan's gradual mental breakdown as a physiological consequence of an entirely inflexible social milieu. Friel finds wry humour in historical hindsight; however, while the dated attitudes of Hedda's husband, lovers and lady companions provoke laughter from a contemporary audience, Hedda's final actions become an almost logical defense against a world that refuses her agency. Crucially, they still have the capacity to shock." —Irish Times.
"[Brian Friel] has taken Ibsen's play and given it his own twist. His translation enlivens the dialogue between the characters, gives the play energy and brings out a wry and dark humor for a modern audience." —RTE.ie
This production features an all student cast and is directed by theatre professor Gil Gonzalez. Each year the theatre department produces up to four faculty directed productions in the Ruth B. Shannon Center for the Performing Arts. These productions afford students the opportunity to engage in theatre as a collaborative process.