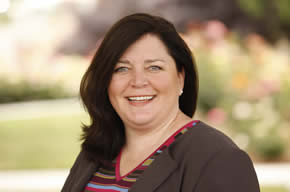 Elizabeth Power Robison has been appointed Whittier College's first vice president for advancement and strategic initiatives. In this role, she adds the development of alternative sources of revenue for the College to her portfolio. Robison has served as the College's vice president for advancement since 2007 and will continue to oversee development, communications, and alumni relations. In addition, she will help identify and implement signature programs to bring new audiences to Whittier, spread the College's reputation for excellence throughout the world, and generate important new revenue.
"This new position will allow Elizabeth to continue work already underway, generating exciting new program possibilities for the College," said President Sharon Herzberger. "Over the last five years, Elizabeth's work in shaping a stellar advancement operation has produced results that are well understood on our campus. Despite the difficult economic environment, Elizabeth and her team have raised nearly $50M from individuals and foundations since 2007, and have almost doubled the annual giving rate to the Whittier Fund, effectively extending our ability to provide financial aid to our students, enhance academic programs, improve salaries, and address critical capital needs. Equally important, Elizabeth and her team have improved our alumni outreach and engagement, building a dynamic Whittier Weekend program and robust alumni network around the globe. Moreover, spreading the news about Whittier through enhanced print and web communications, they also have broadened our base of loyal support and helped build our reputation both here and abroad."
Robison has 21 years of experience working within institutions of higher educational and has held various posts with increasing responsibility. With a strong understanding of global trends and conditions effecting colleges and universities, she exhibits leadership in formulating, implementing, and achieving effective goals and strategies.
Before coming to Whittier, Robison served for nearly three years as vice president for advancement, overseeing all aspects of annual and campaign fundraising, communications, alumni relations and special events at nearby Keck Graduate Institute (KGI) in Claremont. While at KGI, she was instrumental in securing a $20 million matching challenge grant from the W.M. Keck Foundation—a critical success in KGI's first-ever fundraising campaign.
From the start of her career in development, which began with a research position at Pomona College in 1993, Robison has quickly advanced in the field and successfully tackled a variety of fundraising roles. Prior to KGI, she served as director of development for Occidental College, where her work with alumni volunteers resulted in a 2002 Award of Distinction from the Council for the Advancement and Support of Education; individual gifts officer for Mount Holyoke College; and director of annual giving at both Scripps College and Brandeis University. While at Brandeis, Robison assumed additional responsibilities as director of campaign operations, planning and managing an impressive $470 million comprehensive campaign.
Robison holds an M.B.A. from the University of Southern California's Marshall School of Business, and a bachelor's degree in American Studies from Brandeis University in Massachusetts.