March 29, 2010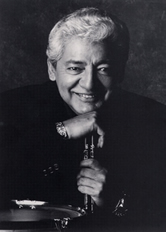 The Inside Latin Jazz series continues with world renown artist Pete Escovedo. Moderated by Grammy-winning flute soloist and music professor Danilo Lozano, the program will offer a fascinating onstage interview and musical performance. Presented by Whittier College Music Department and Emerson Bran Management, the event takes place April 15, 2010 at 7:30p.m. in the Ruth B. Shannon Center for the Performing Arts, 67060 Painter Ave, Whittier, CA 90608, Whittier College. General Admissions $5.00 tickets can be purchased by calling (562) 907-4203.
The forum for Inside Latin Jazz is small, allowing the audience to interact with the artist.
"We want to create an environment where people can engage with the music and ask questions for themselves," adds Lozano.
Bio
Legendary Mexican-American percussionist Pete Escovedo is an artist who has broken down the barriers between Smooth Jazz, Salsa, Latin Jazz, and contemporary music. Moreover, he has been a major influence in Latin Jazz since the 1960s.
In 1972 he toured and performed with the Carlos Santana band. During this time he also recorded three major albums, Moonflower, Oneness, and Inner Secrets. Escovedos's versatility as a percussionist has been featured in performances and recordings by a wide range of artists such as Tito Puente, Herbie Hancock, Mongo Santamaria, Bobby McFerrin, Boz Scaggs, Barry White, and Chick Corea, just to name a few. In addition, he has performed and recorded with his daughter Sheila E.
As a solo artist Escovedo has recorded six acclaimed albums on Concord Records. Today Escovedo leads one of the top Latin-Jazz Orchestras in the country performing his own unique sound and continues to deliver his music throughout the world.