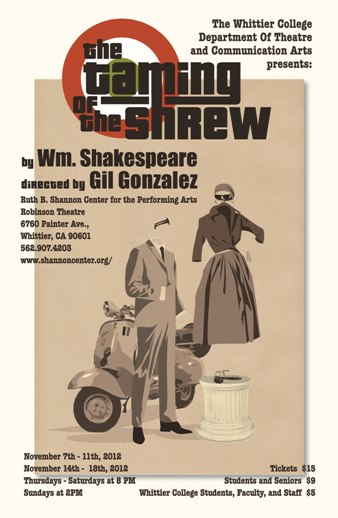 The Taming of the Shrew will come to the Whittier College stage November 7-10 and 14-17 at 8 p.m. and November 11 and 18 at 2 p.m. in the Robinson Theater of the Ruth B. Shannon Center for the Performing Arts, 6760 Painter Ave., Whittier, CA 90608. General Admission is $15 and $9 for students and seniors. For additional information, directions, or to purchase tickets, call (562)907-4203 or visit www.shannoncenter.org.
Set in the late 1950's, Verona, Italy, this comedy of errors is a fast-paced, battle of the sexes filled with witty and playful humor that tells the story of the Minola family, desperate suitors, clever disguises, and unconventional romance.
"One of the Bard's earliest and most popular plays, The Taming of the Shrew is rife with subplots involving his customary devices of disguise and mistaken identity. The vivid language, studded with elaborate puns is an engaging compliment to the play's slapstick humor." —Dover Publications
This production features an all student cast and is directed by Gil Gonzalez, Assistant Professor of the Theater and Communication Arts department at Whittier College. Each year the theatre department produces up to four faculty directed productions in the Ruth B. Shannon Center for the Performing Arts. These productions afford students the opportunity to engage in theatre as a collaborative process.
CAST LIST
Stage Manager: Alexx Zachary
Assistant Stage Managers: Katrina Dillard and Andrew Tisnado
BAPTISTA MINOLA...Daniel Wheeler
KATHARINA MINOLA...Charlotte Bailey
BIANCA MINOLA...Ali Wheeler
VINCENTIO...Jonathan Tupajanin
LUCENTIO...Kevin Landucci
GREMIO...Collin McDowell
HORTENSIO...Christian Mohn
TRANIO...Samantha Quintanar
BIONDELLO...Stella Gordon
PETRUCHIO...Sean Golightly
GRUMIO...Dana Barraco
CURTIS...Megan Connell
WIDOW...Courtney Smith
PEDANT...Ben Thompson
ENSEMBLE...Victoria Esquer, Natalie Edelman India Warren, Selorm Kploanyi