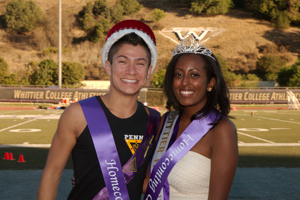 From Orientation in September through to Commencement in May, Whittier College hosts a number of events designed to bring together all members of our expanded family to share in traditional activities and celebrations.
Orientation — The induction of first-year, International and transfer students traditionally takes place over Labor Day Weekend in early September and is an opportunity for new students and their families to meet professors, administrators, and learn about life on campus.
Whittier Weekend and Family Celebration — Taking place in October, this weekend of activities focuses on building the true "Poet spirit," as alumni and parents of current students mingle and take part in some of Whittier's longstanding events: Dub Sync Pep Rally, Homecoming sports games, and the crowning of a "king" and "queen."
Tardeada — Taking place the final day of Whittier Weekend, Tardeada is a cultural fiesta of music, food, dancing, and performance that has been a Whittier tradition for more than three decades.
Honors Convocation — Taking place in April, Honors Convocation recognizes outstanding student academic, service, and leadership achievement, and offers a prelude to the pageantry of graduation exercises.
Latino Graduate Celebration — An intimate event hosted by the Hispanic Student Association to highlight the achievements of our graduating seniors. This event, celebrated at the Ruth B. Shannon Center for the Performing Arts, brings together students, families, faculty, alumni, and friends to recognize all those who contributed to our students' success.
Baccalaureate Ceremony — Held the evening before Commencement in the Harris Amphitheater, the Baccalaureate Ceremony is a highlight of the academic year. It is a time to celebrate the academic achievements of our students with a special invocation and performances by our music department.
Commencement — The culmination of the Whittier College experience is the formal ceremony, traditionally held Memorial Day Weekend, but the week prior to the official event includes activities for graduating seniors, their families, and returning alumni.