Seeing wild giraffes and lions up close, visiting the Eiffel Tower and Louvre, walking through the ruins of ancient Greek civilizations, touching the Great Wall of China, and climbing up to Machu Picchu – these are some of the wonders of exploring the world outside our borders. And while any student would be enticed by these opportunities, Whittier College students haven taken travel and study abroad to an even higher level. Participating in faculty-led study trips, as well as international internships and fellowships, Poets embark on unique academic adventures that allow for scholarly pursuits, professional development, cultural immersion, and personal growth. Moreover, these explorations help to prepare students to become leaders in our global society and evolving workplace.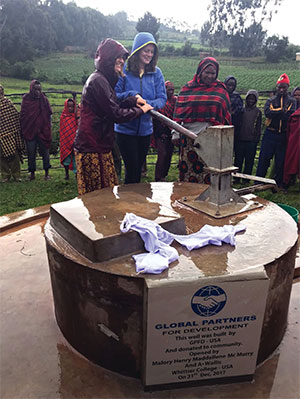 Embarking on such a journey—one that would take them nearly 10,000 miles from the Whittier campus—Malory Henry '19 and Madeleine McMurray '18 traveled to Tanzania during the most recent JanTerm to engage with local communities and participate in authentic community-driven development projects.
"Leaving on the plane to go to Africa, I was more excited than I was scared," said Henry. "One of the biggest things I learned is that we never make the journey that we think we're making. Every single expectation I had about coming here was completely wrong."
Henry and McMurray were the inaugural recipients of the Brethren Community Foundation (BCF) Fellowship—a partnership between BCF, Global Partners for Development (GPD), and Whittier. The fellowship was designed as an elite opportunity for participants to interact with Global Partners, a non-profit organization that works with local communities in East Africa to find sustainable solutions to critical needs such as health care, education, and access to clean water.
Community Partnerships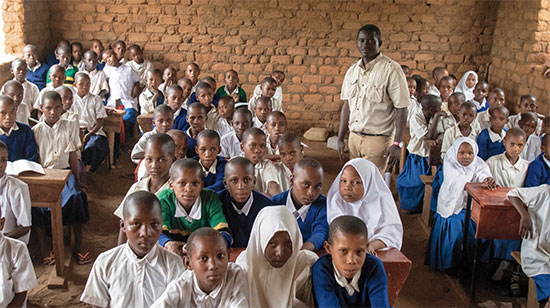 The fellows spent four very busy weeks in Tanzania, traveling by van with their guides, visiting Global Partner project sites at different stages of development. "We moved around every three to four days to see different examples of community-driven development," said McMurray. "You get to see how happy everyone is to have these projects and how much they've impacted the community."
One stop included visiting a new school that educates hundreds of children. "The school had three rooms—one room for the girls, one room for the boys, and one was the teacher's office," said McMurray. With large windows and a new blackboard, the modest schoolhouse was a definite improvement to its predecessor, a four-walled wooden structure held together by clay.
"Towards the end of the trip it was really exciting, we got to go to a public meeting where partnership was first being offered to this community," added McMurray. She explains that rather than simply proposing a project to a community that may not have the desire or resources to maintain it, GPD first begins a dialogue with villagers to determine what the community truly wants and needs.
For Henry, a pre-med student, a highlight of the trip involved shadowing doctors at the Foundation for African Medicine and Education (FAME Medical). "It was such an amazing experience to see how hospitals function in other countries," she said. "Staying at FAME Medical especially opened my eyes to life as a doctor abroad—I'm hoping to return to FAME at some point, whether that's as a student researcher or a doctor."
Cultural Immersion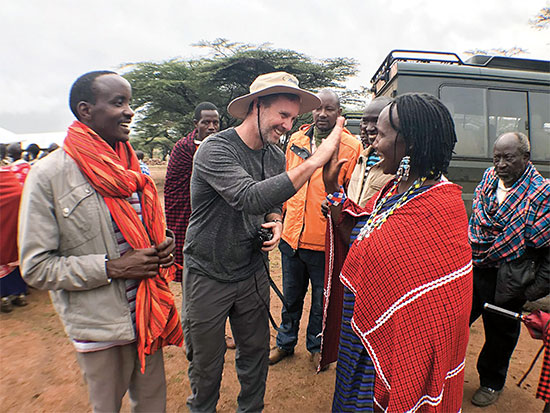 To gain a deeper understanding of the people of Tanzania, the fellows lodged for a few days in a Maasai homestay, where they tended to cattle and goats, helped prepare meals, and developed true friendships with the Maasai, an ethnic group native to the region.
"An American gets to know the life of a Maasai family, and a Maasai gets to know the life of this young girl from America. They no longer read about it but live it. I believe that the girls who have been with us will not go to America the same people," said Alias Marindat, one of the Maasai hosts and a GPD partner.
"Being able to see Maasai pastoralism, religion, and lifestyle was something I really enjoyed—experiencing another culture's way of life, if only for a short amount of time, definitely forces one to think critically about their own lifestyle and culture," said Henry.
The experience also challenged Henry in ways she had not foreseen: "The fact that I am an outsider, I look different, I don't speak their language, and I don't understand their culture, and they don't understand mine. It is very uncomfortable. I think being uncomfortable is one of the most important things you can feel when you are going abroad. That's probably been the biggest source of my growth."
Having traveled broadly, McMurray can also relate to being challenged in new and foreign settings. The business administration and environmental studies double major had previously studied abroad in Costa Rica and China and completed two summer internships in Cambodia with the U.S. State Department and U.S. Agency for International Development. She said that Whittier helped prepare her for these experiences.
"At Whittier, every day in classes you're being exposed to all of these different ideologies and backgrounds of students. At the end of the day, you recognize that people are people, and you find ways to connect with people who are, at face value, so different from you," said McMurray.
An Eye Toward the Future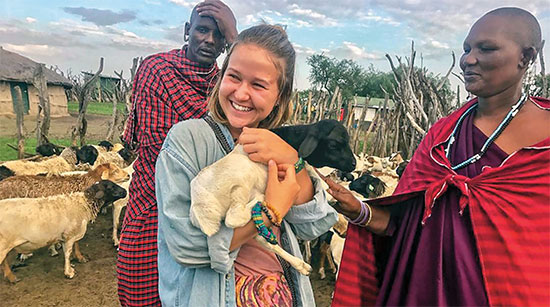 After graduation, Henry and McMurray plan to expand on the lessons they've learned as undergraduates—seeking careers on the international level.
McMurray plans on pursuing a career that combines her travel, internship, and academic experience, allowing her to put into practice the skills she's developed during her time at Whittier. Eventually, she also plans on obtaining a master's degree.
In addition to her trip to Tanzania, Henry, who is majoring in medical anthropology through the Whittier Scholars Program, spent a semester studying in South Africa. Before applying to medical school, Henry is considering joining the Peace Corps or embarking on another research fellowship. Her ultimate goal is to become a doctor and work in an international community.
"This experience abroad definitely prepared me for what I imagine my life to be," said Henry.
The BCF fellowship supported 100 percent of the costs associated with the trip. Harriet Harris and her husband, Whittier Trustee Emeritus Bill Harris Jr. '55 were instrumental in bringing this partnership to the College. Strong supporters of Global Partners, they have been part of the Brethren Corporation – parent organization of the BCF – for decades.