She's not only an incredibly successful entrepreneur, she's also a powerful woman in business in an era where women-led startups outpace their male counterparts. Among the many ways the Internet has changed the business world, comparatively inexpensive websites have lowered the barrier to entry for aspiring entrepreneurs who don't have to pay thousands of dollars a month for a brick-and-mortar, and ubiquitous platforms like YouTube and Instagram have given passionate personalities a huge boost for their voice.
In many ways, Ho—a woman who's used the Internet to build a multimillion-dollar career—is the new face of business.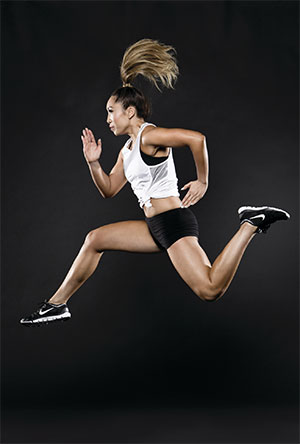 On the stage of the Ruth B. Shannon Center for the Performing Arts, Cassey Ho '09 and four dancers spun, stretched, and kicked in a kaleidoscope of lights and colors. The performance transformed the stage of her alma mater into a mesmerizing expression of how POP Pilates—her wildly successful pairing of pop music and exercise—makes her feel: strong, beautiful, and empowered.
The young, energetic CEO has millions of reasons to feel powerful—four million and counting, to be exact. Her Shannon Center dance anchors a music video, The Perfect Storm, that debuted this year to her more than 4.1 million YouTube subscribers. That's more fans than some network television series.
Her YouTube channel, Blogilates, has become the number-one female fitness channel on the site. Recognizing the popularity of her passionate and empowering approach to Pilates, 24 Hour Fitness signed a deal with the rising entrepreneur to make her pop music-infused exercises the official Pilates workout at their nationwide gyms. On top of that, she's the designer and CEO of her own active wear line, POPFLEX; she's authored a best-selling book, Hot Body Year Round; and she's launched a new, intensive workout program, PIIT28.
It's no wonder that Time magazine named Ho one of the 25 most influential people on the Internet, alongside J.K. Rowling, Katy Perry, and Chance the Rapper.
Those aren't the only famous names she's been associated with. Collaboration is key in the realm of YouTube and, living in the Los Angeles area, Ho is never far from a close group of fellow well-known YouTube personalities like Lilly Singh and Rosanna Pansino, who can quickly organize to promote and support one another. Such collaboration is an important skill, and one that Ho developed at Whittier by being heavily involved on campus while juggling a full course load and her part-time job teaching Pilates at a local gym.
Discovering Pilates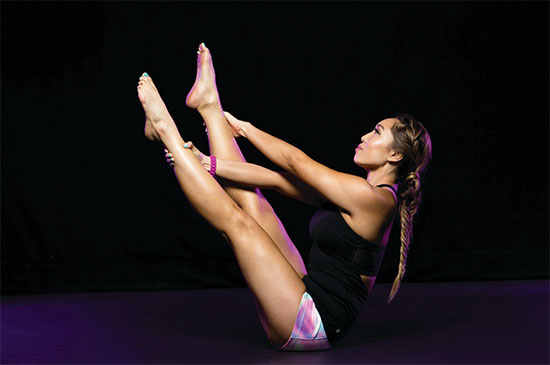 One fateful Saturday morning, while still in high school and living at home in San Francisco, Ho happened to catch one of fitness guru Mari Winsor's new infomercials about a workout she'd spent years popularizing: Pilates.
"I thought to myself 'Yea, I can do that!'" Ho said. "It seemed like something fun yet challenging that I could do on my own."
As she prepared to graduate and come to Whittier, Ho was sitting in her high school economics class when her teacher assigned them to budget their bills and how they would live, based on their car choice. Most people took the fiscally conscious route with rides like Honda Civics or Toyota Camrys. But when it was Ho's turn, she showed everyone a picture of a shiny, hardtop Mercedes-Benz convertible. As Ho
recalls, the teacher laughed and said, "and how is that gonna happen?"
Whittier College
After she arrived at Whittier, Ho went from simply practicing Pilates to teaching it. At a 24 Hour Fitness gym not far from campus, she began instructing a Pilates class part-time while working toward her bachelor's degree.
In many ways, Whittier is where Ho began sketching the beginning of her career—literally. During one of her marketing classes, she doodled a logo design in the margin of her paper: "Blogilates," in cursive, with a little heart to dot the "I."
Fashion design was always a passion, and early into her time at Whittier, a flirty and sophisticated "little black dress" she designed hit the catwalk during San Francisco Fashion Week after winning a student competition.
Her exposure to the fashion world was eye-opening. Ho, who majored in biology and minored in business administration, aspired to fuse her scientific and artistic interests through entrepreneurship.
Before crossing the commencement stage, she picked up soft skills that would serve her well on that path. Ho was a resident advisor, tutored her fellow students, and joined both the Asian Student Association and the Ballroom Dance club.
"Because I was so involved on campus while I was at Whittier, I learned how to be very resourceful," she said. "I loved putting on events, so connecting with organizations and people all over campus helped me learn how to collaborate and make things happen."
When she graduated, she created a send-off video for the 40 Pilates students she was leaving behind. The 10-minute session, filmed in her living room, was the first video she posted on YouTube. She never expected anyone but those few dozen students to see it.
She was wrong.
Blogilates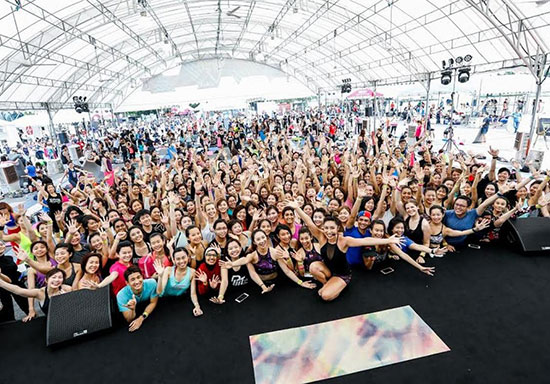 Ho picked a perfect time to join YouTube, which in the late 2000s, created a tidal wave of online stars.
Shifting viewing habits—especially among millenials—from traditional media to the Internet created a growing audience for people like Singh, Pansino, Tyler Oakley, and Lindsey Stirling, who all debuted within a year or two of Ho. As they accumulated millions of views from their living rooms, they were changing the way the world thought about celebrity.
There was never a particular moment when Ho realized that a true YouTube career was materializing. Everything happened gradually: she discovered there was an interest in her workouts (which she paired with pop music to create POP Pilates), she posted them on her channel, Blogilates, and views and subscriptions climbed. And climbed. And climbed.
"Being able to offer something of value to people all over the world helped me gain trust and an audience," Ho said. She puts in a lot of effort for that growing fan base. On filming days, after scouting a location and prepping lights and sound, Ho powers through five to six full workouts—each with their own choreography. All that, plus hair, makeup, and outfit changes between each workout, and a lot of video editing back at the studio.
Thanks to her hard work, Ho led a global audience to healthier lives while listening to the likes of Carly Rae Jepsen and Taylor Swift, and as she accumulated millions of social media followers, Ho always remained herself. When she considers why her brand grew so enormously, she points to that authenticity.
"The community aspect of Blogilates thrived because of my honest and transparent approach to connecting with people," Ho said. "I'm not afraid to be vulnerable, and I think a lot of people find that to be comforting and relatable."
By 2012, monetization of her videos had become a significant portion of her livelihood. That year, Blogilates—with that cursive logo penned at Whittier—had accumulated more than 20 million views, and the likes of Forbes took notice. The business magazine heralded Ho as one of YouTube's "Rising Women of Power," and her name has only grown since. Twenty million views exploded to 300 million (included among them: Swift herself). It wasn't long before Blogilates became the number-one female fitness channel on YouTube. In 2015, she signed the deal with 24 Hour Fitness to install POP Pilates as the gym company's official Pilates workout.
Months later, she was sharing a stage with the likes of Virgin Atlantic founder Richard Branson and Sean Rad, the CEO of Tinder, at an entrepreneurship panel in downtown Los Angeles, talking about the future of global business.
"Not knowing what direction Blogilates was going, I had to trust myself, trust my community, and give them what they want. Because they're the ones who basically gave me what I have today, so I am always grateful for this community," said Ho during the panel.
That integrity and wholehearted service to her audience has helped her brands grow over the years. And, when her fans started asking for a clothing line, that's what she did.
POPFLEX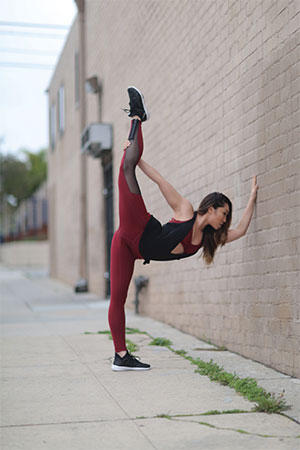 In an office filled with inspirational sketches, deadline-laden calendars, and a rainbow of fabrics, Ho made good on a longheld goal that she'd kept burning at Whittier to become a fashion designer.
For two years, Ho and her team researched the industry and traveled the globe to source every thread, trim, ribbon, and piece of fabric that would go into the line, cutting out the middleman to keep the price point on the line affordable for her fans. Starting from the ground up, they built relationships and ensured that the garment sewers and factory partners were happy.
In her spiral notebooks, Ho inked her ideas and collaborated with her employees on how the designs should look and feel. By December 2016, the line was ready. It draws its inspiration from nature, with collections like the pink-and-periwinkle Peony and the turquoise-and-magenta Mermaid.
"The work that goes into fashion design is extremely challenging. But, when we get it right, it is one of the most satisfying things in the world," Ho said. "To see your idea—your sketch—go through several months of revisions, fittings, and for it to make it through production and end up on a real person's body—I mean, wow, that's chaotic choreography that was well planned and well executed!"
The new endeavor was a success. POPFLEX has become an international brand that, just earlier this year, Ho brought to its first industry trade show: Active Collective in New York City, where names like Lorna Jane attract potential buyers. It was surreal and a confidence boost seeing POPFLEX shine next to big players.
"I first started drawing my original sketches for my activewear line in college," she said. "What I'm most proud of is the fact that something that began as an idea in my head truly became a reality."
Giving Back
After all this success, Ho and her fiancé, Sam Livits '08, are giving back to Whittier this year with the $50,000 Blogilates Entrepreneurial Scholarship, which will support female students who showcase entrepreneurship and leadership across campus.
"Sam and I have always wanted to give back to our amazing school because the staff, the professors, and the entire Whittier community have provided so much value and so many positive memories for us," she said.
Living Her Best Life
Cruising around sunny Santa Monica late last summer, Ho steered past the bustling pier and swung through bohemian Venice Beach, with the wind blowing through her hair, and a film crew following closely behind. But the cameras capturing her every turn weren't her usual setup; they belonged to the creators behind a new commercial, who were looking for a powerful woman to pair with their newest convertible.
Ho more than fit the bill. In only a few years, she'd turned a single YouTube video and sketches into international brands. She had seen a course for her life, and with intense passion and work, steered it to a place of monumental success. She's earned much, and on that warm August day in Southern California, she'd earned a dream come true: Ho was behind the wheel of a Mercedes-Benz.
It was, in her words, magical.
---
Cassey Ho was the 2018 Commencement keynote speaker. See her speech.