In 1960s San Fernando Valley, a 5-year-old Linda Oubré is pulled out of her mostly White elementary classroom to sit in an office with a stranger, a "nice woman," who asked her to draw pictures, shapes, and numbers, play with blocks, and read words on cards. Everything seemed easy and kind of fun to the kindergartener. Unbeknownst to her, this would be the beginning of a journey that would lead her to attend UCLA, graduate from Harvard Business School with an MBA, earn a doctorate degree from the University of Pennsylvania, become a successful business woman and educator, and ultimately become the 15th President of Whittier College.
"I went home that day and told my mother that I spent all day in the office playing. What I didn't know, until decades later, was that my mother had stormed to school the next day, confronted the principal, and demanded to know 'Why was Linda playing in the office all day?' After telling my mother that I had been 'tested,' the principal said something like: 'We know you're just a Negro woman, but you need to know that one day, Linda is going to college, and you need to make sure you expose her to everything you can to ensure that she can fulfill this great opportunity to get an education.'"
Words that would have intimidated many only served to strengthen Marilyn Solomon's resolve to help her daughter live up to her full potential, even if it meant doing it within limited means.
"She always made sure that we went to the book mobile and had our stack of books for the week," said Oubré. "I remember that green bus, that seemed huge to me at the time, that would come once a week."
Perhaps just as importantly for Oubré and her siblings, Solomon made the brave decision to leave her abusive husband and raise her children on her own. Through her example, Solomon taught her daughter that practical skills— like hard work—would help her get ahead.
Later, as a divorced, single mother of five, Solomon landed a weekly television talk show on KCOP-TV in Los Angeles. She went on to earn five Emmy Awards as an executive producer for several television programs including Romper Room. She also went back to school, graduated from high school and eventually earned a B.A. and an MBA from Pepperdine University. Solomon was also very active in the community, having served on several city commissions for former Los Angeles Mayor Tom Bradley.
Despite her mother's ultimate success and her young age when her parents divorced, the abuse experienced in her home left an indelible mark on Oubré's life.
"School was an escape for me," said Oubré. "Also, being the middle of five kids, it was the way that I got attention. School was my thing."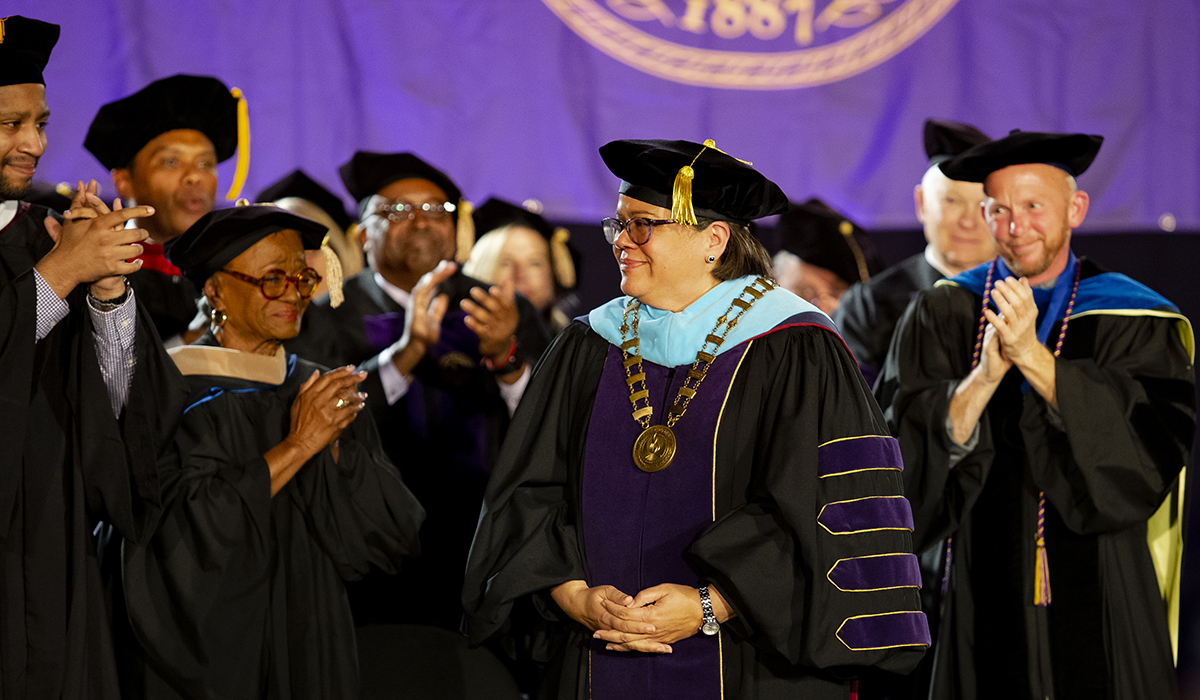 It was a strategy that worked in her favor. Oubré would go on to excel in school, always finding advocates and mentors who recognized and fostered that special spark in her.
"My student government teacher was Mrs. Benjamin; I still remember her name. She also became my history teacher. She was just awesome. Awesome in the classroom, but also because she really identified me as someone who she was going to take along. She selected me and a boy, I don't remember his name, and took us to this college day at Occidental College. That was really the first time I remember being exposed to college."
Oubré's mother eventually remarried and the family moved to Los Angeles, where Oubré attended Hollywood High School. There, she took honors and advanced placement courses and thrived in an environment that was incredibly diverse. During her senior year, on her birthday, Oubré was accepted into UCLA, and would become the first of her siblings to attend college.
Although she was still living at home, UCLA was a whole new world for her.
"In the fall of 1976, UCLA still had this air of activism," she said. "Especially since the Black student movement was still very fresh. A lot of those student activists were now in grad school and leading undergraduates by example."
She yearned to be a part of this environment. "If you look at my high school yearbook, I'm the type of student who was on every page. From the day I walked on to the UCLA campus, I decided to be involved."
Oubré would eventually lead the student media council which oversaw all the affinity papers, the yearbook, the radio station, and the Daily Bruin—which was, at the time, the third largest daily in the city of L.A.
As Oubré tells it, she first thought of majoring in English and pursuing a career in journalism, "But my mom said, 'No. You need to get a job, so you need to do economics and business."
"Luckily, I really enjoyed economics and my role in student media was really that of a CEO. So, I realized that I had an inkling for business," said Oubré. "And then Harvard came to campus my sophomore year and began recruiting me."
At the same time, Oubré was being courted by the UCLA business school and she got involved with the Black Business Society there. One of her early mentors, a Stanford educated UCLA business professor, encouraged her to go anywhere but Harvard. In fact, Harvard's admission came with a two-year gap, where she would have to find a job in the corporate sector before beginning her graduate studies.
"I hadn't interviewed for jobs and it was a week before my graduation," recalls Oubré. "All my mentors and my parents said 'go to UCLA.' There was only one person who told me go to Harvard Business School, and it was the guy I was dating at the time, and his name was Nate Oubré. He was a year behind me at UCLA."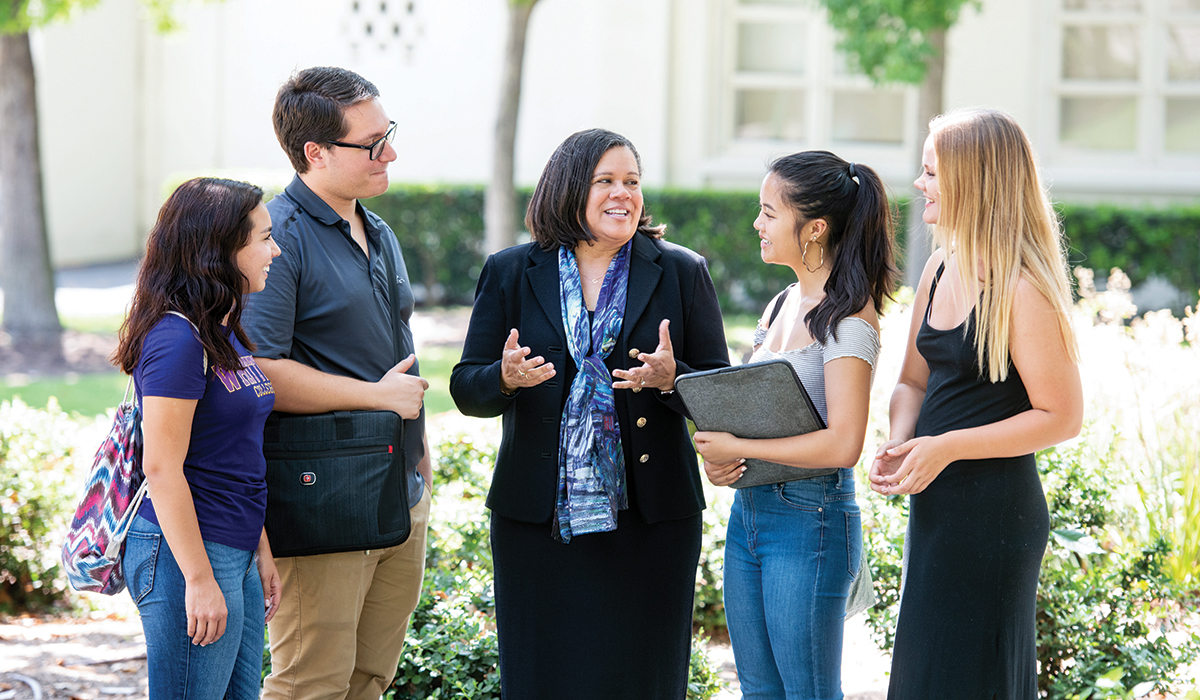 GO EAST
While Nate's support was instrumental, Oubré, a natural risk taker, decided to take a chance on Harvard. "I like doing things that interest and challenge me and I'm not afraid to try things," adds Oubré.
After two years of working in Security Pacific Bank's manager training program, Oubré and her now-husband, Nate, headed to Harvard. Nate had been admitted to the MBA program a year after Oubré.
To say Harvard was a culture shock is an understatement. Used to the diverse environment of Los Angeles, Oubré found herself part of the 1% of students of color enrolled in the MBA program.
"Being from L.A. was strange. Being a woman of color was strange. Everything about it was just different. And then half your grade is class participation—which is very subjective," said Oubré. In addition, grading was based on a strict curve where the bottom 10% of the class was asked to leave the program. "Even if everyone in the class got a 90 or up, the bottom 10% would fail."
But Oubré didn't move across the country to fail. As she often did, she tapped into her background and looked to the individuals that inspired courage—her mother, as well as her maternal grandparents, who were well-known union and civil rights activists in Detroit, Michigan. Her hard work paid off. "I had this tough marketing professor, and I was the first African American woman he ever passed. I'm the first one ever to get a 'satisfactory' from him. And I probably deserved an 'excellent,'" said Oubré
DEFINING SUCCESS
Just as she did at Harvard, Oubré often found herself as the sole woman of color in a variety of office spaces and boardrooms. So much so, that she has become comfortable with her role as a trailblazer who uses her influence to create more opportunities for young people of color and first-generation college students like herself.
And as a woman coming up in the age of "you can have it all," Oubré has a practical response: "You just have to take it step by step." While never losing sight of her professional goals, Oubré acknowledges to having put her family first.
"When the kids were younger, I definitely made career decisions based on being a mom." The family also moved three times for Nate's career. For Oubré it was about being able to enjoy the fruits of her labor with her family, while building a steady career.
Her husband Nate is a senior executive at Kaiser Permanente, , their son Nathan is a graduate of the University of Pennsylvania Law School and works for a start-up based in Los Angeles, and son Alexander works in the music industry and is a recent graduate of Loyola Marymount University.
"It's a give and take. You have to trust that things will work out if you're flexible and you're okay with taking a chance."
Over the course of her career, Oubré has built a uniquely well-rounded and impressive resume. She has developed more than 30 businesses, created a revenue plan for LATimes.com, and managed acquisitions and startups for the Walt Disney Company. She eventually served as president and CEO of LSO Ventures, a venture investment consulting firm, and was one of the founders and president of BriteSmile, a company that she took public on NASDAQ.
In addition to her leadership roles as dean of the College of Business at San Francisco State University and executive director of corporate relations and business development for the Graduate School of Management at the University of California, Davis, she has taught at the Wharton School of the University of Pennsylvania, Northwestern University, and San Diego State University.
In between all of this, she earned an Ed.D. in higher education management from the University of Pennsylvania.

READY FOR INNOVATION
Always one to put herself out there and take calculated risks, each new venture in business and education paid off and led to the next success. Now, she's bringing that
same brave innovative spirit to Whittier.
At her Inauguration, Oubré spoke about her history, her relentless entrepreneurial spirit, and how they will inform her leadership as president of the institution.
"I represent the face of the future of higher education, but I also resemble today's reality, and opportunity for Whittier," said Oubré. "To shape the future in a way that provides opportunity for our success requires innovation. Innovation forces us to get out of automatic and think and do things differently. Innovation requires a vision of what is possible."
Innovation, equity, and inclusion have become the focus of Oubré's administration. In her first year at Whittier, Oubré has already challenged the campus community to take a serious look at issues on inclusivity and equity and what it means for the future of the College.
"I have to say, looking back a year, I think the culture's changed awfully fast. We're having different sorts of conversations," she said. "We're talking in more innovative, creative ways. And I know that that's based on just the different voices in the room. I think this College really needed someone who looks like me to walk in the room."
Change also involves aligning the College's mission with the student population Whittier currently serves. "I think it's a beautiful opportunity for us, and it makes us different."