Pippin, the Stephen Schwartz award-winning musical, is the story of one young man's journey to be extraordinary. Fittingly, the Whittier College spring production of this fantastical musical involved a number of extraordinary students both on and behind the stage.
Led by Professor of Theatre Jennifer Holmes, Pippin's directorial crew included Sydney Summers '19, as vocal director, and Athena Zecha '19, as choreographer and dance director. The two seniors uniquely contributed their expertise to the success of the musical and completed work toward their senior projects.
Summers, a double-major in theatre and music, has been preparing for her senior project for two years. Holmes pitched the idea to Summers after working with her on Whittier's 2017 production of the musical Next to Normal, asking her if she would be interested in music-directing a future show.
Summers has no shortage of experience in the field. She has been studying voice for 10 years, and has experience teaching and directing children at musical theatre summer camps and coaching adults in private vocal lessons. Relatively confident in her abilities, she agreed to Holmes' proposal, and spent the next two years brushing up on her piano skills in preparation for this year's musical, which she and Holmes chose together.
"I love working with kids, but it's such a different product working with young adults. It's been musically more involved for me, to be able to hear really complex chords and six-part harmonies; to be able to work so intensely with the dynamics and emotional content of the song," said Summers. "Overall, it has so much more depth to it than anything I've ever worked on before."
Summers' main goal after graduation is to perform. But, she also plans to continue exploring the teaching field and other artistic pursuits.
Summers feels that Whittier has uniquely prepared her to pursue her dreams. "The number-one thing that Whittier has taught me is independence. Being able to feel secure on my own, in my own ability, because of the support system that we have here," she said.
Zecha, a theatre major with a minor in Chinese, worked with Holmes to teach the cast of Pippin a dozen original, stylized dance numbers. Zecha has based her senior project on research and exploration of the iconic choreographer Bob Fosse, who directed and choreographed the original Broadway production of Pippin.
"Since starting college as a first-year, I've known that I wanted to challenge myself to choreograph and create something as part of my senior project," Zecha said. "My end goal was to have a performance piece that I could showcase."
Zecha has been part of the Whittier College Dance Team since her first year—and in her senior year, she was team captain. She applied the skills she learned from the team into her work on Pippin—where, in addition to choreographing the show, she performed as a featured dancer in the ensemble.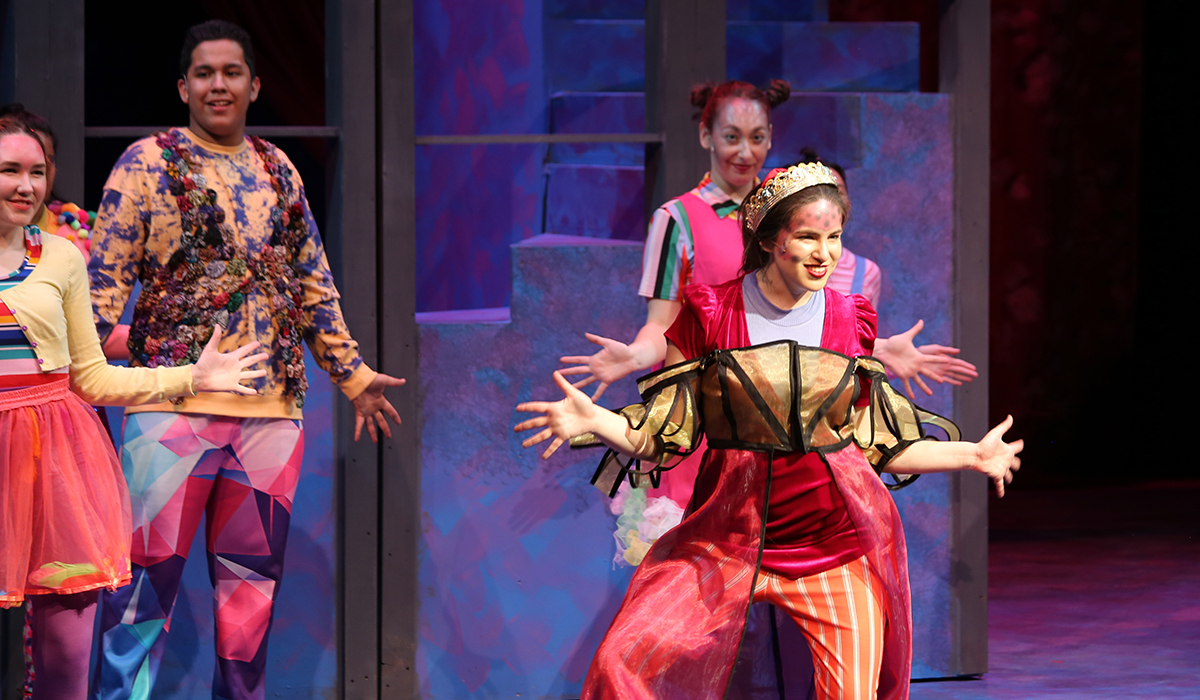 KENNEDY CENTER AMERICAN COLLEGE THEATER FESTIVAL
Led by Professor of Theatre Gil Gonzalez, Whittier College hosted the Kennedy Center American College Theater Festival (KCACTF) in downtown Los Angeles this past February. Gonzalez recently completed his term as chair of KCACTF Region 8, where he continues to serve as the region's financial director. A number of Pippin cast members participated in the festival, volunteering countless hours to keep the festival of 1,400 participants up and running, all the while excelling in the competitive areas of the festival, earning honors across a number of categories.
KCACTF participants attend workshops and auditions, watch and participate in a variety of performances, and compete against students from across the region for highly competitive awards and scholarships in the theatre arts.
Pippin lead, Jacob Shore '19, along with fellow castmates Cole DiGrazia '21 and Ariel Horton '21 were selected to perform in 10-minute plays for the New Play Project. Both of the plays the students worked on advanced to the National KCACTF Finals.
Sabrina Astengo '21 was awarded a scholarship to the Open Jar Institute, an intensive musical theatre residency program in New York City. Before the awards ceremony, Astengo and Taylor Penn '21 earned coveted spots in the Musical Theatre Initiative Cabaret, where they had the opportunity to share their talents with an audience of peers and professionals.
Samantha Palladini '21 won an honorable mention for her work in the Institute for Theatre Journalism and Advocacy Critics' Competition. And, student director Lauren Estrada '20 advanced to the final round of the student directing competition for her scene, starring Madalyn Matosian '20, Horton, and Kevin Weissinger '19.
Jillian Weber '22 was awarded a four-week residency and full scholarship to The Gaiety School of Acting, the National Theatre School of Ireland.