Whittier College offers students an array of unique learning opportunities, many of which encourage students to step outside of the classroom to see how theories learned behind a desk can take form in the outside world. Exploring different academic fields, Professor of Sociology Becky Overmyer-Velazquez and Professor of Business Administration Kristen Smirnov have taken their respective students into Los Angeles—using it as a learning laboratory—to investigate topics ranging from pollution and environmental health to consumer behavior and retail development. Tapping into their own personal and academic passions, these educators bring to life their curricula affording students an unforgettable immersive experience.
For nearly 15 years, Professor Becky Overmyer-Velazquez has devoted her time outside Whittier College to activism in environmental justice. As a member of the Clean Air Coalition of North Whittier and Avocado Heights, she mobilized alongside her neighbors to stop a rail yard project that would have served to transport waste from Whittier to the desert. In this fight, Overmyer-Velazquez became more well-versed in environmental policy and law than she had ever been and was invited to take the helm of the grassroots organization. Now fully immersed in the fight for environmental justice, she faced the need to balance her responsibilities as a professor and her civic duty as an activist.
"I realized, as I became much more of an activist and organizer, that I also just didn't have time for the kind of traditional scholarship of discovery that we're expected to do here," said Overmyer-Velazquez. "All of my scholarship time was devoted to organizing in my community and to learning about the very complicated issues that are involved in environmental justice."
And then it dawned on her.
"This is what I do. This is my scholarship." In carrying out her activism and community outreach and engagement work, Overmyer- Velazquez was effectively disseminating knowledge to an audience. This, she explains, is the goal of any type of scholarship – whether it be conventional (peer reviewed and published by academic presses) or in the realm of public sociology (work that is evaluated based on its relevance to its public and the extent to which it promotes public dialogue, according to Overmyer-Velazquez).
Over time, Overmyer-Velazquez began to introduce issues of environmental justice into her courses through class projects—just enough to pique curiosity and awareness. The idea of creating a full course on the subject didn't seem feasible, however, until recently, when the anthropology and sociology department found itself in need of a new JanTerm course.
"I rooted it in a course that my good friend Les Howard taught—a workshop in urban studies which explored landscapes and got students to understand the way cities and spaces are organized politically and socially."
According to Overmyer-Velazquez, the course, Toxic Tours: Environmental Justice in Southern California, focuses on raising awareness about environmental issues, understanding their complexities, and sparking civic engagement. To achieve that, Overmyer-Velazquez led students on excursions to some of Los Angeles' most polluted communities to witness firsthand the scale of the problem and to speak to community members on the front lines.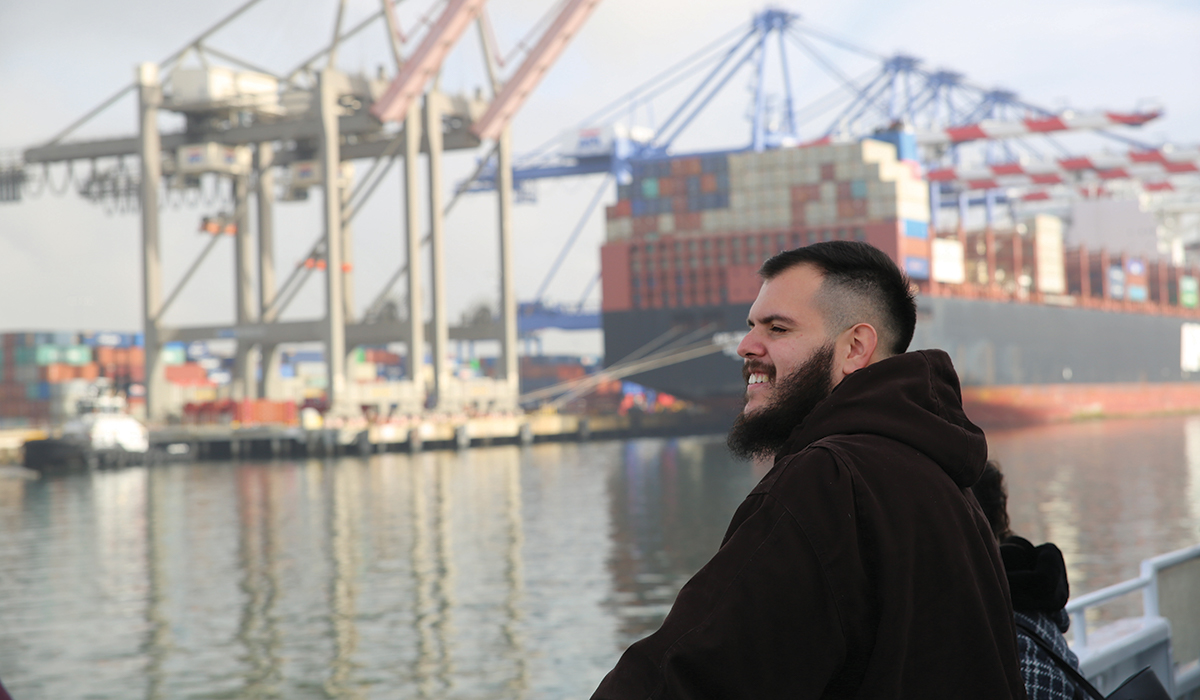 Students ventured to Resurrection Church in Boyle Heights to learn from community members who organized to shutter the Exide Batteries recycling facility in nearby Vernon. They also visited Hacienda Heights where residents continue a similar battle with another battery recycling plant. And, they followed the route that imported goods make on their way to the rest of the country from the Port of Los Angeles in San Pedro, through the 710 Freeway, to the immense rail yards in the City of Commerce.
This exposure, however, often leads to more questions than answers. "That's the tough part of environmental justice—balancing both sides," says Overmyer-Velazquez. "(Students) are able to appreciate the basic conflict that is inherent in so much of the environmental justice movement—that is, trying to figure out how to live in an industrialized society that depends on the production, sale, and purchase of goods but also be concerned about the public health impacts of that very economy."
And she believes that introducing these topics early in a student's college career can have a lasting impact, not just on a student's course of study but on the College's surrounding communities. "Courses like this can be a springboard for all kinds of research projects," she says, offering one group's experience in the course as an example.
While creating a pollution profile of nearby Santa Fe Springs, Overmyer-Velazquez's students learned about a well-documented toxic waste site located directly next to a school. When they visited the site and interviewed neighbors, a pattern of cancer and illness emerged. The neighbors, the students recounted, were suspicious about the site's impact on their health but had no way to verify it and asked the students if they could help them investigate further.
Stunned by their discovery and eager to be of service, the group considered taking on the project but quickly realized that it would be impossible to complete within the course's time constraints.
"These were first-year students," explains Overmyer-Velazquez. "And now they have three years to really explore this site further. It would be fantastic if we were set up in a way that gave faculty and students the space to more deeply pursue the things they explore in a course. And, in cases like this one, it would help our neighbors as well."
Community is one thing Overmyer-Velazquez was conscious of when designing the course. With approximately half of Whittier's students coming from the local area, issues discussed in courses that focus on the Southern California region are very personal to them. In turn, students begin to raise awareness among their friends and families. And this, she says, is the intent of the course.
"I think it's transformative. The students are aware now that without community organizing, without neighbors knowing each other, without neighbors mobilizing together, and putting pressure on politicians and regulatory agencies, none of this work would get done."
MARKETING IS NOT A BAD WORD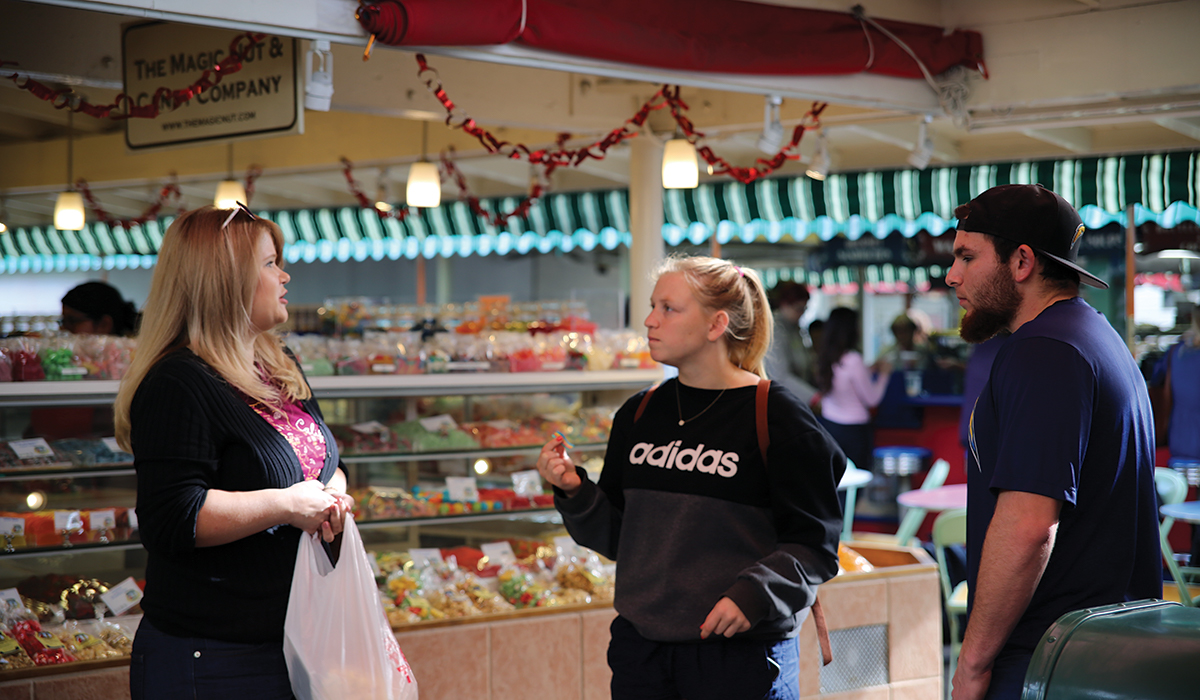 Professor of Marketing Kristen Smirnov still remembers the first day of her first undergraduate marketing class. "Welcome to the study of how to manipulate people," announced the professor. From that moment on, says Smirnov, "I was primed to think of marketing as an inherently negative element of business."
But that sentiment, and the profit-driven approach to marketing she encountered in business school, never sat well with her. So, when she was given her first teaching assignment as a doctoral student, she chose to redefine marketing for her students. That has become the signature of Smirnov's courses, especially her Consumer Behavior JanTerm course.
The course, Smirnov explains, requires that students consider complex questions and understand the multiple disciplines that "can be intersecting to influence consumer decisions such as social psychology, cognitive psychology, and sociology." To help her students observe these theories at play, she leads them on field trips across Los Angeles to the Getty Museum, TCL Chinese Theatre, Blizzard Entertainment, and the adjacent but wildly different shopping meccas, The Grove and Farmers Market.
As they move through these spaces, Smirnov instructs students to observe consumers, study the spaces, and assess the relationship between the two. Marketing, after all, requires that a company understand its own strengths, its customers' needs, and that it find a strategy to bring those two together.
A responsible business person, Smirnov notes, will always understand and prioritize a customer's values and motivations and work towards fulfilling those needs instead of creating false wants. "I want my students to ask what motivates someone to be interested in art? How do you figure out the underlying motivations for someone considering a product category?" She also asks students to pay close attention to demographics and to consider populations that are often overlooked as consumers.
In the end, Smirnov hopes that her course makes "students better, more responsible business people in the future and consumers with a better defense against manipulation in the present."