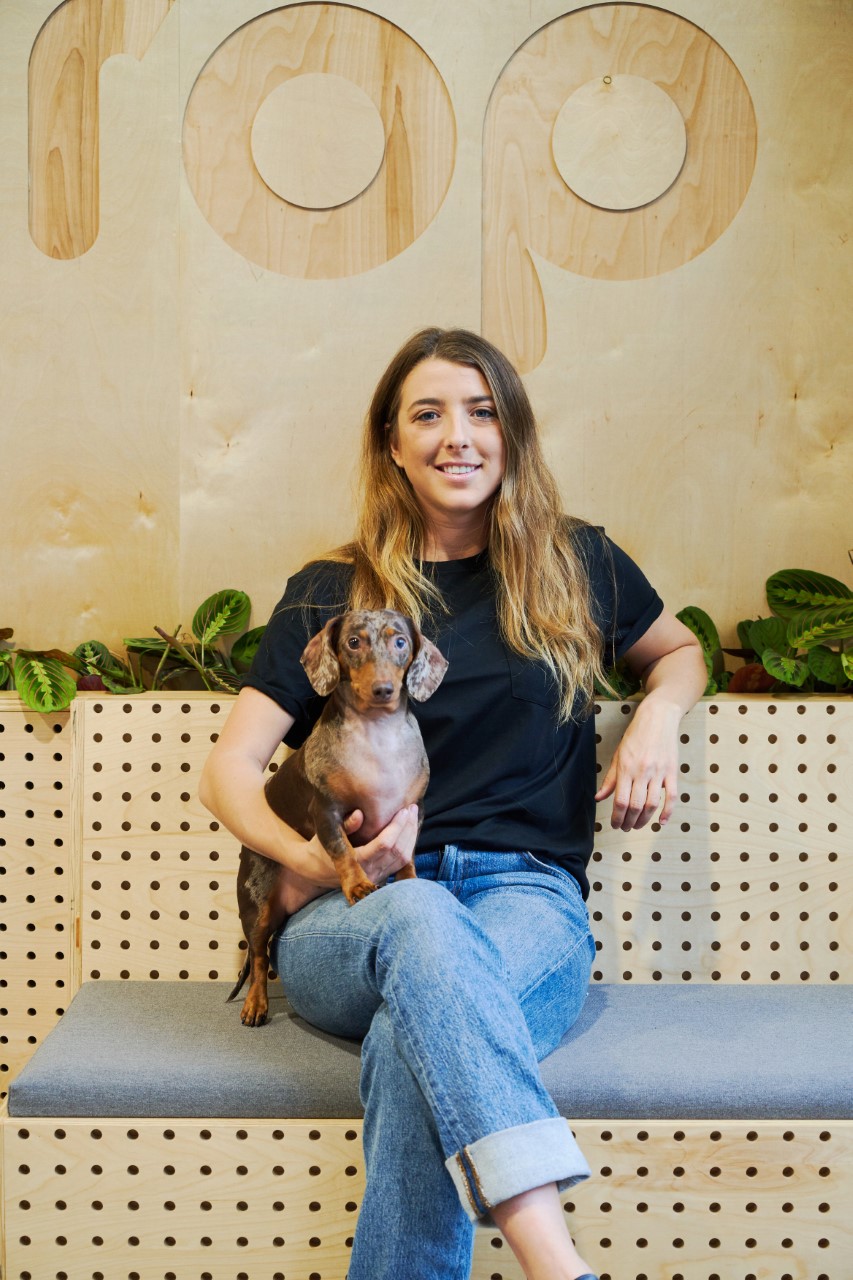 Shaina Denny '14 knows that the struggle of being a busy pet parent is real.
On any given day, the entrepreneur is running between Santa Monica and Downtown Los Angeles to make meetings with partners and investors, managing construction, juggling the manifold needs of starting a new business, carving out time to mentor people with dreams of their own startups—and on top of all that, keeping her miniature dachshund puppy, Poppy, happy and healthy.
"We are together all the time," she said. "She's just quite chill and down for the adventure. She comes everywhere with me and falls asleep on my lap when it's time for me to work on the computer."
Denny is emblematic of a new generation of professionals who prefer to bring their dogs into their busy schedules and non-traditional work spaces, inviting them to sit by their shared workspace desks rather than leaving them alone all day. But there are some places pups can't go—certain meetings or assignments, a night out for drinks, a spin class—and traditional daycares can be prohibitively expensive. That's where Denny saw an opportunity to innovate and conceived of a flexible and affordably priced, yet modern and well designed, daycare service to meet the need. Dogdrop was born.
After Denny's idea landed venture capitalist backing from the same incubator, Science-Inc, who cut the first check to Dollar Shave Club, she and co-founder Greer Wilk opened the first Dogdrop location in L.A.'s Arts District in December. They plan on opening 6-8 locations in L.A for Dogdrop members to have access to any location. This time next year, they have plans to expand to other cities, as well. Each location is designed by the same firm responsible for the trendy, minimalist Blue Bottle Coffee shops, in keeping with the modern sensibilities that informed the company.
Denny's venture required a foot planted in two worlds: the fast-paced speed of startups with the relatively slower, permit-heavy realm of physical retail. Negotiating those differing needs and expectations wasn't a great challenge; she has plenty of experience successfully navigating different cultures, thanks to her years in international business.
Denny's strong interest in business began at Whittier. Thanks to a Semester at Sea and an international business course, she found a way to merge that new passion with her love for exploring the world: international business. She took off for postgraduate work in China, where she soon got involved in the tech industry and electric vehicles.
"China is the epicenter of international business right now. It was a great place to study and be in the thick of things," she said.
When the electric vehicle company sent Denny to L.A. to bring their products to a U.S. market, she was putting into practice just what Professor Dan Duran's international business course had taught her about expanding products and services. Her professors had done a great job of making her education as real-world as they could—even in seemingly small ways, like holding their students to professional standards of dress and punctuality.
"If you show up a minute late, no one is going to let you into a meeting a minute late," she said. "Those skills, as small as they may be, translate and build those healthy habits for you in the future."
Now, besides co-founding a company, Denny has been giving back and helping other Poets' prepare for their futures, as well. For the past three summers, she's co-taught a Start Your Own Business course with Duran, providing students with real-world insights into the realities of startups.
Denny's proven she can thrive in an entrepreneurial environment. And wherever the venture takes her, Poppy will be along for the ride.
You can connect with Shaina via LinkedIn or learn more about her company.