Poet Awardees represent some of the best of our Whittier College community and extended family.
For decades, the Poet Awards have been presented to select members of the alumni body, chosen for their outstanding service, commitment, and loyalty to Whittier College, and for individual professional and personal achievements that best reflect the ideals and values taught here at Whittier. 
This year's recipients include business and civic leaders, officeholders, community advocates, artists, and educators who have had a significant impact on a local, national, and international level. These outstanding Poets represent the diversity, accomplishment, and spirit of service that defines the Whittier community.
Distinguished Alumni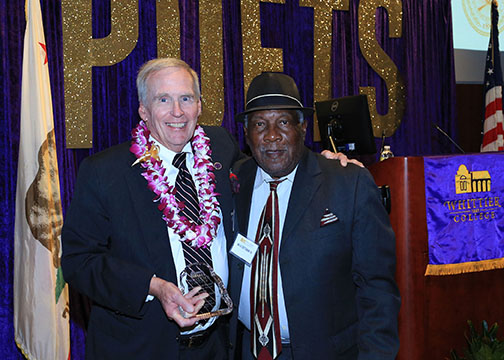 The Honorable William C. Pate '65 is a retired San Diego County Superior Court Judge where he completed 20 years of distinguished service. Prior to his judicial appointment, Pate worked for 14 years as a civil litigator in private practice. 
Throughout his distinguished career, Pate has received numerous honors and appointments including the Outstanding Jurist Award, San Diego County Bar Association; Alba Witkin Award for Humanitarian Judge of the Year, California Judges Association; and Fellow, Academy of Court Appointed Masters, among others. Pate has also spent a number of years working in juvenile law, helping underserved youth, and is active in children's issues with various non-profits in San Diego. 
He credits his success in life to his Whittier College education. Pate majored in political science and is a member of the Lancer Society. After graduating from Whittier, he served as an officer in the United States Marine Corps from 1966 to 1969 and did a tour of duty in Vietnam from 1967 to 1968 as part of the 1st Marine Division. In 1971 he earned his J.D. from the University of San Diego School of Law. Pate has been married to retired San Diego Superior Court Judge Christine Vetter Pate for 55 years. They live in Coronado and have four children and five grandchildren.
Rev. Glen W. Warner '63 graduated from Whittier with a B.A. in philosophy. As a student, he was a member of the Whittier College Choir while working numerous part-time jobs and serving as a student pastor in Los Angeles and Riverside churches. 
He continued his studies at Claremont School of Theology, graduating in 1968 and ordained as a Protestant minister in 1971. He served churches in Los Angeles, Riverside, Seattle, and Denver before beginning a bi-vocational career as a successful marketing executive in a family-owned manufacturing firm in Ashtabula, Ohio. 
Warner served numerous churches in northeastern Ohio. As an ordained pastor, he performed the full range of ministerial and community activities for over 40 years. Projects included building programs, mission initiatives, and various funding challenges. Warner is also the author of four books.
But he knows passionately that attending Whittier College was a wonderful opportunity which set the positive course of his life. He is humbly grateful to the College and to those who made this "impossible dream" possible.
Now residing in South Carolina, his greatest joy is his family; his wife, Nancy; son, Garth; daughter, Bethany; their spouses; and five amazing grandchildren, Tyra, Mac, Jalen, Emma, and Ben.
Alumni Achievement
Actor, scholar, and activist Alma R. Martinez's '84 career spans almost 40 years of work in film, television, and theatre. She has appeared on Broadway, off-Broadway, in regional theaters across the country, and on Mexican and European stages. Martinez currently teaches dramatic literature and criticism, acting, and directs department productions at the University of La Verne.
Most recently, her films include Clemency, the winner of the 2019 Sundance Film Festival Grand Jury Award, Ms. Purple, Tyger Tyger, Cake, Under Fire, Barbarosa, and the iconic Chicano films Zoot Suit and Born in East L.A. Her television and streaming credits include roles in the hit Netflix series Gentefied, Undone, The Terror Infamy, and The Bridge, among others. 
 
A longtime artistic collaborator of Luis Valdez and El Teatro Campesino, she has been the lead actress in many of Valdez's most significant works including Zoot Suit for stage and film, Corridos: Tales of Passion and Revolution for stage and PBS TV, Ballad of a Soldier, I Don't Have to Show You Any Stinkin' Badges, La Gran Carpa de los Rasquachis, and Fin del Mundo.
 
A published author, her research examines the intersection of Chicanx and Latin American popular-political theatre. Recent articles include "Pancho Villa's Head: The Mexican Revolution in the Chicano Theatrical Imagination;" "Open Borders to a Revolution: Culture, Politics, and Migration," published by Smithsonian Scholarly Press; and "Zoot Suit in Mexico City: Mapping A New American Theatre," (Re) Positioning the Latina/o Americas: Theatrical Histories and Cartographies of Power, published by Southern Illinois University Press.
Martinez is a member of the actor's branch of the Academy of Motion Picture Arts and Sciences and Television Arts and Sciences. She holds a Ph.D. in Drama from Stanford University, an M.F.A. in Acting from the University of Southern California, and a bachelor's degree in theatre from Whittier College. She is a former Dartmouth College Cesar Chavez Dissertation Fellow and a Fulbright Scholar. 
Martinez is a proud member of SAG AFTRA, AEA, SDC, and ANDA, the Mexican actors' union. She sits on the board of LA Plaza de Cultura y Artes in Los Angeles and the advisory board for Farmworker Justice and the National Association of Latinx Arts and Culture. She is a proud Mexican-born immigrant from Monclova, Coahuila, and currently resides in Los Angeles, CA.
Alumni Achievement (Graduate Program)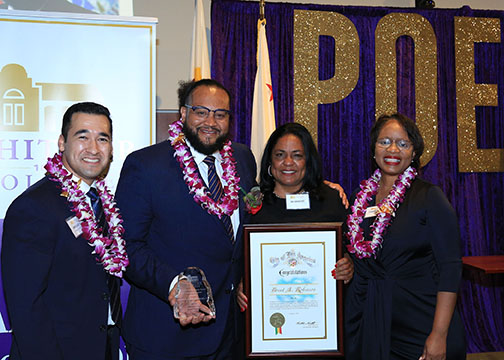 Brent A. Robinson MA'14  is the Special Policy Advisor and Director of Strategy and Integration with the U.S. Department of Homeland Security.
Robinson has dedicated more than half his career to public service, gaining extensive experience in strategy, engagement, and operations, and has served as a strategic advisor to high-profile officials and elected leaders across federal and local government. Prior to his appointment in the Biden-Harris Administration, Robinson was the Strategic Advisor to the CEO of the Southern California Regional Rail Authority (Metrolink). He also served as the District Director in the Los Angeles office for then U.S. Senator Kamala D. Harris, where he developed and implemented the region-specific engagement strategy for the Senator and the State Director.  
Robinson has repeatedly credited his interest and commitment to public service to his experience in the Whittier College Graduate Program in Education. He says that "understanding the process by which we educate our youth" allowed him "to realize the tremendous impact that public servants have on our great society."
Robinson is currently a master's candidate in Military Operational Art & Science at Air University's Air Command and Staff College. He holds a Master of Arts in Education from Whittier College and a bachelor's degree in classical civilization from Howard University.
Robinson is engaged in leading civic and service-based organizations including membership in Phi Beta Sigma, Fraternity, Incorporated, and is a member of the Whittier College Black Alumni Association. He was born in Los Angeles and currently resides in Washington, D.C. 
Emerging Leaders/Young Alumni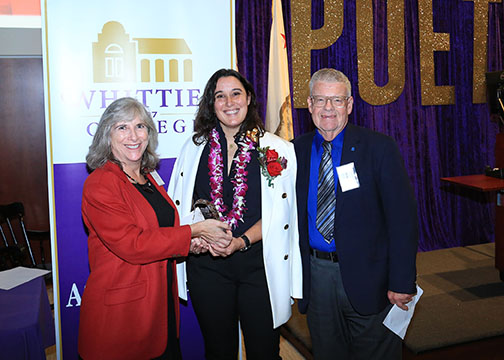 Erin J. Clancy '07 is a public policy manager on Meta's (formerly Facebook) Strategic Response Policy team where she manages high-profile incidents that affect the business and reputational risk of the company.
Prior to joining Meta, Clancy advanced U.S. foreign policy as a career Foreign Service Officer with the U.S. Department of State for 15 years. Her diplomatic assignments included the U.S. Embassies in Syria, Jordan, Oman, the State Department's Office of UN Political Affairs, special assistant to then-Deputy Secretary of State Antony J. Blinken, and the U.S. Mission to the United Nations in New York where she was the lead American negotiator in the UN Security Council on Syria and Burma. In 2019, Clancy received the State Department's highest award, the Distinguished Honor Award, for her role in negotiating the successful evacuation and repatriation of over 400 members of the Syrian Civil Defense (the White Helmets) out of Syria.
Clancy is currently a term member of the Council on Foreign Relations and a member of the Atlantic Council's LGBTI fellowship. Outside of her work for the U.S. government, Clancy has also advised democratic presidential campaigns on foreign policy and national security issues. She earned her bachelor's degree from Whittier College and a Master of Arts from the Fletcher School of Law and Diplomacy at Tufts University.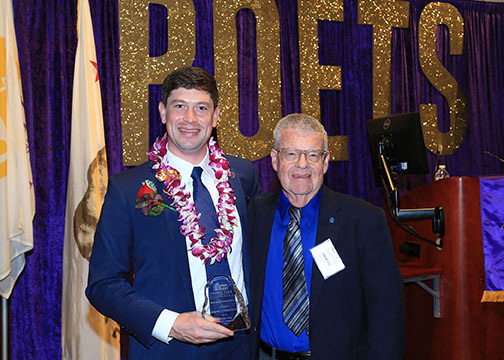 Daniel A. Strauss '09 has always been at the nexus of public service and good governance. He was born and raised in Ballard, Washington. Before college, he served in AmeriCorps*National Civilian Community Corps based out of Washington, D.C., doing everything from disaster relief to working for conservation organizations and tutoring in schools.  
 
At Whittier College, Strauss majored in political science and minored in Spanish. He ran cross country and track and enjoyed mountain biking in the hills behind campus. He graduated having served as Student Body President, a regular volunteer at the St. Mathias food hour, a member of Pi-Sigma-Alpha, and a recipient of the Ben Burnett Award. 
 
He returned to AmeriCorps*National Civilian Community Corps, this time based in Sacramento, working in Utah, Montana, and the Sierras, Central Valley, and Coast of California, leading a team of 10 Corps Members. His service focused on wildland fire prevention and response, and included construction projects and running after-school programs for the Boys and Girls Club. 
 
Strauss was then accepted into the University of Oregon, Master of Public Administration program and worked as a policy intern for Oregon State Rep. Nathanson for two years. When he returned to Washington, he worked for Washington State Senator David Frockt to champion gun responsibility legislation. When the legislature failed to pass responsible gun legislation, he went to work for the Alliance for Gun Responsibility on Washington's Extreme Risk Protection Orders Initiative (I-1491), which passed in 2016 with 69 percent of the statewide vote. 
 
After that success, Strauss went to work for Seattle City Councilmember Sally Bagshaw (District 7) as Senior Policy Advisor until he ran for District 6 of Seattle City Council representing Ballard, Fremont, Green Lake, and Greenwood. In 2019, he won the primary of 13 candidates with a 13-point lead and the general election with 55 percent of the vote.  
  
Strauss has passed an impressive slate of good governance policy in his first two years. His first bill "Childcare Near You" eases the burden on childcare providers building childcare facilities. He passed the strongest energy code in the nation to combat the climate crisis, and led the effort creating the Café Streets program to make outdoor dining and public spaces more vibrant. He is currently leading the expansion of the Mobile Crisis Team, a team of behavioral health professionals, to provide 24/7 mental health crisis response citywide.  
 
In his free time, Strauss kayaks and is an active member of the Ballard Elk's Paddle Club. He has participated twice in the Seventy48 race, which is an unsupported 70-mile race that must be completed within 48 hours.
Community Impact/Public Service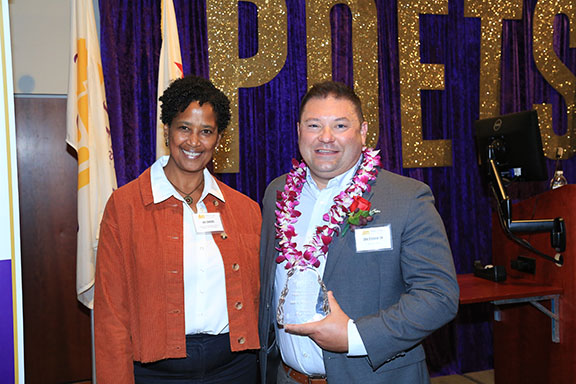 Erik R. Stegman '04 is a member of Carry the Kettle First Nation Nakoda. Stegman serves as executive director of Native Americans in Philanthropy, a national organization advocating for stronger and more meaningful investments by the philanthropic sector in tribal communities.
Previously, he served as the executive director for the Center for Native American Youth at the Aspen Institute. He has held positions at the Center for American Progress on their Poverty to Prosperity team, as majority staff counsel for the U.S. Senate Committee on Indian Affairs, and in the Obama administration as a policy advisor at the U.S. Department of Education. Stegman also organized the first-ever federal gay and transgender youth summit, which brought gay and transgender youth from across the country together with officials from the Departments of Education, Justice, and Health and Human Services. Stegman began his career in Washington, D.C. at the National Congress of American Indians Policy Research Center.
Stegman also served for seven years on the National Board of Directors for the Gay, Lesbian, and Straight Education Network where he earned the Charley Todd Award for Outstanding Board Leadership.
He holds a J.D. from UCLA School of Law, a master's degree in American Indian studies from UCLA's Graduate Division, and a bachelor's degree in sociology and political science from Whittier College.
Service to the College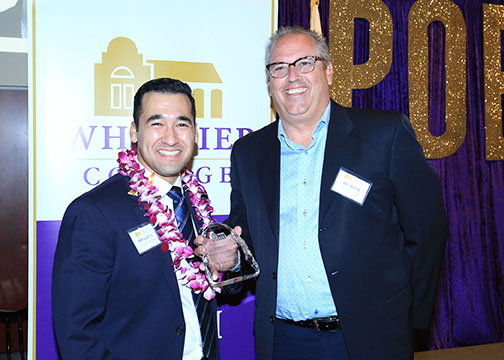 Tim B. Westphal '95 is a senior vice president of operations at Bay Alarm Company located in Northern California. Westphal is invested in the success of the Poet men's lacrosse team and Whittier College students in general. His company intentionally recruits and hires our student-athletes, creating career success for young people by giving them skills and soft landings.
During his time at Whittier, Westphal played midfield position on the men's lacrosse team under the tutelage of Hall of Fame coach Doug Locker. Westphal helped the Poets win back-to-back WCLL Championships in 1992 and 1993. He served as captain in 1994 and 1995, leading the Poets to win the 1995 WCLL South Division Championship. 
After completing his bachelor's degree in business administration, Westphal went on to earn an MBA from St. Mary's College of California. After college, he began working for Bay Alarm, a well-known alarm company founded in 1946 by the Westphal Family. Bay Alarm originally began serving the San Francisco Bay Area but has since grown to serve over 100,000 residential and commercial communities in both Northern and Southern California. Today, they are the largest independently owned and operated alarm company in the United States.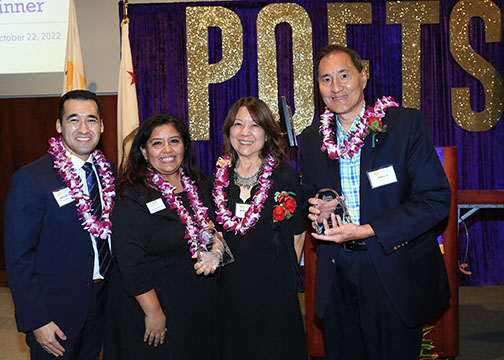 For decades the Whittier College Alumni Association Hawaii Chapter has hosted an annual summer send-off welcoming incoming students and families. 
The committee has built a strong sense of service and dedication throughout the many Whittier alumni efforts they've participated in, including Special Olympics, beach clean-ups, potlucks, admission fairs, and fundraising projects, always going above and beyond for their alma mater. Their overall goal has been to have Whittier College be known in all the Islands, and more importantly creating strong connections with local Poets while serving the community at large. They adopted the mantra: P.O.E.T.S.—People Offering Energy Time and Service. 
Hawaii Chapter Leadership Team: Steven C. Ai '76, Doug Bennett '65 (not pictured), Chris H. (Sumiye) Imoto '75, Debbie K. (Hamamoto) Shimizu '76, and Maura (Lee) Yee '76.
Honorary Alumna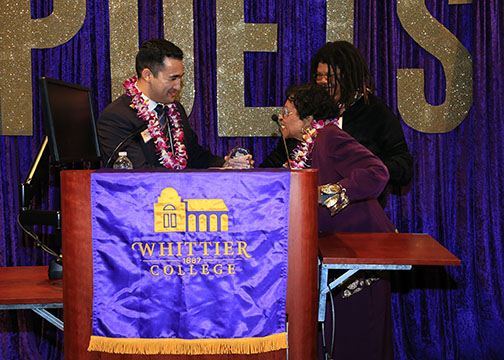 Dr. Thelma L. Eaton is a retired professor and former chair of the Department of Sociology, Anthropology, and Social Work and the first African American professor at Whittier College. At the College, she developed community-based initiatives and served and inspired students for 24 years.
 
Her passion for education led to the Crosstown Project and the University of Southern California Mini College, a position as a Senior Consultant to the Education Committee of the California State Assembly, and a recipient of the Living Legacy Award for the National Caucus and Center on Black Aged, Inc in 1990.
 
The Crosstown Project inspired and influenced students and parents from six predominantly Black South-Central high schools and junior highs. This project showed the value of higher education and worked towards increasing the college enrollment rate of Black students. The USC Mini College focused on providing young students with exposure to college life. 
 
At Whittier, she held multiple leadership roles on faculty governance including Honorary Degrees, AAUP, Scholarship, Financial Aid, Fellowship, and many more. She also was an advisor to the Ionian Society, Black Student Union, Circle K, Social Work Club, and students in the Department of Sociology, Anthropology, and Social Work.
 
In 2017, Eaton was honored at a Pacific Region Oasis Lifelong Adventure luncheon for her advocacy of wellness in the Crenshaw community. She is also a founding member of the Whittier Senior Citizens Center and served on the board of directors for seven years.
 
Shortly after retiring from Whittier, she served as chief of staff for the late State Senator Theresa Hughes. Eaton received her bachelor's degree from Fisk University and earned a master's degree and Ph.D. from the University of Southern California.