Five Faculty Members Promoted
Whittier College President Linda Oubré announced the academic promotion of five full-time faculty members.
Professor of Religious Studies Jason Carbine, Professor of Art Jenny Herrick, Professor of Chemistry Ralph Isovitch, Professor of Philosophy Michelle Switzer and Professor of Biology Sylvia Vetrone have been promoted to full professor status. 
"Our entire community should take pride in the accomplishments of these four talented and dedicated faculty members who've endeavored to achieve this milestone," said Oubre. "On behalf of Whittier College's leadership team and Board of Trustees, I congratulate these outstanding faculty members. Each, in their unique way–via mentorship, student-faculty research, study abroad experiences, and excellence in teaching–contributes to student success at Whittier College."
Academic promotions at Whittier College are based on excellence in scholarship, teaching, and service.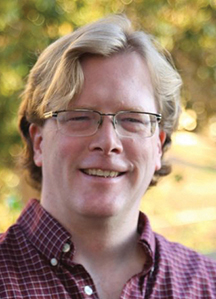 C. Milo Connick Chair of Religious Studies Jason Carbine has been teaching at Whittier College since 2007. His primary area of scholarly expertise is Buddhism in South and Southeast Asia, with a research specialization in Sri Lanka and Myanmar, and an emerging comparative focus on Southwest China. His travels through Asia have included study abroad trips with Whittier students to Sri Lanka, Myanmar, and China. From 2015 until 2020, Carbine served as Director for Whittier College's Henry Luce Foundation Initiative on Asian Studies and the Environment grant, designed to help enhance the College's curricular offerings on sustainable development in China, Myanmar, and Thailand. Carbine earned a bachelor's degree from Bowdoin College and a master's degree and Ph.D. from the University of Chicago and recently published Sīmās: Foundations of Buddhist Religion (University of Hawaii Press, 2022), a work analyzing Buddhist ritual spaces across different historical, political, economic, artistic, and environmental contexts.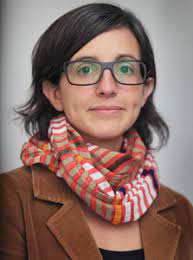 Professor Jenny Herrick has been teaching at Whittier College since 2007 and was the director of the Greenleaf Gallery from 2009 to 2020. As gallery director, she has been integral in bringing talented and innovative artists to campus. In the classroom, Herrick's emphasis is on painting and graphic design while her studio practice focuses on painting, drawing, photography, and video. Herrick has participated in numerous group exhibits of her work, most recently The Beginning of Everything at the University of Minnesota (2020); Lines of Thought—CICA Museum in Gyeonggi-do, South Korea (2019); and The Nature of the Future: Photographers Confront the Anthropocene, Belmont University, Nashville, TN. Herrick received her M.F.A. in painting and printmaking from Yale University and her undergraduate degree from Rhode Island School of Design.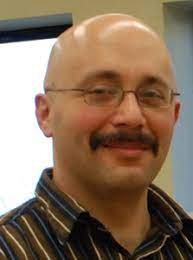 Professor of Chemistry Ralph Isovitsch has been part of the Whittier faculty since 2005. Isovitsch regularly leads research groups that include at least three Whittier students. Since spring 2006 the research accomplishments of Isovitsch's students have been presented as posters at national meetings of the American Chemical Society in either the organic chemistry or inorganic chemistry divisions. Moreover, since 2009, his student's research accomplishments have been featured in eight peer-reviewed publications. Isovitsch earned a bachelor's degree in chemistry from Grove City College and earned a Ph.D. in organic and inorganic chemistry from the Louisiana State University in Baton Rouge.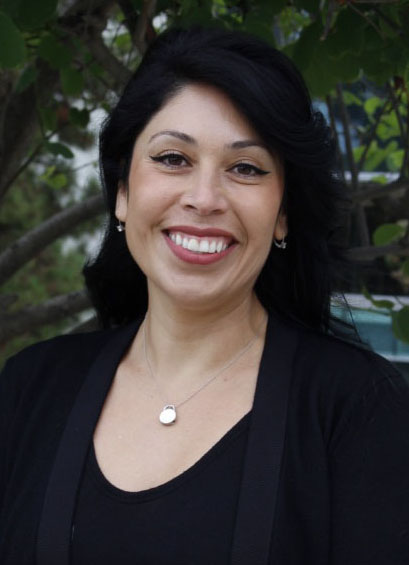 James Irvine Foundation Chair in Biological Sciences Sylvia Lopez Vetrone '99 has been teaching at Whittier College since 200​8. Through her scientific expertise in the fields of immunology and oncology, Vetrone has worked with teams of students to explore the impact of nutraceuticals or synthetic nanoparticles on cancer progression, longevity, reproduction, metabolism, and immune function. Through this research, Vetrone and her students aim to better understand the mechanisms through which natural extracts impact the cellular integrity of organisms, and how they may be harnessed for therapeutic purposes. Vetrone earned a bachelor's degree in biology at Whittier College and a Ph.D. in Molecular, Cellular, and Integrative Physiology at the University of California, Los Angeles. She was the 2020 recipient of the Nerhood Teaching Excellence Award.
Professor of Philosophy Michelle Switzer's primary scholarly expertise is in decolonial social philosophies, and she contributes to multiple interdisciplinary programs including Gender Studies, Africana & Black Studies, Latinx Studies, and Environmental Studies. Through expertise in decolonial feminisms, eco-feminist and indigenous philosophies, value theory, and informed by colonial history, Switzer defends a philosophy of valuing place and existing value. Her recent work in the philosophy of race has been featured on the American Philosophical Association blog for Black Issues in Philosophy. She has presented at the Radical Philosophers Association on the philosophy of migration. Her diversification efforts in the field of philosophy also include an Irvine Diversity Grant in 2006 and a faculty development grant for curricular development in 2013, mentoring students working for social justice in diverse fields, and serving on the editorial board of Janus Unbound: Journal of Critical Studies. Switzer earned a bachelor's degree from Oberlin College and a master's degree and a Ph.D. in philosophy from the University of Toronto.
Students and Faculty Shine at Psychological Convention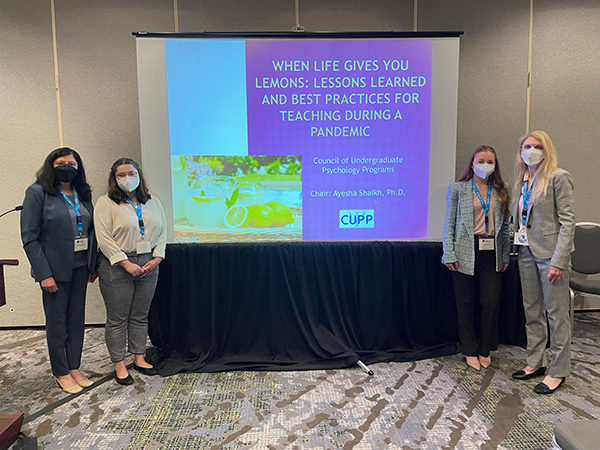 Whittier College faculty and students participated in the 102nd Annual Western Psychological Association Convention in Portland, Oregon held in late April. 
Professor of Developmental Psychology Lori Camparo and Jeanie Cox '22 presented a poster entitled, "'Covid is real… messed me up when I got it:' College Students' Stress, Burnout, and Feelings about COVID-19." 
Professor of Psychology Ayesha Shaikh chaired a symposium entitled, "When Life Gives You Lemons: Lessons Learned and Best Practices for Teaching During a Pandemic." 
The goal of the symposium was to present ideas for engaged teaching that were discovered and refined over the course of the pandemic. During their presentation, Professor Camparo and Cox addressed different approaches to engaging undergraduates in Zoom classes. Shaikh and Carolyne Sparks '22 offered tips for hybrid and face-to-face learning from a trauma-informed perspective. 
In addition, Professor of Social Psychology Chuck Hill coauthored a poster with high school student Hubert Tran that was presented on the last day of the conference entitled, "Political Party Affiliation as a Function of Immigrant Generation and Racial-Ethnic Identity." 
Joe Donnelly Releases New Book on SoCal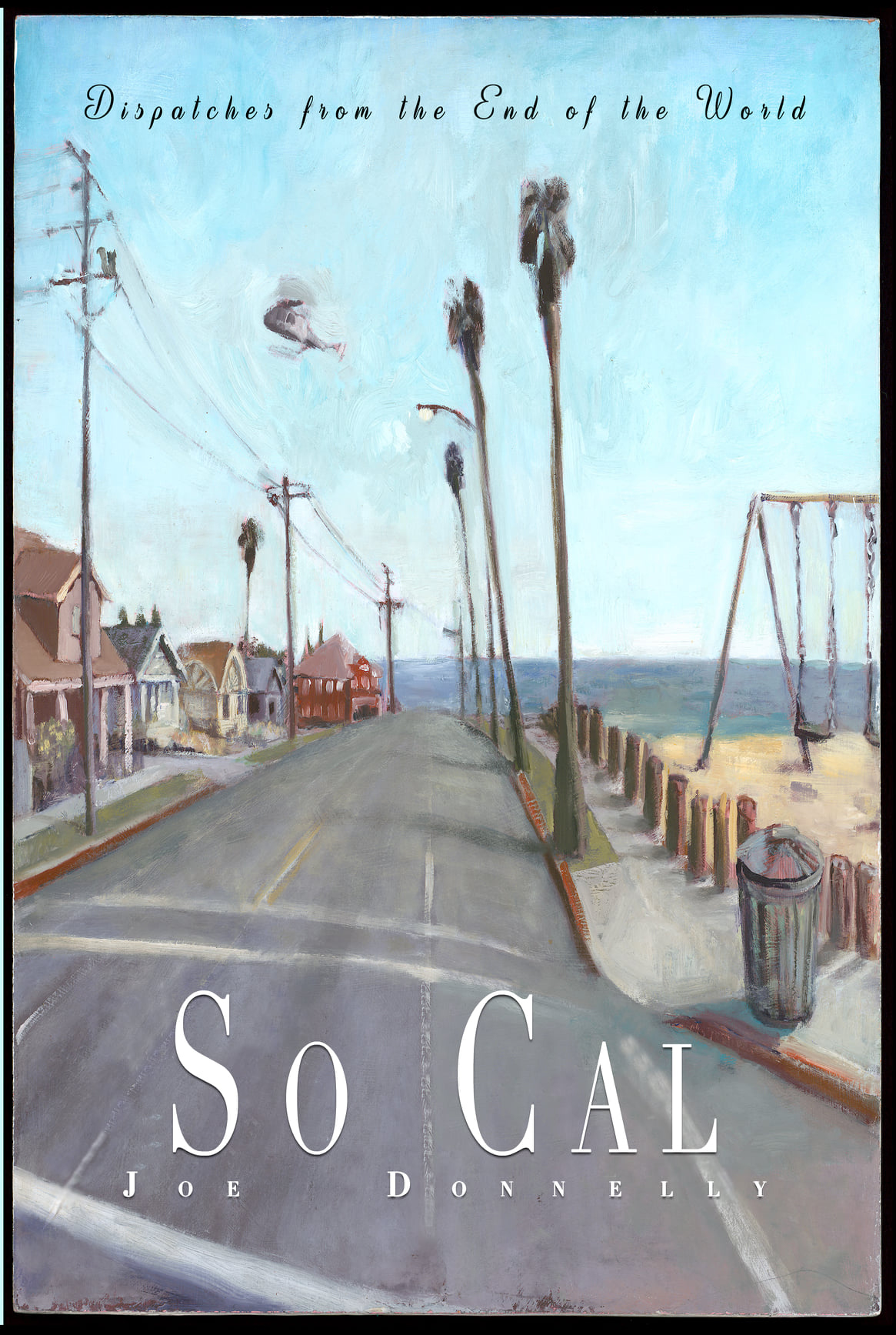 English lecturer Joe Donnelly's second collection of nonfiction, So Cal: Dispatches from the End of the World, was released recently by Punk Hostage Press.
In his foreword, writer Jamie Brisick writes, "The bulk of it is set in the lower third of the Golden State, and even when they're not they ooze a certain SoCal leaning. Reading through the pieces that follow, I was floored by his ability to breathe freshness into every scene and description."
Pieces in the book include: "The Loneliest Road," "Magic and Loss," "Future Man," "Father Pop," "GoldsteinLand," "Messiah Wolf," "The Tortoise and the Tank", characters include, Shaun Tomson, Danny Kwock, Jim Evans, Mike Salisbury, Tommy Caldwell, Luke Perry, Craig Stecyk, Puff the insurgent + wolf OR-7, crawfish Iko, German Shepherd Max, writers, and much more.
Donnelly is an award-winning journalist, writer, and editor. He currently teaches English and journalism at Whittier College and is the editor of Red Canary Magazine.
New Book on Prejedice and Identity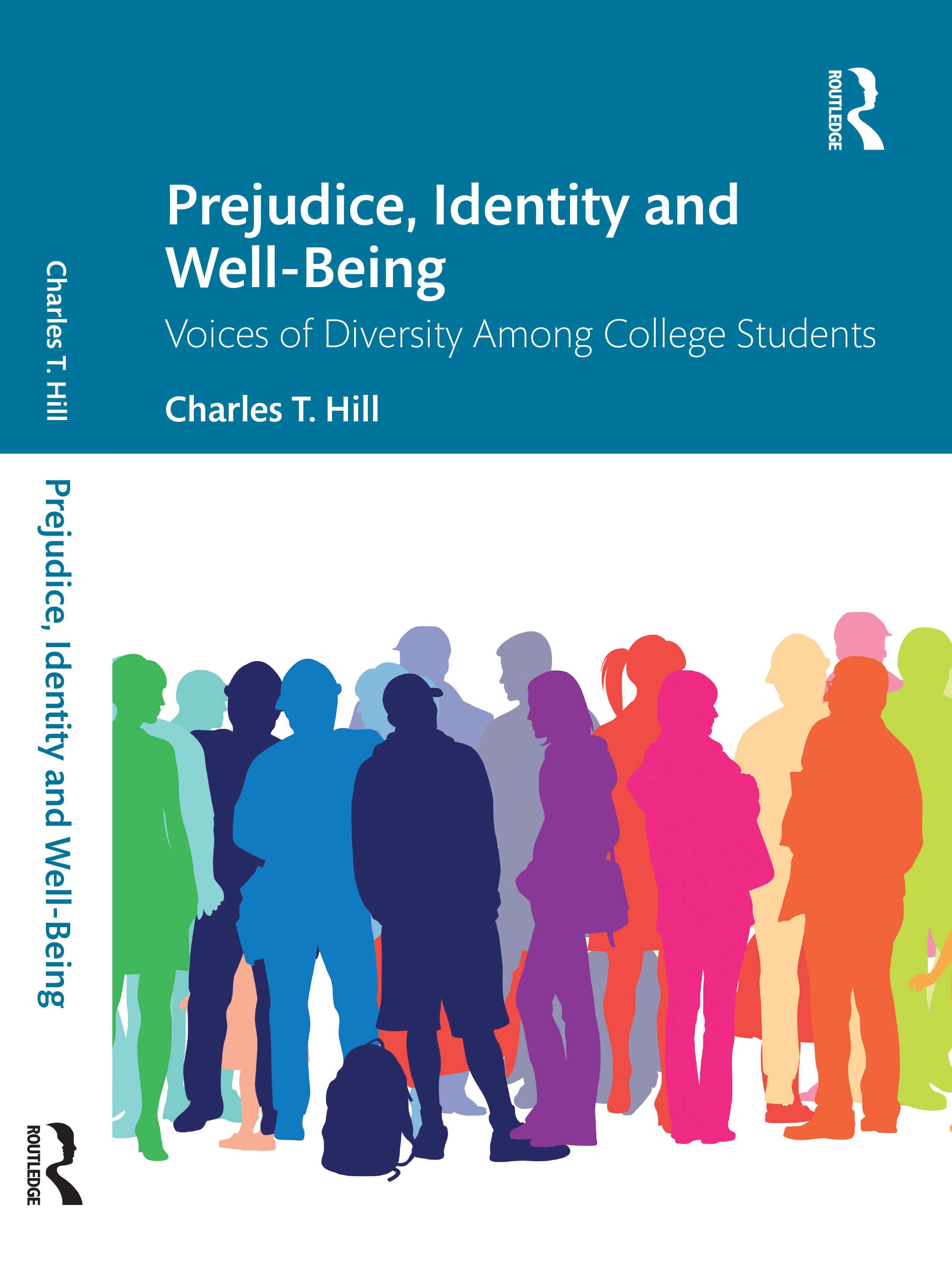 Professor of Psychology Chuck Hill's newest book, Prejudice, Identity, and Well-Being: Voices of Diversity Among College Students, is now available through Routledge Press. 
The author examines how prejudice is related to other concepts, how identities are developed and changed, and how identities impact well-being. Hill also discusses various types of identities, with an analysis of his "Multiple Identities Questionnaire" that has been completed by more than 3,300 ethnically-diverse students at Whittier College over two decades. Interspersed throughout the book are quotes from student papers written in Hill's Diverse Identities course. 
"My hope is that readers will see themselves in the voices reflected in the book, realize that they are not alone in dealing with identity issues and prejudice, and accept themselves with pride in their identities, while understanding and valuing others," said Hill. 
The book also has a section comparing the importance of various identities, comparing prejudices, models of how pride is developed to cope with prejudice, and changes over the years. It reveals similarities and differences in the experiences of people with similar or different identities.  
Social Justice Speaker Series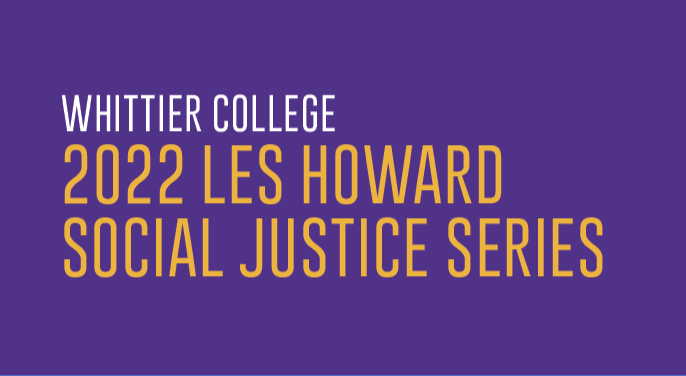 The 2022 Les Howard Social Justice Series featured an impressive roster of social justice scholars including UC Riverside Professor of Philosophy Myisha Cherry, UC San Diego Visiting Fellow and Anthropologist Linda E. Sánchez,  University of the Witwatersrand anthropologist Nosipho Mngomezulu, USC Professor of Political Science & Gender & Sexuality Studies Jane Yunhee Junn, and Director of the California Indian Culture and Sovereignty Center at CSU San Marcos Joely Proudfit (Luiseño).
 
The program is headed by Professor of Sociology Rebecca Overmyer Velázquez, the C. Wright Mills Endowed Chair in Sociology. 
The series is named in honor of the late beloved sociology professor Les Howard '62, who left an endowment to support Whittier College and student learning.
"With the support of Hartley House, the series this year focuses on critical perspectives on race and racism, power and privilege in the U.S. and South Africa," said Overmyer Velázquez. "We invite students, faculty, and staff to participate in these conversations with the preeminent scholars and practitioners who will share their ideas with us at Whittier College." 
Professor Scott Selected as Fulbright Scholar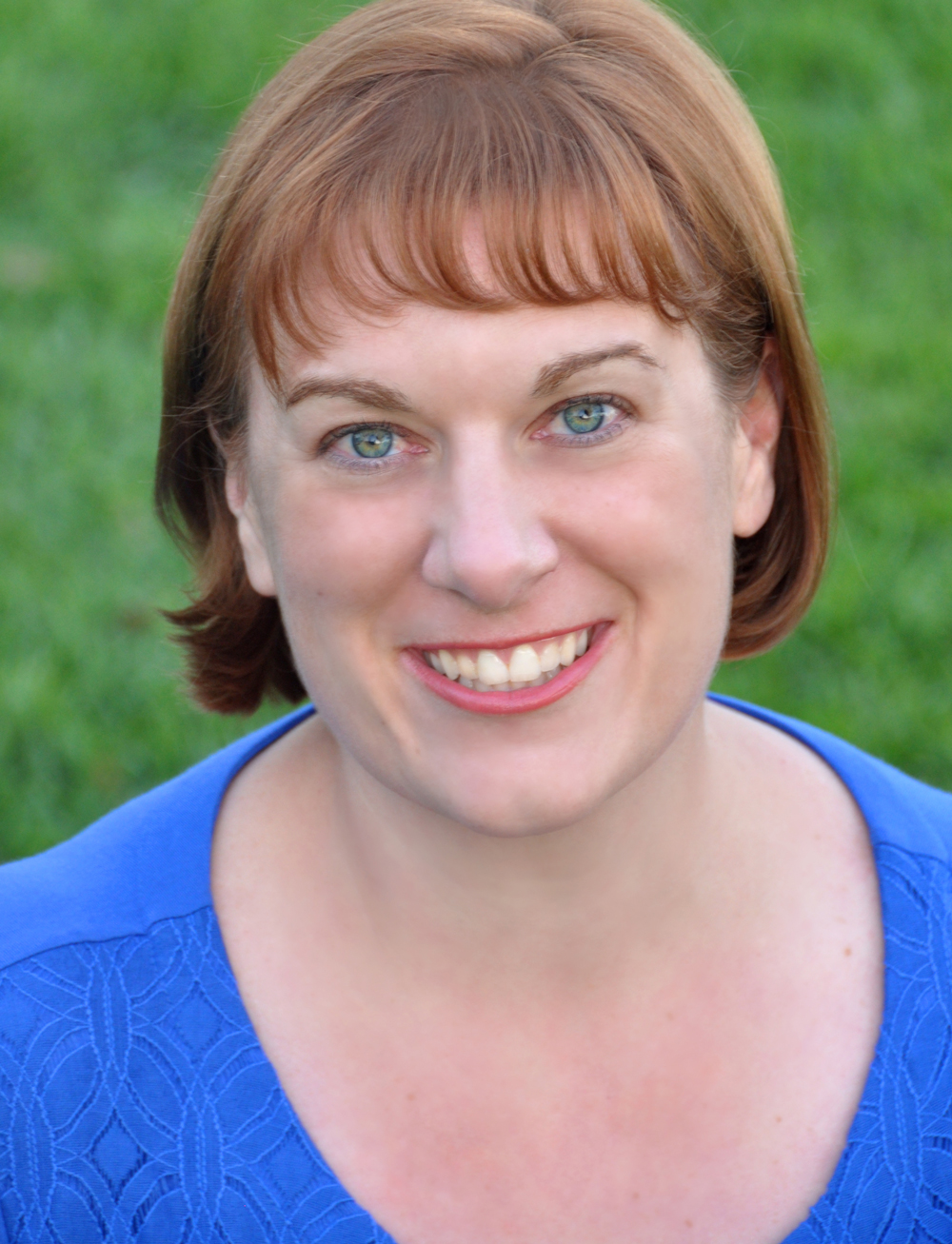 Associate Professor of Social Psychology Christina Scott has been selected to represent Whittier College as a 2023 Fulbright U.S. Scholar.
Scott will spend five months in Japan, teaching American Studies courses at the University of Tokyo and Kyoritsu Women's University, both located in the political and economic center of the country.
The Fulbright Scholar Awards are prestigious and competitive fellowships that provide unique opportunities for scholars to teach and conduct research abroad. Fulbright scholars also play a critical role in U.S. public diplomacy, establishing long-term relationships between people and nations. 
Scott has been teaching at Whittier since 2010. Her research focuses primarily on women's sexuality and behavior and she teaches classes on media, gender, and sexuality. Scott has published in a wide range of books and journals and she continues to speak nationally and internationally about her research. She has taught three summers for the Shanghai International Summer Institute in China. And, during her 2019 sabbatical, Scott participated in the Semester at Sea program, teaching a diverse group of U.S. and international college students and visiting a new country each week. 
"Japan is renowned for teaching excellence," said Scott. "I feel especially prepared for this challenge because [Whittier] has stressed the importance of learning to be a dynamic and interactive teacher. I would like to connect with faculty colleagues in Japan to better understand their collegiate model of instruction and excellence in curriculum development, admission standards, and student engagement strategies." 
At Whittier, Scott served as department chair for two years and was chair of the Enrollment and Student Affairs Committee. She was awarded the Harry W. Nerhood Teaching Excellence Award in 2018. Not adverse to challenges, Scott saw the Fulbright as an opportunity to continue growing personally and professionally, all the while strengthening her pedagogy. 
Three Professors Granted Tenure
Professors Kate Albers, Sara Angevine, and Irfana Hashmi were granted tenure by the Whittier College Board of Trustees, effective for the 2022-23 academic year.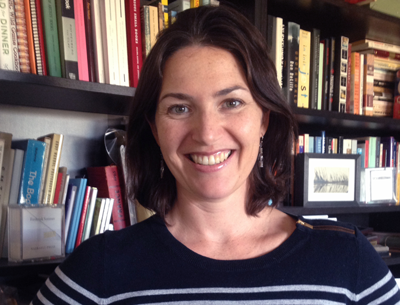 Kate Albers has been an Associate Professor of Art History, teaching visual culture, contemporary art, media studies, and history and theory of photography. Before Whittier, she taught at the University of Arizona for a decade. Beyond the College, she's authored Uncertain Histories: Accumulation, Inaccessibility, and Doubt in Contemporary Photography and The Night Albums Visibility and the Ephemeral Photograph. Albers is also co-editor of Before-and-After Photography: Histories and Contexts. Albers received her Ph.D. in art history from Boston University and her master's in art history from University of California, Riverside.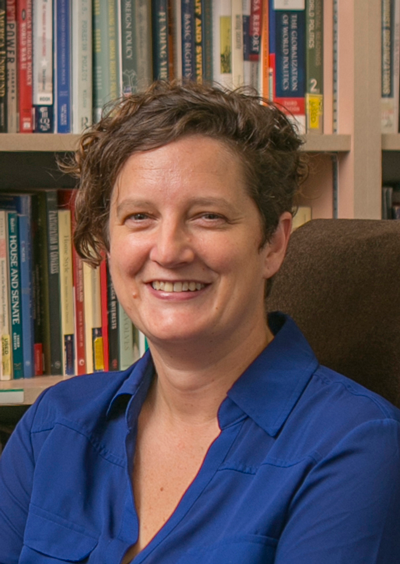 Sara Angevine is an Assistant Professor of Political Science, specializing in American politics, women and politics, comparative politics, and international relations. Her dissertation examined the policy objectives and congressional motivations behind women's rights in U.S. foreign policy. Angevine's research explores how gender (and identity broadly speaking) affects democratic representation in the U.S. Before Whittier, Angevine taught at Brooklyn College, City University of New York and Rutgers University, as well as Barnard College, Columbia University. Angevine earned her Ph.D. in political science from Rutgers University and her master's in women's and gender studies from University of the Western Cape in Bellville, South Africa.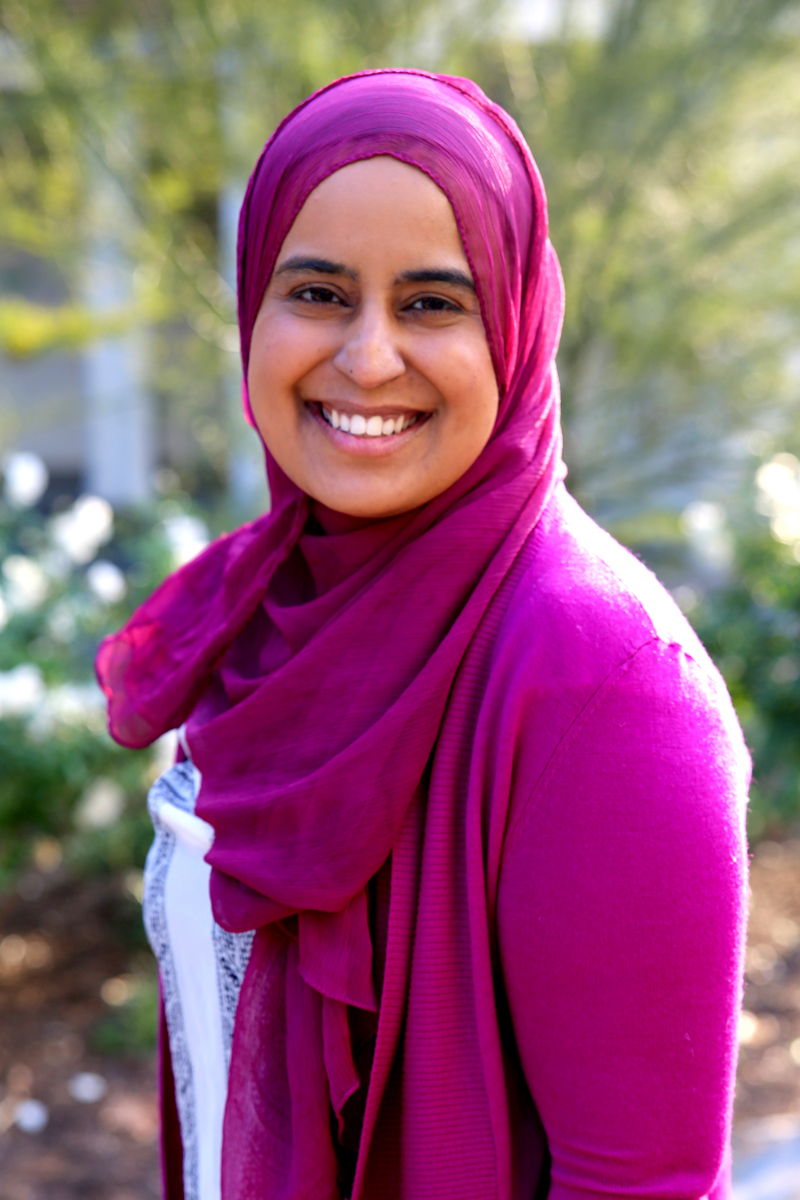 Irfana Hashmi is an Assistant Professor of Religious Studies, specializing in the history of the Islamic world, focusing on the urban mosque. In addition to teaching a wide range of classes in Religious Studies, Hashmi also teaches classes in Islamic Studies. Hashmi's current book project focuses on the social world of learning at al-Azhar in the sixteenth and seventeenth centuries. She is working on a digital humanities project, titled Digital al-Azhar, an interactive 3D Virtual Reality model of al-Azhar Mosque. Hashmi completed her Ph.D. from the Joint Program in History and Middle Eastern and Islamic Studies at New York University. Before coming to Whittier, she taught at Bard College.
 
2022 Coffee Speaker Series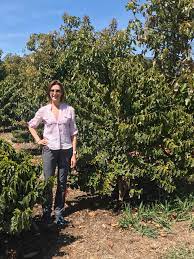 The Whittier College Environmental Science Department hosted an innovative slate of coffee industry leaders for the 2022 Coffee Speakers Series. The 10-speaker series–which highlighted the campus coffee orchard–was made possible by the A.V. Davis Foundation grant awarded to Associate Professor of Biology and Environmental Science Cinzia Fissore.
Whittier College was awarded a $300,000 grant from the Arthur Vining Davis Foundation to help propel the growth of the campus' sustainable coffee orchard and provide research and internship opportunities for students. Via Fissore's leadership, the grant has enabled the College to expand its collaboration with the newly emerging California coffee grower's agricultural community, including its partnership with Frinj Coffee—an organization at the forefront of promoting and supporting California coffee production. The grant has also provided 10 undergraduate research fellowships and eight internships for Whittier students over the last two years.
Art Professor Danny Jauregui Named LA Art Fellow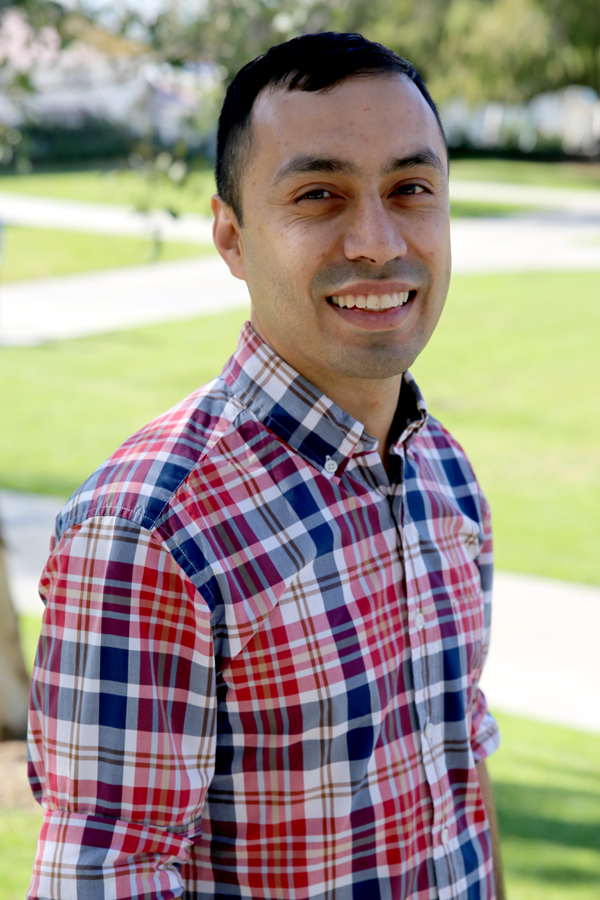 Associate Professor of Art Danny Jauregui has been named a recipient of the prestigious 2021-22 City of Los Angeles (COLA) Individual Artist Fellowship sponsored by the Department of Cultural Affairs (DCA).
As part of the fellowship, Jauregui will receive a $10,000 grant to produce a series, set, or singular piece of new artwork that will be premiered and promoted by the City of Los Angeles in the Spring of 2022 as part of this 25th edition of this annual initiative. 
Jauregui is a visual design artist using interdisciplinary media that utilizes archival documents as source materials. Within this, he uses data visualizations, maps, artificial intelligence, GIF animations, and 3D modeling techniques to tell stories about Los Angeles and the city's queer geography. 
---
Fall 2021
Professor Chihara Featured on Lawn Love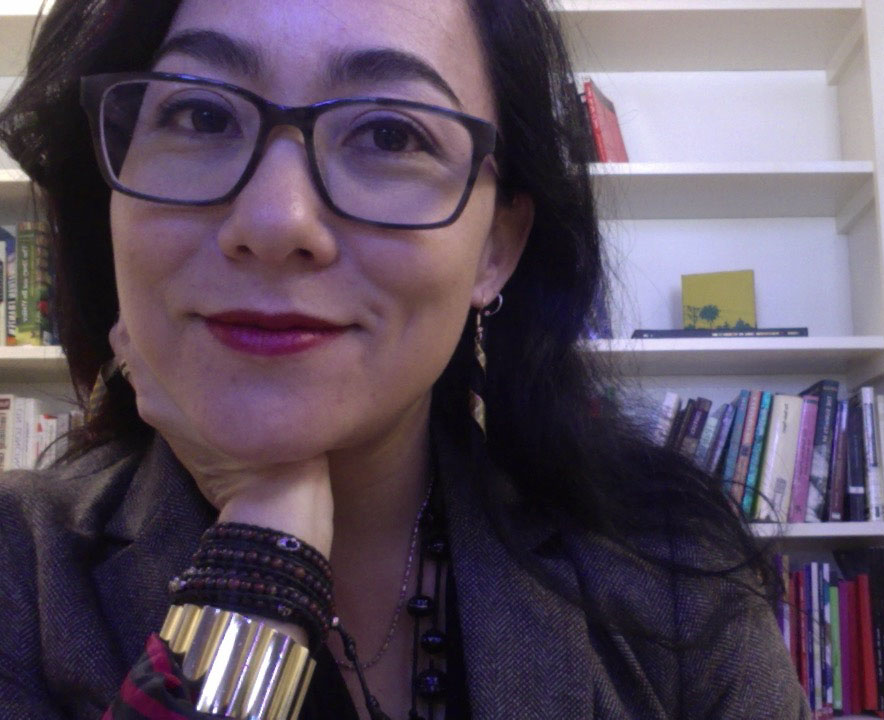 English professor, Associate Director of the Whittier Scholars Program, and avid bibliophile Michelle Chihara was recently featured on the Lawn Love blog giving her take on the benefits of reading for fun.
Chihara offered some tips on how to get back to reading regularly:
1. Give yourself permission to read for pleasure
2. Choose a time of day to read for pleasure, and then
3. Don't beat yourself up if you miss it for a while. 
Barnstone Launches the Radiant Tarot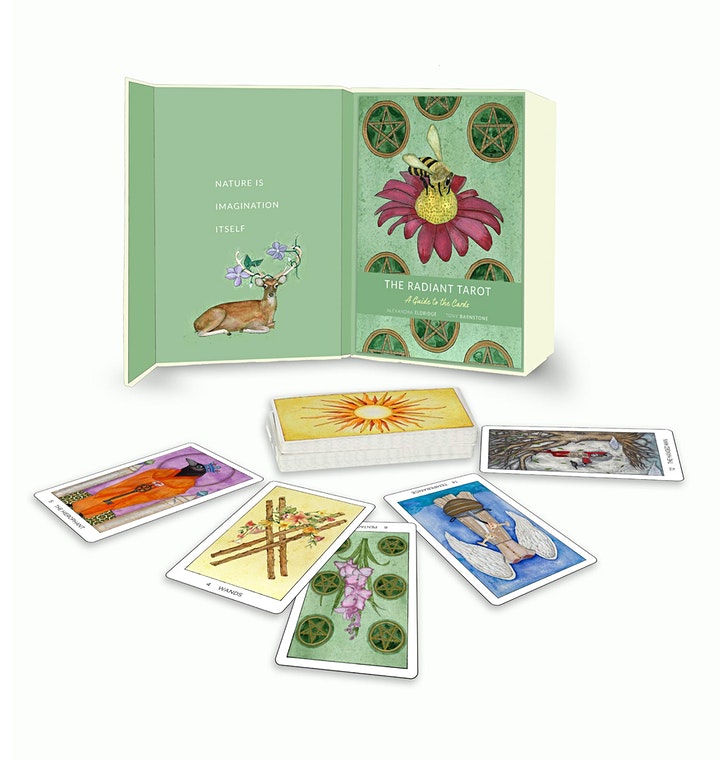 The Radiant Tarot: Pathway to Creativity is Professor of English Tony Barnstone latest literary project, co-created with artist Alexandra Eldridge.
According to Barnstone, the deck is the result of a 12-year collaboration with Eldridge and is designed as "a creativity tool in which each suit and each card is related to the creative process, with the idea that creativity as applied to one's life can help you reinvent yourself, just as when applied to the arts."
The cards themselves are described as "richly painted, at times fantastical, fine art images of plants, animals, and people who co-inhabit a dream-like world." 
Barnstone is the author of twenty-one books and a music CD. He is a recipient of a Pushcart Prize in Poetry, the Poets' Prize, the Benjamin Saltman Award, the John Ciardi Prize, and fellowships from the National Endowment for the Arts.
Collins-Dogrul Conducts Public Health Research as USMEX Fellow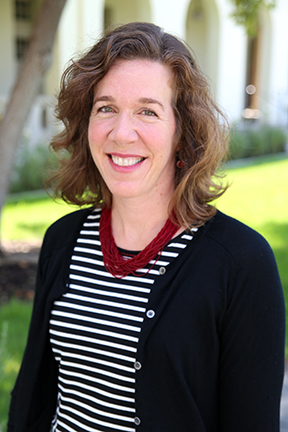 Associate Professor of Sociology Julie Collins-Dogrul completed prestigious fellowship at the UC San Diego Center for U.S.-Mexican Studies (USMEX) during her fall 2021 sabatical.
As a USMEX Fellow, Collins-Dogrul had the opportunity to conduct extended research into public health and environmental issues on the U.S.-Mexico Border.
Collins-Dogrul's research project, U.S.-Mexico Border Public Health, and Environmental Cooperation, seeks to understand how individuals, organizations, and networks can work together across borders to address environmental and public health issues. 
The USMEX Fellowship program is a leading residential fellowship program for research on Mexico and U.S.-Mexico relations. Each year, it brings together top scholars from the social sciences, humanities, and related fields to form a multi-disciplinary cohort of researchers on timely issues.
---
Spring 2021
Householder Recognized for Teaching Excellence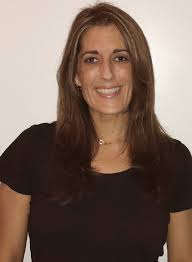 Senior Lecturer in Kinesiology Melanie Householder '05 has spent the last 10 years at Whittier advancing how the College teaches health and anatomy, impacting the lives and future careers of countless students.
A former registered nurse, Householder's academic focus is on human anatomy, physiology, and health. As part of her health courses, Householder developed an experiential lab component to enhance student learning and engagement.
"I am most appreciative and proud of our ability to explore and analyze multifaceted issues in human health as they are so inextricably intertwined with the complex society in which we live," she said. "The [Current Topics in Health] course takes full advantage of its position at a liberal arts institution, where cross-disciplinary lenses are used to amplify student interest, inquiry, and knowledge."
As recognition for her academic rigor, commitment to student success, and creating a challenging and supportive learning environment, Householder was awarded the 2021 Nerhood Teaching Award. 
"Her classes are hard, there is a lot of information, but she provides enthusiasm and knowledge to reach each student and this makes the classes anything but daunting," wrote one student nominator. 
"This professor cares for each and every single student they have in class. Not only is she an amazing professor, but she's also an outstanding human being," wrote another student. "She takes the time to talk to students on a personal level to get to know them more as a person rather than just another student."
Moreover, Householder was recognized for her strength in online teaching—she was nominated in the midst of the pandemic while instruction was still fully remote.  
Many students commented on the drawings Householder used in her anatomy courses—both those provided by the professor and the drawings that students were required to do: "This professor engages their students through her labs and lecture drawings to really learn about muscles and bones and how they connect to understand human movement. Her classes are never dull and … she wants students to be engaged to really learn," wrote one student.
A colleague's nomination expanded on Householder's use of biological illustrations as part of her teaching methodology. "There is real talent in being able to do this. She puts tremendous effort into providing important and useful illustrations for her students, both those available from external sources and those she creates herself. She also asks students to think about how best to create illustrations themselves, which requires them to be able to think deeply about structure and function. This effort is not only greatly appreciated by her students, but pays off handsomely in their ability to understand the human body."
Along with her own illustrations, Householder has introduced Whittier students to Anatomy.TV software from Primal Pictures. Primal Pictures creates and publishes the world's most medically accurate and detailed 3D graphic rendering of human anatomy based on imaging data.
In 2020, Householder applied for and received a Whittier Innovates Grant, which supported the acquisition of the human anatomy and physiology software that is now accessible to all Whittier College community members through the library's online platform. This acquisition enabled a critical element of her courses—visual learning with both guided and independent exploration—to come alive in the online/remote environment.
"The students loved it," she said.  
About receiving the Nerhood Award, Householder said, "The recognition is absolutely exhilarating because it represents an achievement in my teaching work that I care about so much and that I know has been shaped by so many others—my family, my teachers, my students, my colleagues, my friends, and more." 
She added, "I first came to Whittier as a first-generation Latina college student in the mid 1990s. I knew that I could receive a good liberal arts education here. I chose to work at Whittier College because there were people here who believed in me as much as I believed in both them and in the institution's commitment to diversity and inclusion."
In addition to being a very active advisor and mentor for students within the Kinesiology department, Householder has served as a first-year mentor. She is also a pre-health advisor for any student who is aiming toward a career in the healthcare field (primarily pre-nursing, pre-physician assistant, and pre-first responder).
Householder has a bachelor's degree in biology from Whittier College, a master's degree in biology from St. Joseph's University, and she completed two undergraduate programs in nursing—LVN licensure and RN licensure.
 
Hanson's Work Noted in International Journal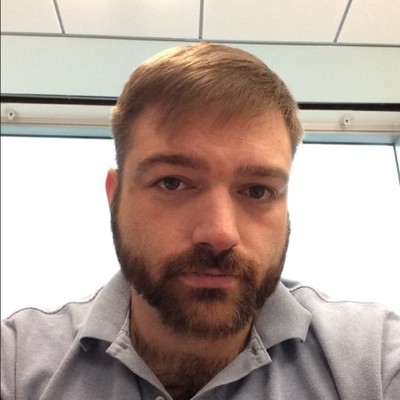 Assistant Professor of Physics and Astronomy Jordan Hanson's research paper was recently recognized as one of the top 10 most notable papers in Electronics Journal for the period of December 2020 - February 2021. 
Hanson's article deals with the computational physics of phased-array radar systems and was completed as part of a summer faculty research fellowship with the U.S. Navy. 
Electronics is an international, peer-reviewed, open access journal on the science of electronics and its applications published semimonthly online by MDPI.