By Estasia Mcglothlin '25 and Shellby Silva '24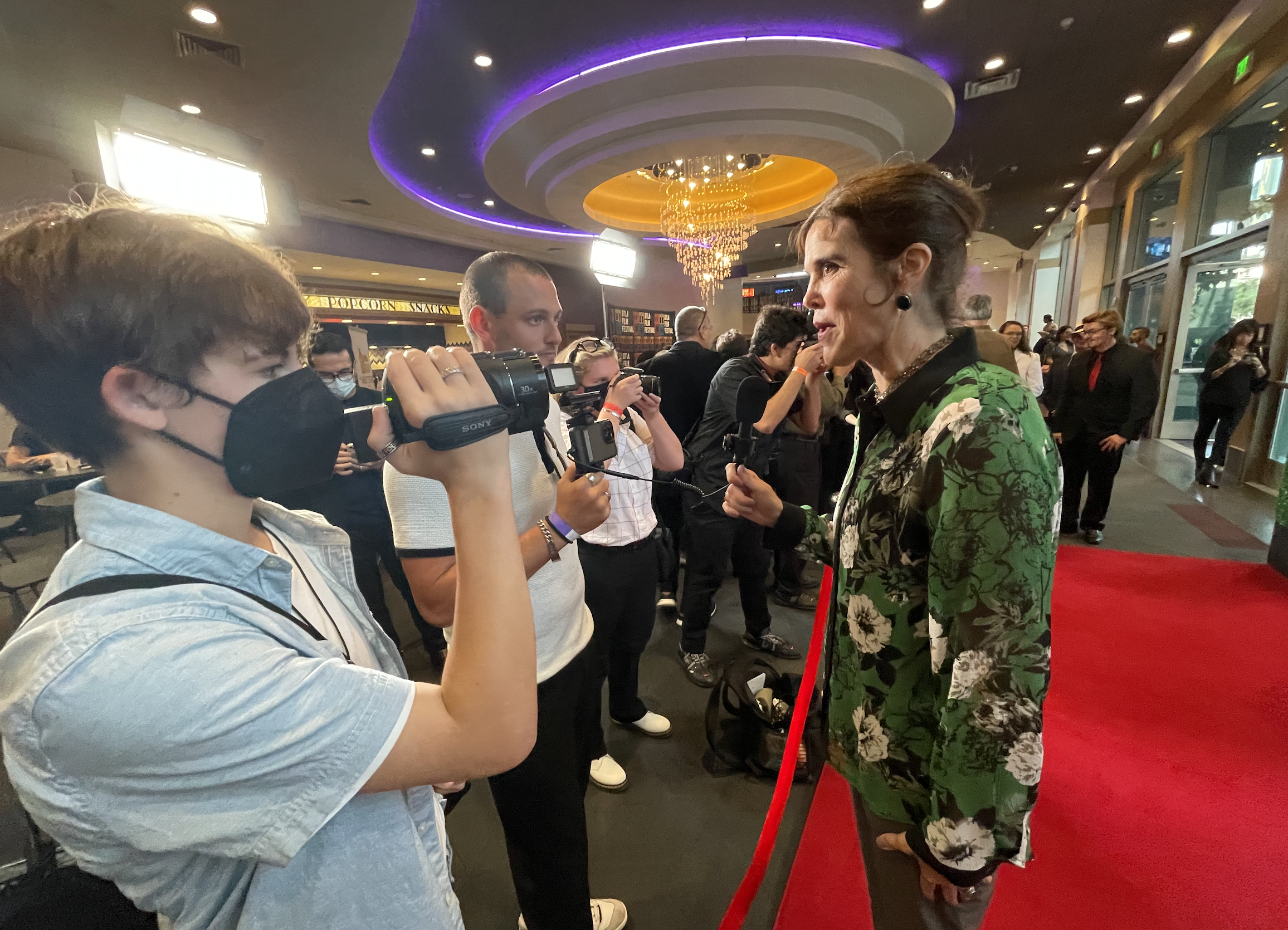 Buses packed full of Whittier College students ventured to downtown Los Angeles in mid-September to watch the coming-of-age film Carlos Through the Tall Grass, which kicked off the 13th Annual Downtown Los Angeles (DTLA) Film Festival. The independent film was produced by Whittier professors Patti McCarthy and Jennifer Holmes and involved the participation of over 20 Whittier students and recent alumni. 
Alumnus Henry Priest '98 is the director of the DTLA Film Festival whose mission is to lend "a counterweight to the white maleness" that dominates Hollywood. Since its inception, the DTLA Film Festival has featured directors from groups traditionally underrepresented by Hollywood. This year, nearly two-thirds of the films in the line-up were directed by people of color and more than 40% were directed by women.  
Carlos Through the Tall Grass fits perfectly within the mission of the festival. The film mirrors the feelings of uncertainty many first-generation Latino students deal with when leaving their families and loved ones to pursue higher education. Offering profound commentary on what it means to leave home as a first-generation student, the film balances the heavy subject matter through comedic relatability. In addition, the film showcases the beauty, hard work, and love that was put into this film by members of the College community and creates a story that feels close to home.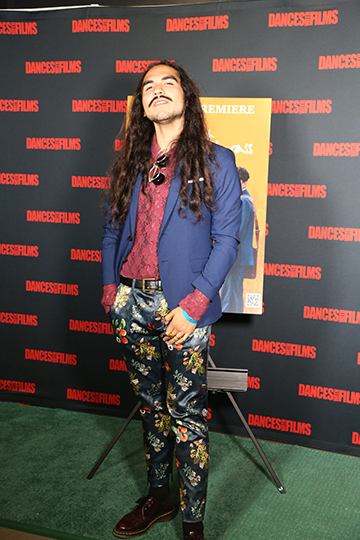 Film producer McCarthy, who teaches in the Department of Theatre, Communication Arts, and Film, stresses the importance of bringing a film into the world that focuses on a Latino protagonist, and the fact that it was made primarily by a cast and crew of Latinx filmmakers. "Carlos positively represents these communities, rather than use stereotypes that fuel the white imaginary—a rarity in Hollywood," she said.
McCarthy describes the 99-minute film as "a heartwarming story about a Latino high school kid, Carlos, who faces a dilemma familiar to Latino, first-gen students who carry the guilt of leaving their friends and family behind. Carlos is a…story about realizing you can't get anywhere new if you stick to the same familiar roads—sometimes your dreams are just out of sight, waiting for you, beyond the tall grass."
Making a Feature Film
Whittier College recently announce the creation of a Film major for students aspiring to work in the industry.
Ideally located between Downtown L.A. and Downtown Disney, the College is poised to become a leader in visual storytelling. The new major, offered through the Department of Theatre, Film, and Communication Arts, is designed to empower students and enhance the College's ability to innovate within film and digital media. Faculty are excited to foster a culture of outstanding film scholarship and content creation, offer high-quality experiences and film internships, promote student work, and create networking opportunities with Hollywood talent.
As such, working on Carlos Through the Tall Grass was the perfect jumping-off point for the new program. 
According to McCarthy, she knew she wanted to produce the film as soon as she read the script and she knew it would be a great opportunity for Whittier College film and theater students to get practical experience making a professional indie feature film.
Professor Holmes, who served as co-producer and casting director of Carlos Through the Tall Grass, said, "I was drawn to this film for three reasons: the story, the wonderful hands-on film-making experience for our students, and the fact that Whittier, California is the featured location in the film." 
"The struggle that Carlos experiences is an important issue that is not often discussed. High schools prepare students for college, yet it is difficult to actually prepare students for the emotional experience of leaving home," she added.  
Because the whole film was filmed in Whittier, they had the opportunity to form connections with the Whittier community, such as city officials and local businesspeople. 
The way the film took its shape and form was quite serendipitous because nothing was set in stone. McCarthy met the writer and director, Rick Dominguez, at the end of Spring 2019 while he was in search of an audition space at the Shannon Center. Out of curiosity, McCarthy read the film script and told Dominguez she would love to produce it that summer. 
Before the start of filming in July, there was a six-week period of pre-production that consisted of hiring a cast and crew, securing film locations, renting equipment, creating a schedule, finding costumes, getting permissions, and everything else in-between that it takes to make a film. While production was over after sixteen days of shooting, the COVID-19 pandemic prevented the film from being completed until May 2022.
According to McCarthy, that summer was the hardest she has worked on a film project and the most she has asked a crew and cast to do under the pressure of time. Nevertheless, she enjoys being a producer, a job that entails being present in the film process from beginning to end. 
Some of the producer's responsibilities include working with the writer to create the final script; creating the budget and schedule; and being involved in all the hiring, casting, and creative choices across all departments. A film is essentially separated into parts while filming and put back together during the editing process thus, the producer and director "hold all the pieces together" throughout the creation process. Bringing a vision and idea to life on screen is what excites McCarthy as a producer.
While the filmmaking process was an adventure full of challenges, McCarthy was constantly impressed by the professionalism and talent of the cast and crew. Unforeseen circumstances such as a location falling through at the last minute, actors getting sick or needing to schedule around a sudden conflict, and a piece of equipment not showing up, required the team "to become part magicians and part creative problem-solvers."
With grace and determination, students helped to overcome these challenges while simultaneously networking, forming connections with professionals in their respective fields, practicing problem-solving under stress, taking initiative, and gaining a strong sense of agency. Several students who worked on Carlos Through the Tall Grass currently hold jobs in the industry. Over the past few years, while the project was in post-production, another crew of students and alumni helped create the film website, promotional posters, social media campaigns, visual effects, and color corrections.
McCarthy emphasizes, "Not many college or university filmmakers get the chance to work on a feature film before leaving school. And none, that I am aware of, have ever been given the chance to do so during summer on a film produced by their college professor. I couldn't be more proud of all their efforts, or more pleased with the look of the finished product."
One of the main messages McCarthy hopes the audience takes away from the film is to understand that it is perfectly fine to take a chance and follow one's dreams at any point during one's lifetime. 
"The tall grass in Carlos is a metaphor," said McCarthy. "It's what we all have to go through (conquer our fears, mostly) in order to find happiness, fulfillment or at the very least, get on with the next chapter in our lives. This is a universal experience that everyone can relate to."
"I also hope after watching Carlos other indie filmmakers, like our students, will be inspired to go out and make their own film and not feel limited by a lack of budget, star power, or studio support. Better to chase a dream, than live without one," she added. 
In addition to the DTLA Film Festival, Carlos Through the Tall Grass had its world premiere at the Dances With Films festival in Hollywood and won the Remi Award at the WorldFest-Houston.   
"[Our] students have been able to make a feature, walk away from the production with an imdb.com credit, gain real-life filmmaking and acting experience, work beside industry professionals, and enjoy the fruits of their labor by seeing their work [on the screen]," said McCarthy. 
Post No Bills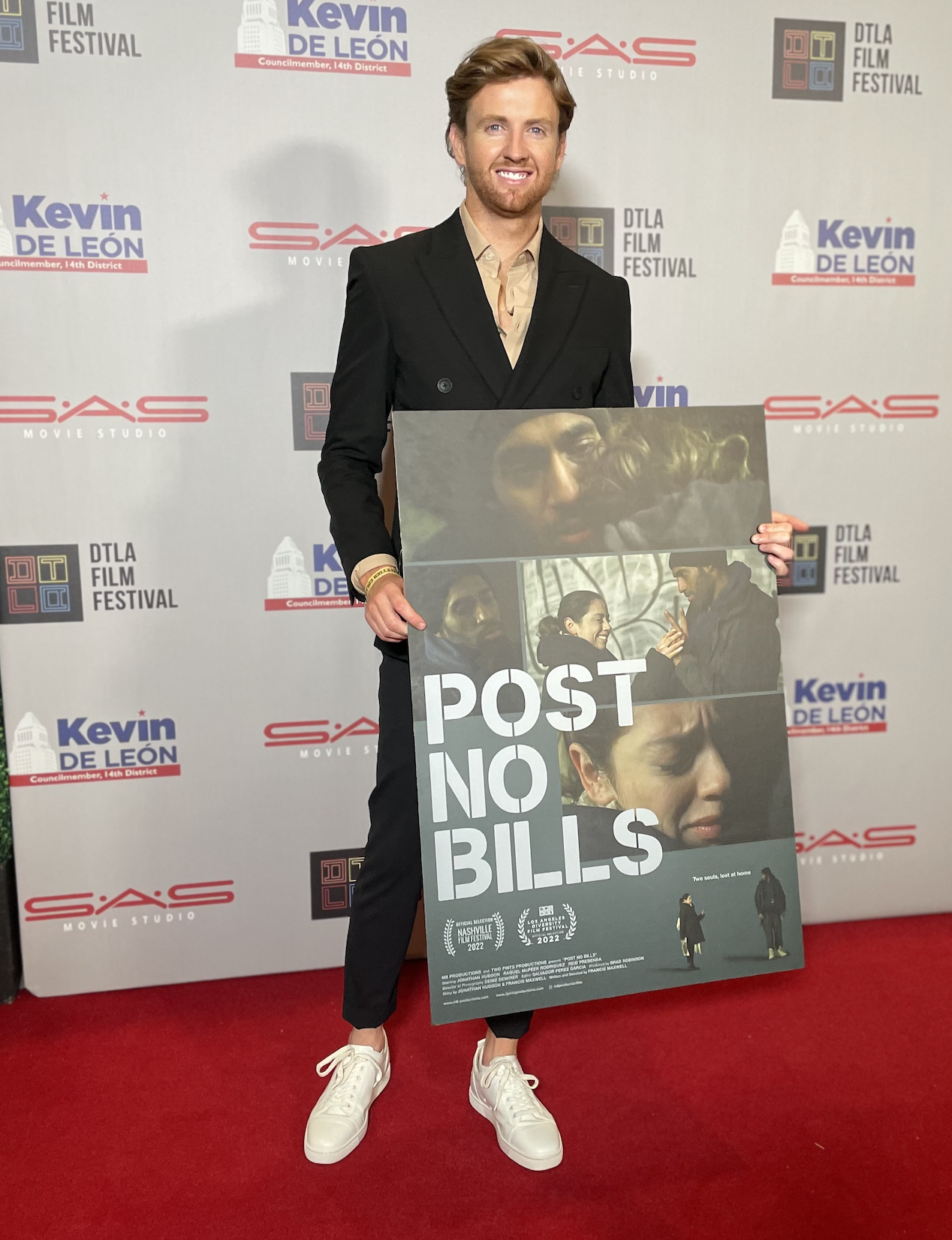 The showing of Carlos Through The Tall Grass was preceded by a screening of a short film Post No Bills, directed by alumnus Francis Maxwell '14. 
Maxwell's Post No Bills brings to light the economic and social inequalities that individuals face in a world that fosters a divide between the rich and poor. 
This short film tells the moving story of "[a] late-night encounter in a Brooklyn penthouse apartment during a blackout [that] leads to a profound connection between the young handyman and a cleaner." 
Their paths cross to illustrate the power of forming meaningful connections on the basis of shared trauma and life experiences. Despite being short in length, this film offers an in-depth look at economic disparity while showcasing the positive impact of mutual understanding. Skillfully shot and composed, Post No Bills possesses a heart-wrenching plot line with deep underlying messages. 
You can read more about Maxwell and his short film in the article Lights, Cameras, No Bills!: Discussion with Francis Maxwell.
Post No Bills and Carlos Through the Tall Grass are testaments to the promise of the newly established film major at Whittier College, as they depict the far-reaching audiences and positive impact that films produced by members of the College community are able to have.
 
Reprinted with permission from the Quaker Campus.