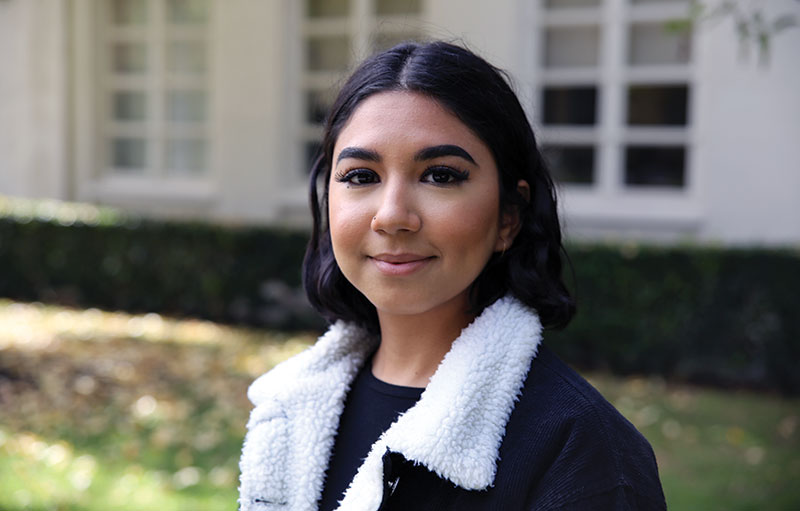 Spanish and studio art double major Priscila Jimenez '19 is the inaugural recipient of the Jan Lopez Wood Endowed Fellowship in Studio Arts. The fellowship provides Jimenez with a $2,000 award that allows her to devote time and energy toward creating an advanced senior art exhibit. Part of the funds will be used to purchase needed art supplies such as canvases, paint brushes, wood, and oil paints.
Jimenez, who grew up in Napa, Calif., was born in Mexico and moved to the United States when she was seven years old. Her art project will examine stereotypes faced by the Latinx community in Los Angeles and will incorporate influences such as graffiti art, the Chicano movement, and hip hop music.
"I will be working through collage images and then using oil paints to create pieces that focus on the hardships of living in Los Angeles and being Latino," said Jimenez. "My paintings will express intimate and present moments, with character that look straight into the viewer's gaze. I want to make it so that both the subject and viewer are present, it is designed to be interactive."
Whittier College Trustee emeritus and Poet Laureate Donald E. "Bill" Wood L.H.D. '98 established the Jan Lopez Wood Endowed Fellowship in Studio Arts in honor of his wife Jan. Jimenez had the opportunity to meet the Woods earlier this year and said she was grateful for their support. She was also pleased to learn that Jan Woods shares her enthusiasm for oils and is an avid painter.
After completing her senior project, Jimenez hopes to continue developing her skills in the art world, applying for internships with local art agencies. In particular, she hopes to work with low-income youth sharing her love for art.