1949
Whittier College sweethearts Richard "Dick" and Mary Mastain celebrated their 70th wedding anniversary last August. Read more about their anniversary.
1954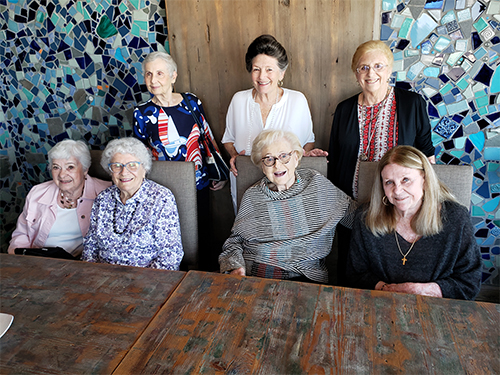 Classmates Aletha (Gray) Hotaling, Merrilyn (Thompson) Gilbert, Jane (Warren) Patton, Key (Polk) Davis; (back row) Virginia Weaver, Marjorie Conley Aikens, and Ruth Ann (Roewekamp) Hudson, have been meeting for lunch occasionally since graduating more than 65 years ago.
1964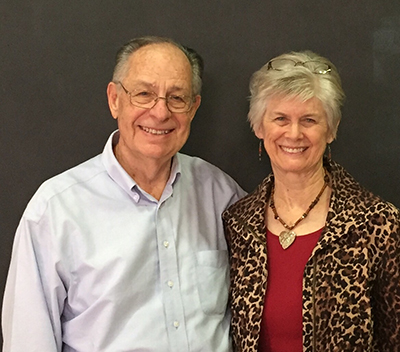 Lyn Nystrom Lynch and her husband celebrated their 55th wedding anniversary. For the last 30 years they have focused on helping people in the biblical counseling ministry in Kansas City, Missouri.
The 55th Reunion Committee for the class of 1964, Dori (Wells) Shyrock, Frank Olson, Marcia (Kiefer) Franzen, Kathy (Kingsbury) Dobrzycki, Bill Francis, Vickie (Ekdahl) Bisho, John Crow, Susan and Craig Elliott, enjoyed planning the "Aloha" reception and campus tour for members of the Class of '64, and hope that more classmates will be able to join them for the 60th Reunion.
Bill Francis is enjoying retirement with his wife, Sally, who he has been married to for almost 50 years. They enjoy traveling together and Francis plays tennis weekly.
Vickie (Ekhadl) Bisho is a retired teacher, an avid travel-seeker, and proud grandmother
Kathy (Kingsbury) Dobrzycki and her husband, Len, continue to love retirement in La Habra, where their family is nearby. They volunteer at the local Children's Museum and are looking forward to seeing Ireland in the spring.
Frank Olson recently caught up with classmates at the 55th reunion and enjoys spending time with his family.  
Ralph Komai recently caught up with classmates at the 55th.
Blair Baker first retired in 2004, and then did so again 2013, from his career at The 3M Company in Minnesota. Baker enjoys golfing and bowling, and has been married to Toni (Leslie '66) for 53 years. With three kids and six grandkids, Baker says he is "busier in retirement than when [he] worked!"
Robert McDermont has retired after over 35 years in the insurance business. He is currently living in Carlsbad, Calif. Whittier has always been special to McDermont's family as he is one of several graduates who attended the College. McDermont's fondest college memory is traveling abroad in Copenhagen his senior year.
Susan (Perry) Elliot is enjoying her 17th year of retirement after 35 years as a teacher. She and her husband, Craig Elliot '65 enjoy splitting their time between their home in Concord, California and their summer cabin in McCall, Idaho. They love spending time with their two children and two grandsons. She and Craig celebrated their 55th anniversary last August.
Elliot will always remember the wonderful, challenging teachers she had at Whittier, and she developed many life-long friendships here.
1968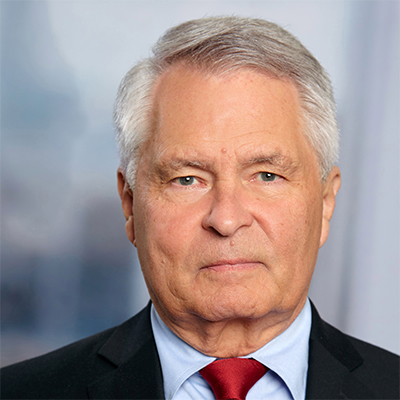 The Los Angeles Business Journal recognized William F. Capps as one of the LA500—a list of the 500 most influential people in the Los Angeles business community. He was recognized for his work as chair of the corporate department at the Jeffer Mangels Butler & Mitchel (JMBM) law firm. Capps has served as chair for the past three decades, and has represented numerous corporate, manufacturing and banking clients—from Fortune 500 companies to nonprofit organizations, and more.
1969
Former Poet peers Greg Bell, Tom Brown, Cindy (Wyne) Whetzel, Anita (Wyne) Bell, Steve Wood, Pamela (Bellis) Brown, and Marge (Shively) Wood reconvened on a trip to Northern Minnesota.
Since graduation, Elizabeth Harvey '69 married her classmate Robert L. Downie '69. They had three daughters together, and he passed away in 2004. Harvey spent many years as a music teacher and choral director in schools, churches and community choirs, until she retired in 2015. She now spends her free time traveling around the globe for missions, serving her community, and being a loving grandmother to her six grandchildren. During her time at Whittier College, Harvey was an honor student in her music education major, a Palmer, a member of the a capella choir, and was involved in a variety of other extracurricular activities.
1970
Dean Alger, with partner Ti Cersley from the New York Film Academy, created a short video addressing the climate change crisis. The video features a recording of an original song by Alger, with vocals by Erin McCawley. Alger intends to inspire people to demand action on climate change.
1971
After college James McCauley worked for the Los Angeles County Elections Department for 14 years. He then went on to work for Placer County in 1988, where he was elected the County Clerk Recorder/ Reg. of Voters. He was elected to office six times and retired in 2016. Over the years, he was the President of the CA County Clerk/ Recorder Association and was able to get many bill pass that helped the state. He was able to meet three presidents and became friends with Maureen Regan.
Sue Nelliz retired after teaching history for 36 years at Sacramento County Day School. (LINK to online article)
1972
Gerald Tom celebrated his 45th anniversary with Lynette Siu '73 this year and have four grandchildren. Gerald also celebrated his 50th high school reunion from Punahou last year.
1978
Sharon Lott Person has recently become a grandmother and is enjoying her time as a first-time grandparent.
1979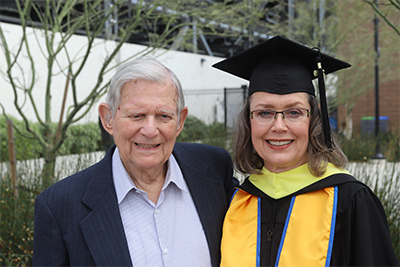 After two and a half years of study and internships, Pamela McDonald received her Master of Library and Information Science hood at the San Jose State University commencement ceremony. Forty years after graduating from Whittier College, McDonald again stood with her father for post-graduation photos.
Yolanda McCoy retired this summer after dedicating 40 years to the Los Angeles Unified School District as a teacher, coordinator and most recently, an assistant principal at the James A. Foshay Learning Center.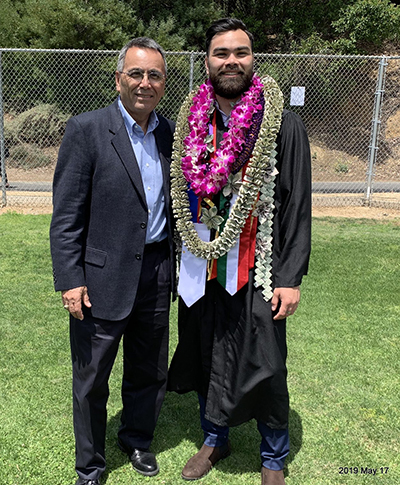 Steve Brandon celebrated the graduation of his son, Jeffery Brandon '19, from Whittier College.
1981
Judge Gil Ochoa was appointed to serve on the Inland Empire Judicial Selection Advisory Committee (JSAC). Governor Gavin Newsom released the members of eight regional JSACs (including Ochoa) to the public for the first time in California's history.
1990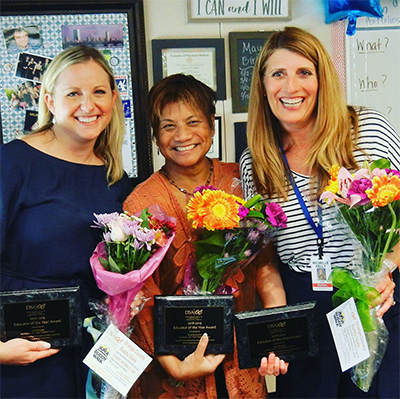 Michelle Kelly and her co-teachers at the Los Alamitos Adult Transition Program were selected as Educators of the Year 2018-19 by the Down Syndrome Association of Orange County. She will also be recognized at the Orange County Buddy walk on October 27 at Angel Stadium. Attached is a photo of us receiving the award in our classroom and the website for the organization.
1992
After graduating from Azusa Pacific University with a master's degree in management, David Aguilar, Jr. relocated to Las Vegas and is currently a supervisor for Asurion, where he helps his team provide tech support to cell phone customers. Aguilar enjoys spending time with his family and being a grandpa.
Josh Elizalde recently retired from the United States Treasury Department, after serving a total of 26 years as a special agent.
1995
Sandy Sternshein wrote and directed a feature film alongside her business partner Brad Riddell. The independent comedy, Later Days, will star actors including David Walton (New Girl, About a Boy) and David Pasquesi (Veep, Groundhog Day). The film was shot in Chicago earlier this year, and is now in post-production.
2002
Rosario Araguas was named podiatrist of the year at the Imperial Valley Press Reader's Choice Awards for the second year in a row.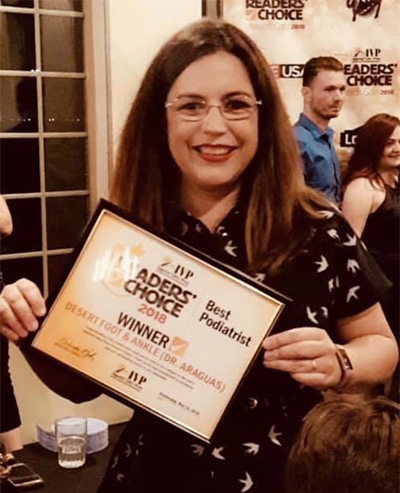 2009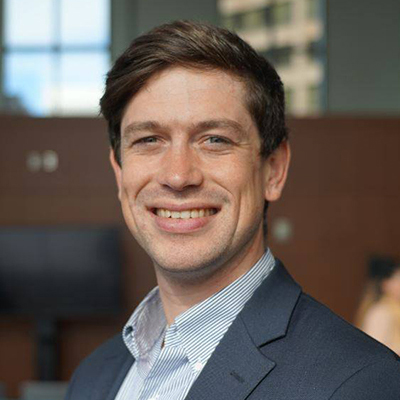 Dan Strauss won one of the seven seats up for grabs in the recent Seattle City Council election.
With nearly a decade of legislative experience under his belt, Strauss was previously a policy advisor for a Seattle City Council member. His past government positions include legislative aide and policy advisor at the City of Seattle, the Washington State Legislature, the Oregon State Legislature, and the Alliance for Gun Responsibility. Through his various leadership roles, Strauss has funded numerous transportation projects, developed green building codes, improved Seattle's public parks, and worked to make the citizens of Seattle more vocal and visible in public policymaking.
2011
Amanda and David Weed welcomed their first baby, Emily, in May. 
2015
Fernando Lopez applied to Whittier College hoping that it would help him expand his burgeoning farmers market tea business. Now, Lopez's company attends over 50 farmers markets every week, has a 2,500 square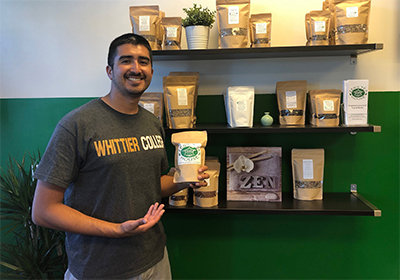 foot warehouse in Santa Fe Springs, and has founded Zen's Tea House, a community tea house in Norwalk.
According to Lopez, Whittier College played a major role in his success as a business owner. He notes that his education in the liberal arts and cultural perspectives prepared him to face the diverse challenges of running a business, and helped him to integrate his services into local communities.