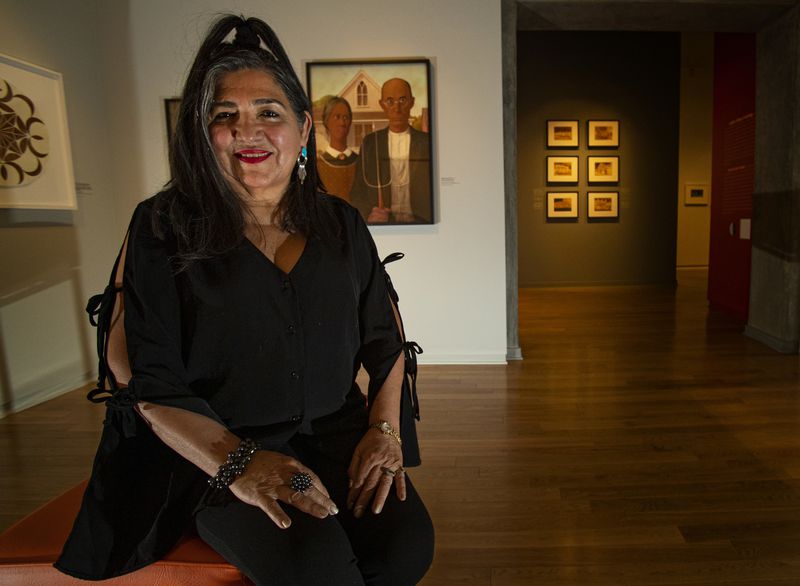 Mickey Mouse, Elvis, and Marilyn Monroe—all figures of pop culture and history—have received an artistic transformation through the works of Linda Vallejo '73, making them more representative of people of color.
Vallejo has re-created these iconic figures and others with dark brown skin, eyes, and hair, altering their original appearance in her new art series Make 'Em All Mexican, which is part of her new solo exhibition Linda Vallejo: Brown Belongings at La Plaza de Cultura y Artes in downtown Los Angeles.
 
"All of the work deals with the focus of what it means to be a Latin American person born in the United States," Vallejo told the Los Angeles Times. "So I'm looking at that through a series of artworks that basically use the color brown to begin a discussion about the color of our skin, class, and culture in the U.S."
 
Through a collection of five series and subseries of artworks at La Plaza, Vallejo's exhibit examines brownness and Latinx identity. "In a career that spans more than 40 years, Linda Vallejo has distinguished herself as one of the most thoughtful and thought-provoking Latinx artists of our time," said John Echeveste, CEO of La Plaza.
 
According to the L.A. Times, Brown Belongings is the largest solo show that La Plaza has mounted and notably its first for a Latina since its founding in 2011. The exhibition will be on view June 1, 2019 through January 13, 2020.
 
During her career, Vallejo has worked across a variety of media—including screen printing, painting, drawing, and sculpture—and has been featured in numerous exhibitions and publications. Her work is held in the permanent collections of the East Los Angeles College Vincent Price Museum in Los Angeles; the National Museum of Mexican Art in Chicago; the Carnegie Art Museum in Oxnard, Calif.; the Los Angeles County Museum of Art; the UC Santa Barbara California Multicultural and Ethnic Archives; and the UCLA Chicano Studies Research Center. Vallejo graduated from Whittier College with a degree in fine arts, studied lithography at the University of Madrid, Spain, and received an MFA from California State University, Long Beach.