Favorite Spot on Campus: Campus Inn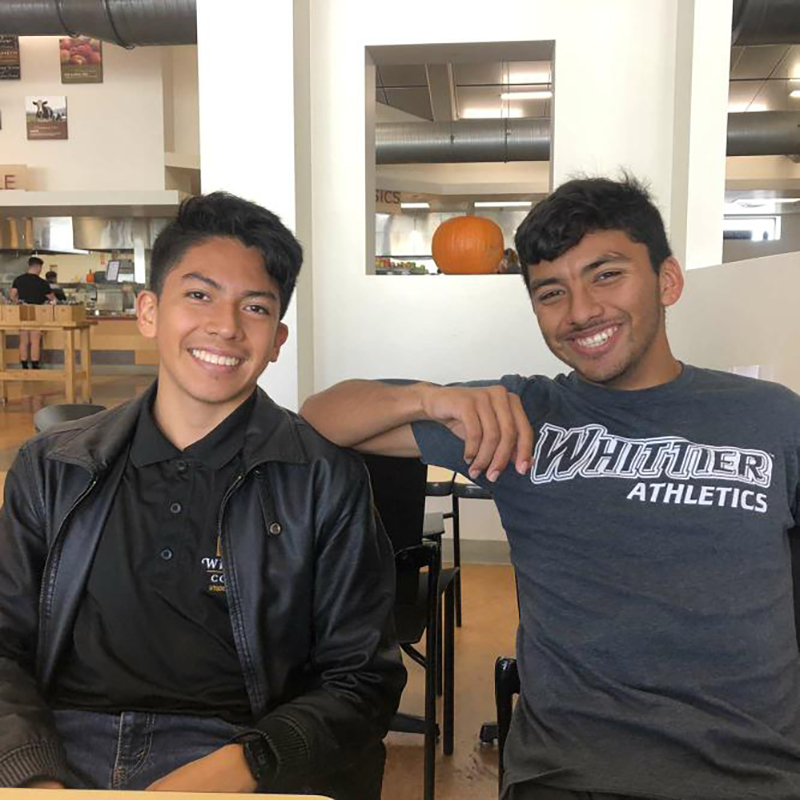 Pictured: Lira Martinez and his friend David.
"I think that's where a lot of memories were made for me," he said. "That's where when I first came to visit Whittier, where my future [cross country] coach—now my coach—sat down and got lunch with me. I like to joke around that a lot of people bond over food, and that's definitely the case because my friend Ryan and I, we're always at the CI together. And then some other people in the cross country team hang out at that time: breakfast, after workouts, and then dinner, right when everything's going to wrap up. It's just a lot of memories made there. A lot of laughs. A lot of spilled orange juice on accident."
Easy Friendships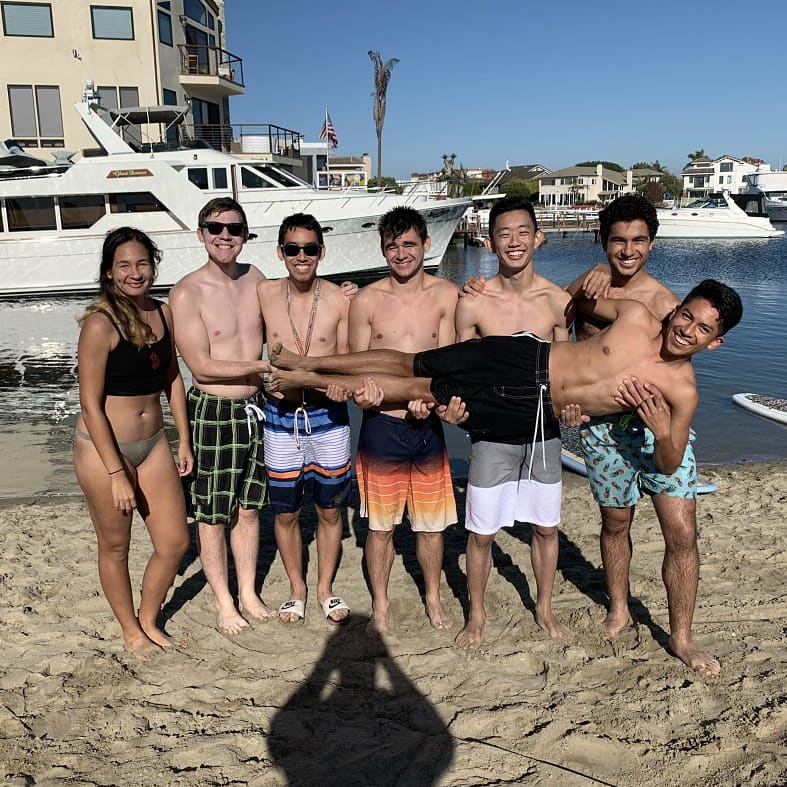 Lira Martinez's bonds with his cross country teammates extend beyond the campus; together, some of them planned this trip to Sunset Beach.
"When you're in a sport, especially when it's a small school, the people you surround yourself with the most become the main people you talk to, the main friends," Lira Martinez said. "When you're in a sport, those barriers of questioning whether you're going to be friends with somebody or not—they're kind of just out the window. You're automatically going to be an acquaintance or a friend. And everybody that I know on the team is like my friend."
More than Teammates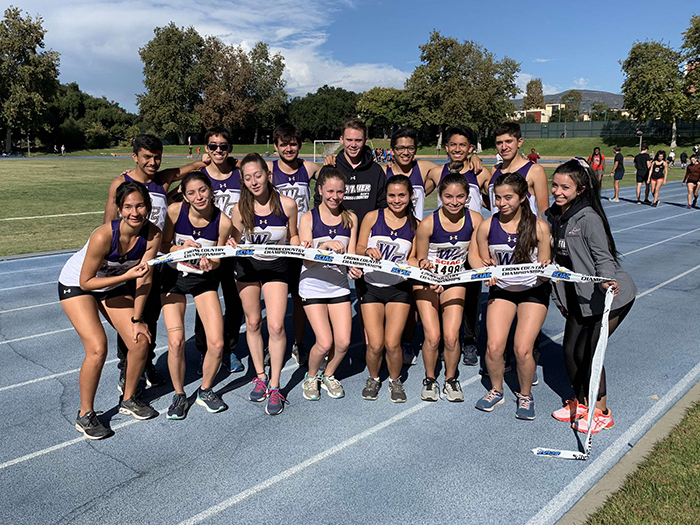 "I'm not going to lie, it's sometimes hectic figuring out when are you going to run, when are you going to study," Lira Martinez said. "It kind of complicates things just a little bit, but it really makes you not take things for granted, like the time you have with people. So whenever we have breakfast after morning practices, I treasure those a lot. We laugh, we joke around. And really being in a close community of something that hooks you altogether, which is running, I feel is so breathtaking."
Competing in the sport together also solidifies the bonds between teammates, he said.
"If something is going wrong academically, in my interpersonal life, I have those people to help me guide that journey. It's really good, and I can't be more thankful for them always being there."
On-Campus Job: Admission Ambassador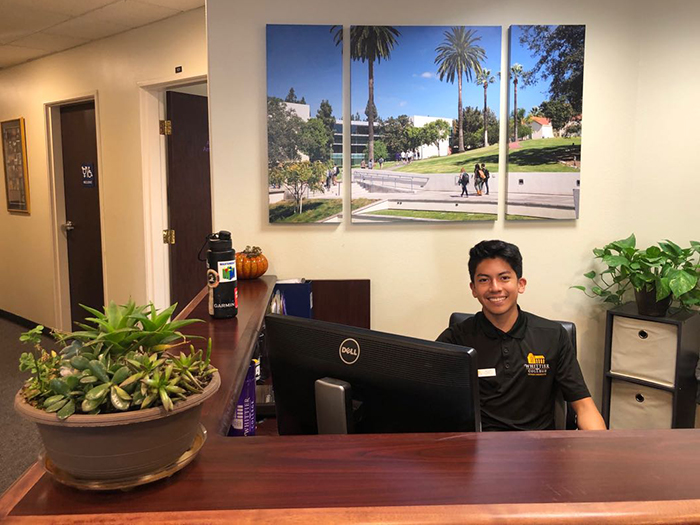 "It's really fun. I'm not going to lie to you. It's so fun. The people [in the admission office] are super friendly, super nice. They really guide you through the process of doing everything. They're like mentors to me, at this point. They really inspire me to do my best."
"Being in that chair, I'm securing the front. I'm the front cover person of the campus. It really helps knowing that that job makes an actual difference, not just in the college but to some people elsewhere."
Living on Campus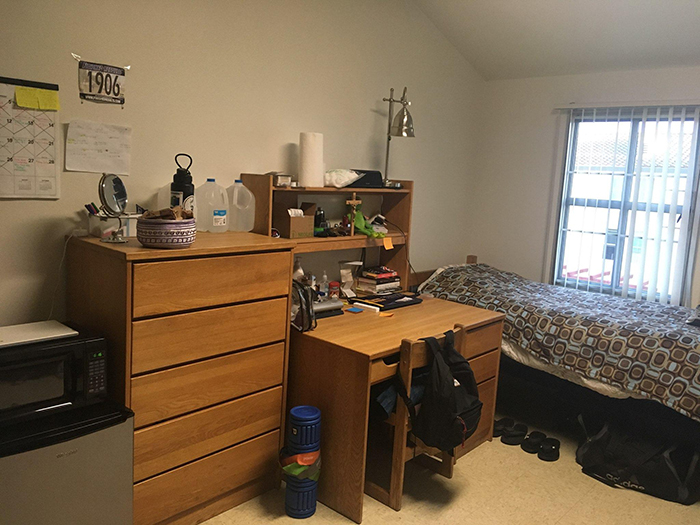 "It really does help that I wake up, I'm already there, I can just take a quick shower, go down, and then go to class."
His space says a lot about him: the organization of his calendar; the water jugs, foam roll, and snacks to support his exercise and athletics regiment; Kermit the Frog, which represents his humorous side; the cross, a symbol of his Catholic faith; and naturally, his books and backpack for class.
"There's just a lot in there in that little tight area and space. It's a lot of things, but it's controlled chaos."
Holidays Away from Home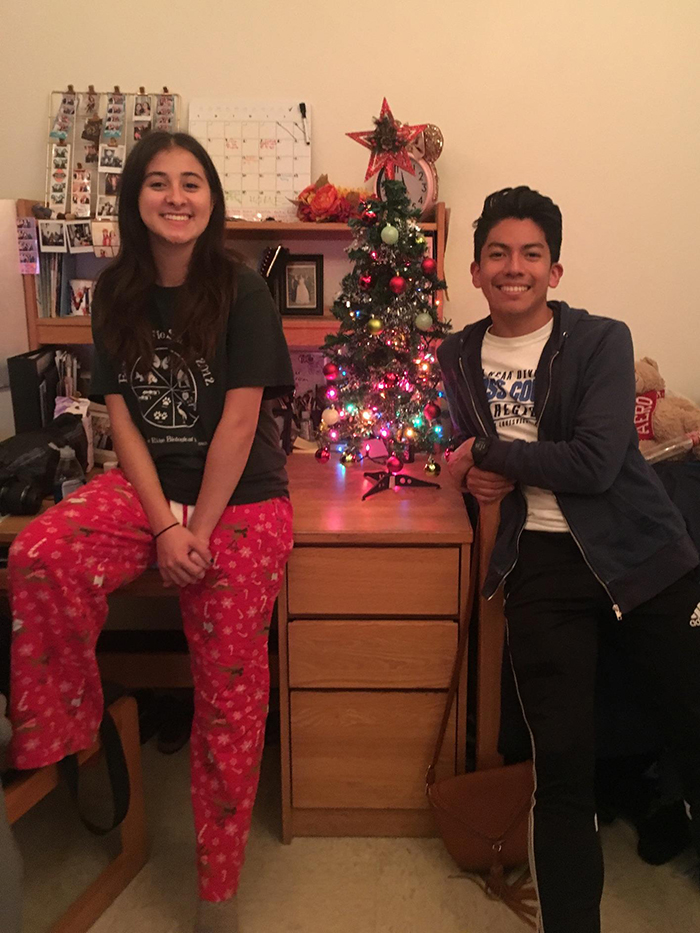 "I had two Secret Santa sessions: one with the team and one with my non-athletics friends. It was nice to have some people there for the holidays, and having a fake Christmas tree, and enjoying the company of other people and seeing the shock and the surprise of people getting their presents and they actually wanted."
"That's actually one of my good friends, Michelle. That's somebody who makes me feel like I belong here. She's kind of like a sister figure to me. I'm an only child. It really helps having somebody who horses around with you and makes you feel like you belong here."