About Our Program
On
25 Apr, 2013
By
Anonymous (not verified)
0 Comments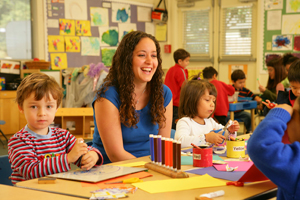 Whittier College's Graduate Programs in Education are authorized by the California Commission on Teacher Credentialing (CCTC) to offer Preliminary Multiple Subject (elementary), Single Subject (secondary), and Education Specialist Teaching Credentials.
In addition to our credentialing programs, we offer a 30-unit Master of Arts in Education, which includes three types of M.A. programs:
Credential plus M.A. - most of the coursework which satisfies credential program mandates also counts as credits toward an M.A. degree.
Induction program plus M.A. - geared to teachers who have recently completed district Induction programs. These teachers may receive credit for the work they have done in Beginning Teacher Support and Assessment (BTSA) programs at a significantly reduced cost per credit.
M.A. only - geared to previously credentialed teachers who choose to plan a 30-credit program that meets their individual needs.
Many of our graduate students are attracted to the flexibility of our evening and summer schedules, which allow them to pursue a credential or degree at an individual pace. Some are hired as interns in local school districts while others choose to gain valuable experience substitute teaching or studying at The Broadoaks Children's School, Whittier's nationally-known campus demonstration school. Still others maintain daytime employment in other fields, or fulfill family commitments during the coursework portions of their programs.
For Graduate Students, a minimum full-time study load is 9 credit hours per term. Those who have been granted baccalaureate degrees (or equivalent) from accredited colleges and universities are admitted to our programs if they have met the requirements for degree candidacy as determined by the Whittier College faculty.
Whatever their pursuits, our students enjoy small class sizes and support from faculty and staff committed to creating a graduate-learning environment that leads to success.