Department of Campus Safety
On
9 May, 2013
By
admin
0 Comments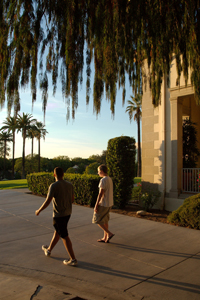 Our mission is to provide a safe and secure environment in which our college community members can live, work, study, and enjoy the overall experience that is Whittier College. To fulfill this goal, campus safety provides 24/7 security services using a combination of foot and vehicle patrols. Throughout all shifts, campus safety officers are continuously visible on campus. Specific responsibilities include after-hours escort services, safety education programs, liaison with law enforcement agencies and building inspections.
Contact
Department of Campus Safety
Haverhill B (off Philadelphia St.)
562.907.4211
562.907.4911 (emergencies)
562.907.4961 (fax)
campussafety@whittier.edu
Hours of Operation (non-emergency business):
Monday - Friday, 8 a.m. - 5 p.m.; however, emergency personnel is on duty 24/7.