Hartley House
On
23 Apr, 2013
By
rrafferty
0 Comments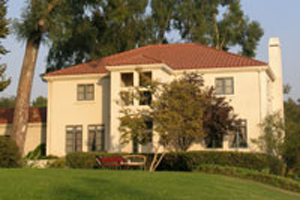 The Whittier College Faculty Masters Program combines educational and social programming in an intimate and informal setting and is modeled after similar programs at Oxford and Cambridge universities. Located in the heart of campus, the three masters' houses are each awarded to a faculty-in-residence, whose multi-year assignment is to plan and host a variety of experiences exploring a designated theme.
Opened to the campus community in 1991, Hartley House is named in honor of Barbara Baker Hartley, an educator and 1946 alumna of Whittier College. A member of Delta Phi Upsilon and the Metaphonian Society, Baker remained involved with the College throughout her life, participating in both the John Greenleaf Whittier Society and Philadelphia Society, and providing a generous endowment in support of the faculty master program.
Hartley House is a two-story, Mediterranean-revival structure located on the south-eastern side of campus at the top of Earlham Drive, across from Graham Athletic Center and its adjacent Ettinger Tennis Courts.
Hartley House
13741 Earlham Drive
Whittier, CA 90602
562.907.4280
pkjellberg@whittier.edu
Department Events
Ruth B. Shannon Center for the Performing Arts