Shannon Center for the Performing Arts
On
10 May, 2013
By
admin
0 Comments
LOCATION
6760 Painter Avenue, Whittier, CA 
Tel: 562.907.4203
Fax: 562.907.4902
E-mail: boxoffice@shannoncenter.org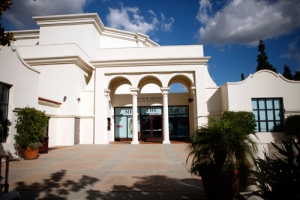 Opened in 1990, the Ruth B. Shannon Center for the Performing Arts at Whittier ​College boasts two state-of-the-art venues: the 403-seat Robinson Theatre and the more intimate 75-seat Studio Theatre. The Shannon Center also houses technical support areas and academic facilities for the Whittier College Department of Theatre Arts. Among the artists who have graced the stage are Oscar-winning composer Henry Mancini, Pulitzer Prize-winning playwright Nilo Cruz, and the Grammy-award winning group Los Lobos.
Throughout the year, the Shannon Center offers three subscriber performance series: the JazzCabaret, the Family, and the Aloha Concert Series--the latter bringing powerhouse, native-Hawaiian musical guests to mainland Whittier, always to sellout crowds. The Shannon Center annually plays host to the Department of Theatre Arts' fall and spring productions, the Department of Music's J.S. Bach Festival, the Whittier College Writers' Festival, and a full slate of guest lectures, special performances, and holiday events.
For more information, please visit the Ruth B. Shannon Center for the Performing Arts online, www.shannoncenter.org.
STAFF
Shane W. Cadman, Theatre Manager, Production Coordinator 
Tel: 562.907.4200, ext. 4835
E-mail: scadman@whittier.edu
Ronald D. Maurer, Operations Assistant
Tel: 562.907.4200, ext. 4901
E-mail: rmaurer@whittier.edu