Club Spotlight
On
6 Dec, 2013
By
mramos1
0 Comments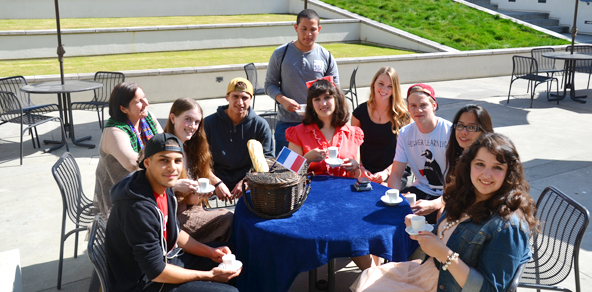 EVERYTHING FROM CINEMA TO SLANG
Students Sharpen Their French Language Skills
at La Table Française 
by Hallie Gayle `15
"Bonjour."
"Comment allez-vous?"
THROUGHOUT THE SEMESTER, Whittier francophiles come together for lunch at La Table Française to exchange beautiful, melodious words like these over sandwiches and coffee. Warm greetings launch lively conversations between native, near native, and learning French speakers, all savoring the casual atmosphere provided for them to practice their language skills.
La Table Française, organized by Professor of French Marie-Magdeleine Chirol, is a social gathering space open to all lovers of French culture and language.
"Each French Table gathering is different," said Chirol. "The atmosphere depends on what everyone brings to the conversation. I love seeing students from all levels interact with Whittier's own Francophone students or students from Kaplan-Aspect [an English program for international students at the College], as well as with people from the larger Whittier area interested in French culture. We often have a good laugh!"
Professor Chirol usually begins the lunchtime chatter with an ice-breaker.
"Quels sont vos projets pour le week-end?"
"What are everyone's plans for the weekend?"
From this opening, conversation around the table ranges anywhere from French cinema to French "slang." Members take turns listening and sharing, bringing them together and allowing their French to grow and sharpen.
It is through this friendly environment where language skills begin to prosper. At the heart of all language, there is a desire to connect and communicate, and this is exactly what La Table Française offers.
French major Elizabeth Sanchez `15 explained, "Although we speak French in our classes, this is an informal environment. Everyone is relaxed and no one is worried about points being taken off for grammar. That being said, it is also an excellent learning opportunity. We get to practice actual conversational French, not just the sample sentences in textbooks."
La Table Française meets five times during each semester from 12:00 pm to 1:00 pm. in the LEAP Conference Room.
Allez y faire un tour!
Try it for yourself.