Orientation for Transfer Students (Tuesday, January 27 - Wednesday, January 28)
On
29 Apr, 2013
By
Anonymous (not verified)
0 Comments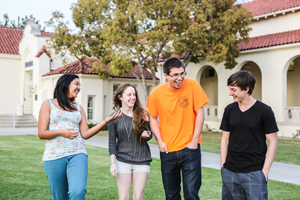 You are at an exciting moment in your life - a time to continue your educational experience and earn a Bachelor of Arts degree. Transfer Orientation, facilitated by peer transfer students, is designed to introduce you to Whittier College's academic programs, policies, and services. If you have not done so already, you will meet with faculty in your major, register for classes, and learn how to navigate the campus.
Schedule
A memorable and enjoyable Orientation experience awaits our transfer students.
Arriving to Whittier
Residential and Commuter Students
Tuesday, January 27, 2015 is the first day of Orientation.  Check-in will start at 12:00 p.m. in Club 88, located in the Campus Center. Commuter students are advised to arrive at 2:00 p.m.
Early Arrivals. If you plan to arrive in Los Angeles prior to the start of Orientation, you will need to arrange for your own accommodations. Your residence hall room will not be available early. Click here for information about local-area hotels to the College.
Arriving by Air. Super Shuttle is a 24-hour, shared-ride airport shuttle service provided at all major Los Angeles airports. Super Shuttle can pick you up at you airport terminal and drop you off at the College. Super Shuttle can be reached at 800.554.3146. The fare to Whittier from the Los Angeles International Airport is approximately $45. Credit cards are accepted.
Tuesday, January 27, 2015

12:00 p.m. – 3:00 p.m.

Orientation Check-In  and Residential Life Move-In

Campus Center, Club 88

12:00 p.m. – 3:00 p.m
.Math Placement Testing *Note: Only students who have not completed the online testing prior to Orientation are required to take the Math Placement test. If you need to take the test, please allow one hour. 
I.T. Classroom, Bottom Floor of Wardman Library
3:00 p.m. – 5:00 p.m.
Information Session and Brief Campus Tour (with families)
Campus Center, Club 88
5:00 p.m. – 8:00 p.m.
Light of Learning Ceremony and Welcome Dinner
Memorial Chapel
7:30 p.m. 
Cocoa Connection: First-Year and Transfer Student Meet and Greet 

Coffee Bean & Tea Leaf
7201 Greenleaf Avenue, Whittier, CA 90602 

Wednesday. January 28, 2015

8:00 a.m. – 9:00 a.m.
Breakfast: See how the Center for Career Planning & Internships can help you jumpstart your career!
Weingart Center, Room 230 Campus Center
9:00 a.m. – 10:00 a.m.
Taking Care of Business
CAAS, Bottom floor of Wardman Library
10:00 a.m. – 1:00 p.m.
Advising and Registration for Transfer Students (Center for Advising and Academic Success)
Computer Commons, Bottom floor of Wardman Library