1932
Pauline Clarice Bolt celebrated her 109th birthday and is living in Henderson, Nevada with her daughter. 
 
1951
 
Jean Elizabeth (Tholl) Griffin passed away on March 10, 2022. Jean taught elementary music, art, and reading to kids throughout Southern California and lived her life to the fullest.  
Her son wrote, "Our mother painted as if she were a child (Picasso's aspiration), danced into her eighties and upon retirement, our parents left on motor vessel "Swell Bound" to sail the Sea of Cortez and the Pacific Coast of Mexico for four years.  She loved freely and fiercely—making you feel, to quote our close friend, "like you were her child;" played bridge long into the night with dearest friends, Bill and Liz Dingle, and argued with laughter and martinis over cancelling their respective spouses votes, cooked almost every night after work, then sat down to start prepping for school while watching Carson's monologue deep past midnight.  She raced out of the house in the morning in her powder blue T-bird and somehow managed a smile to welcome thirty kids each day.  When she retired from Guasti Elementary they literally rolled out a red carpet for her."
 
After her husband passed away, Jean traveled much of the globe with her good friend Alma. She gave her children a wide berth "and taught us to love as if there were no tomorrow.  She also taught us to forgive as if it was the holy grail."  
She was predeceased by her husband, Daniel and is survived by her brother Robert (and wife Valerie); her children, Shaun (wife Debby), Lisa, Denise, and Jeff; grandchildren Nevada (wife Brenna), Cody (wife Suzette), Matthew; and a great-grandchild, Xavier.
1955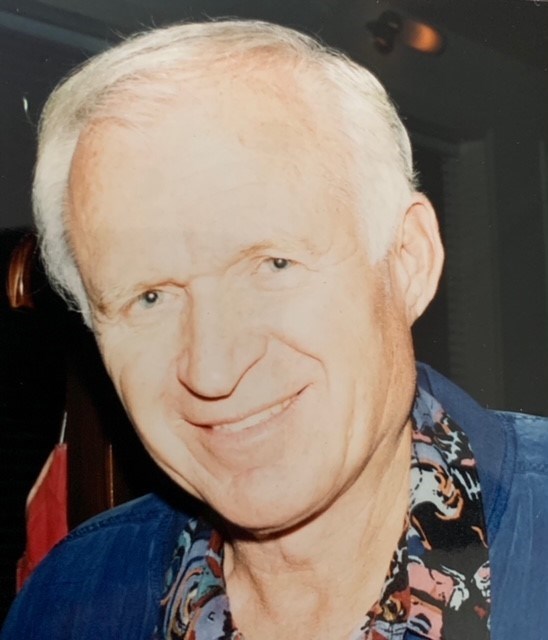 Whittier College has lost a longtime friend, Trustee Emeritus Willard "Bill" V. Harris Jr., who passed away peacefully at his home on March 14. 
 
Harris was born October 19, 1933, in Nampa, Idaho. In 1938, his family moved to Seattle, Washington, and then settled in Long Beach, California, where he attended Jordan High School. He went on to attend Whittier College alongside his twin brother Ben '55, where he studied chemistry, ran on the track team, joined the Orthogonian society, and played football for the Whittier Poets with legendary Coach George Allen.
 
After graduation, Bill and Ben joined the family business, Harris Fence Company. He and Ben partnered on several business ventures, including Rampart General, Future Communities, and Ship's Concrete.
 
In 1974, Harris met and married the "love of his life," Harriet, integrating a family of seven children. The couple also teamed up in business, which led to developing a charitable foundation. They instilled in their family the benefit of giving—so that their children, grandchildren, and great-grandchildren could carry on their legacy.
 
Harris was devoted to his alma mater, serving on the Whittier College Board of Trustees from 1979-2012. He was also a member of the John Greenleaf Whittier Society, Purple and Gold committee, and was a Philadelphian. Most recently, Harris and Harriet helped to establish the Brethren Community Foundation Fellowship—a fully funded transformational opportunity for students to engage in authentic grassroots community-driven development in East Africa. The fellowship was inspired by their own travels in Tanzania and their involvement in community service projects in the area.
 
Two of the Harris' children also attended Whittier College, Willard Porter Harris '80 and Lisabeth Ellin Marziello '87.
 
Over the years, Harris was recognized for his professional accomplishments and service to the College with an honorary doctorate in 2002, Poet Award (Community Impact) in 1999, Service to the College Award in 2013, and he was inducted to the Purple & Gold Athletics Hall of Fame in 2010.
 
Harris is survived by his wife; Harriet Harris, their seven children, Willard '80 (wife Sheila '80), Mary Lynne Behrens (Yuuta Behrens), Carole Anne Harris (partner Kauhi Ho'okano), Warren G. Taylor (wife Jennifer), Christopher J. Taylor (wife Kathy), James Michael Harris (wife Tamera), Lisabeth '87 (husband Joseph Robert '86); 16 grandchildren and their spouses/partners; and 16 great-grandchildren. 
1956
Jackie (Powers) Hanson is in Orange, California, and would like to know how the classmates of 1956 are doing. She also shares the loss of Max McCan '53, Pat Given '56, and Joan Jessup '05.
1957
Donald Harner sends greeting to his all his classmates. He and his wife, Kay (Wiquest) Harner '59, are enjoying the best of both places; Bend, Oregon in the summer and Tucson in the winter. He says, "And, sad to say, we know we have lived in the best of times. So many challenges face our kids...and theirs. Our society has deteriorated so much in our lifetimes!  Yes, we look back now more than plan ahead. But we wish you all a very pleasant memory fest!"
Dennis Musselman and his wife are enjoying their lives in Dell Webb Club, Roseville with visits from kids, grandkids, and great-grandkids. Not up to traveling, but feeling much better with a new aortic heart valve.
1958
Leonard Decatur "Dick" Herr passed away on July 12, 2022. Dick attended Whittier College with a George Allen scholarship for basketball and football. When he could no longer play basketball and football due to diabetes, he decided to become a cheerleader. He is survived by his four children Bobby, Kevin, Kim, and Kristen, as well as his 11 grandchildren, and five great-grandchildren.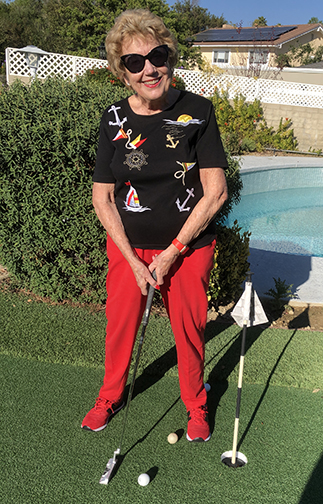 Patricia Streeter spent her days during the COVID-19 pandemic working on her hobbies such as practicing piano, painting a new picture, gardening, watching Netflix & prime videos, and reading over 50 books. 
1959
Sharon Anderson-Haskell would like to connect with any Whittier College alumni in the Minneapolis area. 
1962
Mary Chisler-Chaffee shares that her brother, John Chisler '92 passed away on July 22, 2021. 
John Kramer says, "We've lived a long time, haven't we? And many of the fond memories are of Whittier College. I am healthy and active, here, in a small town, Chagrin Fall in Ohio, and with my wife, Mary, are in the Antique business, after a nice run as Technical Director of a Cardio-Pulmonary Lab at the Cleveland Clinic/Ohio." Kramer is looking for his old classmate John Yates '63, contact him is you have any info johnakramer2@msn.com.
1963
Bob Porter passed away on April 22, 2021, at the age of 80. He was battling esophageal cancer. Porter was a writer, discographer, record producer, Blues Hall of Fame Inductee, Grammy award winner, and radio personality. He is survived by his wife, Linda Calandra Porter; his siblings John, William, and Linda; as well as his son David, stepsons Michael and Rick, and three grandchildren.
 
1964
Bill Ryan passed away in February 2020. He was a Chemistry major and went on to be a polymer chemist at PTMW. In addition, he was an avid grower of orchids.
1967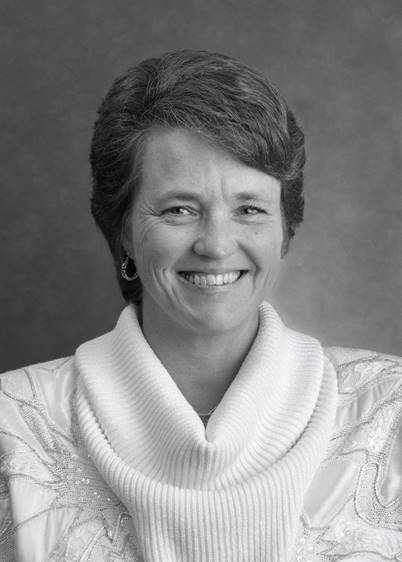 Thyra Rowden passed away on May 27, 2021. She suffered from a long battle of a large tumor behind her forehead that injured her brain. She married her high school sweetheart, John Gibson.
1968
Bill Capps is a partner and chairman of the corporate department for Jeffer Mangels Butler & Mitchell LLP. This is Capps' fourth year in a row appearing in the LA500 list. Capps' practice emphasizes mergers and acquisitions, corporate governance, international dispute resolution, corporate finance, and management of significant litigation. 
 
Christopher Carson Evans, Proud Poet and Philadelphian passed away at his home in Seattle in February. The lawyer, investor, devoted family man and proud Pacific Northwesterner will be deeply missed by our Whittier College family. He made many lifelong friends at Whittier who were in touch daily, especially in recent years, a testament to his loving, kind and caring traits and outgoing personality. Chris had a talent for engaging friends, family and classmates in long conversations. Most importantly, he wanted to learn about others and lend a helping hand. You can read more about Chris and his devotion to Whittier College here. 
1970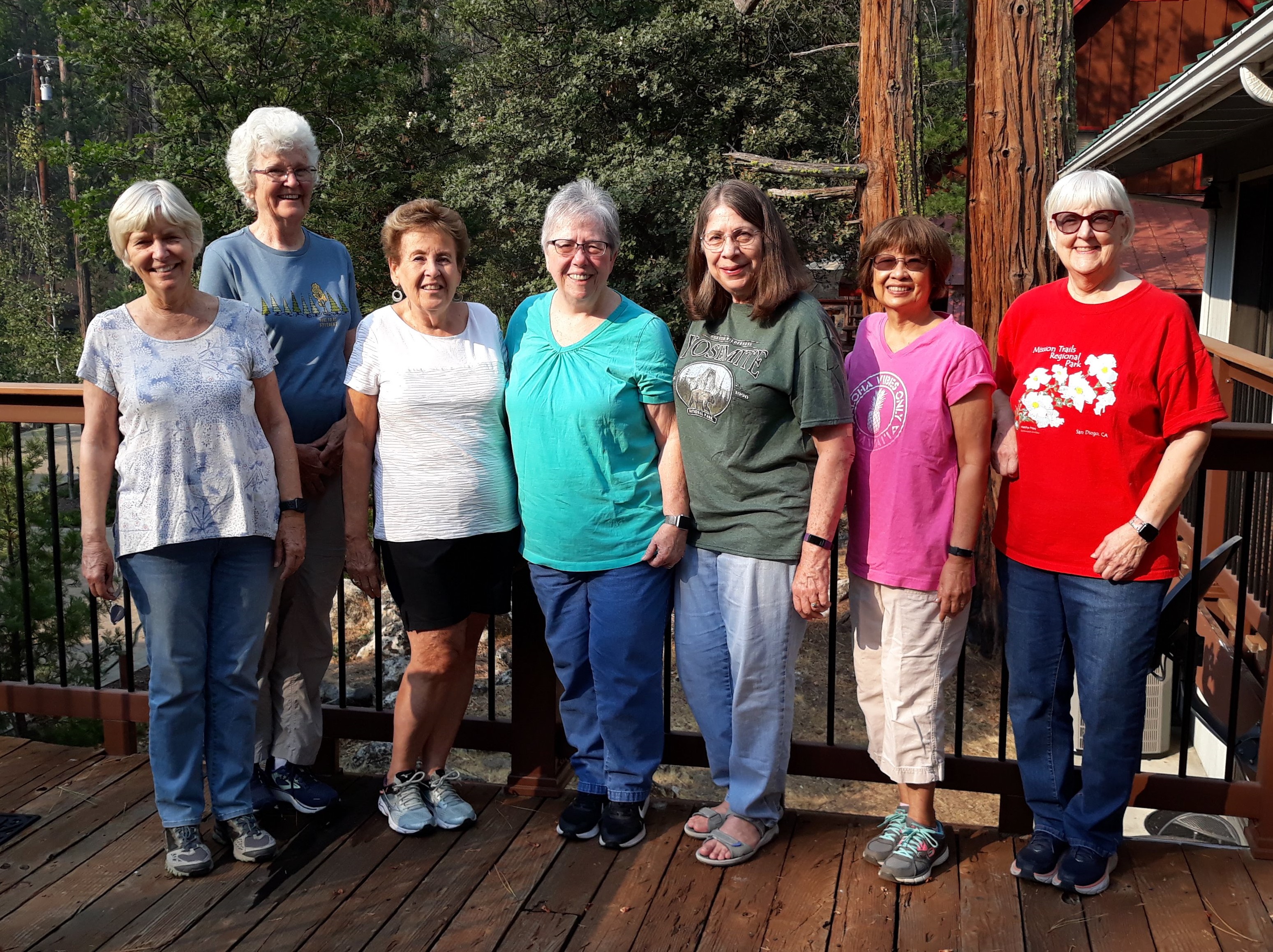 Estelle Inn reports that last September (2021) there was a fun "mini reunion" in Yosemite for seven of classmates (and spouses) from the Class of 1970. Photo of the gals: Meredy, Kathy, Harriet, Kathy, Ann, Estie, and Terri.
Kathleen Jane (Bang) passed away on September 21, 2021. She is survived by her husband, David Sternshein '66, her son, Sandy Sternshein '95, and her daughter-in-law, who graduated from Whittier Law in 2003. 
1971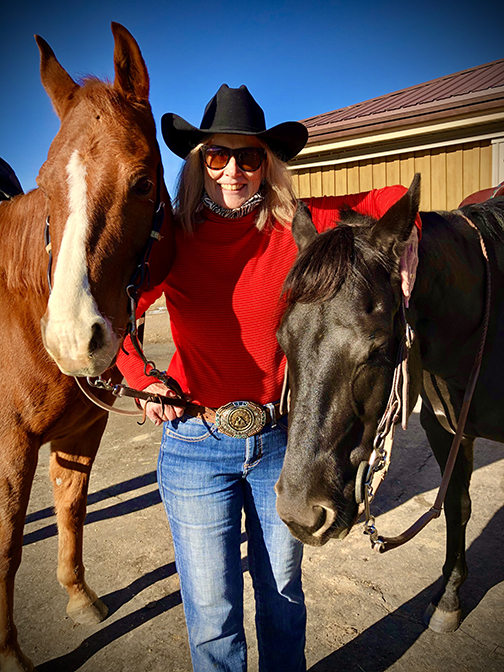 Nan Porter misses teaching kindergarten but enjoys riding horses, barrel racing, trail riding, and gardening. She also loves catching up with her Met Sisters on Facebook and Lancer friends as she has many fond memories of her years at Whittier. She is also spending time with her children and grandchildren.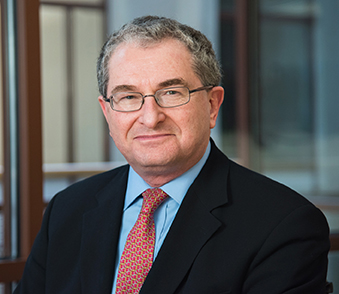 Arturo Porzecanski retired after 16 years as a Professor of International Economics at American University (AU). He was appointed Research Fellow with AU's Center for Latin American & Latino Studies, and Global Fellow at the Woodrow Wilson International Center for Scholars. 
1972
Richard Andrews and Harry Spencer are looking forward to connecting with classmates. 
 
William Mason shares, "I can't believe I am now 71. But one benefit of being 'mature' is retirement, or sloth, which sounds funny. Humor is a key for me after losing my house, my kitties, my classic car, etc in our Santa Rosa fire of 2017. Each year we evacuate again but in spite of the fire season, Sonoma County remains a beautiful place to live. Even though I no longer practice podiatric medicine I remain active in my life. I'm currently single (again) and thus have a pretty interesting life meeting new ladies to hang out with and get to know. My daughter is 33 years old now, living in Utah with her husband, and doing great. I love our new college president and I appreciate the new direction of our school. I remain eternally grateful for all I learned and experienced at Whittier."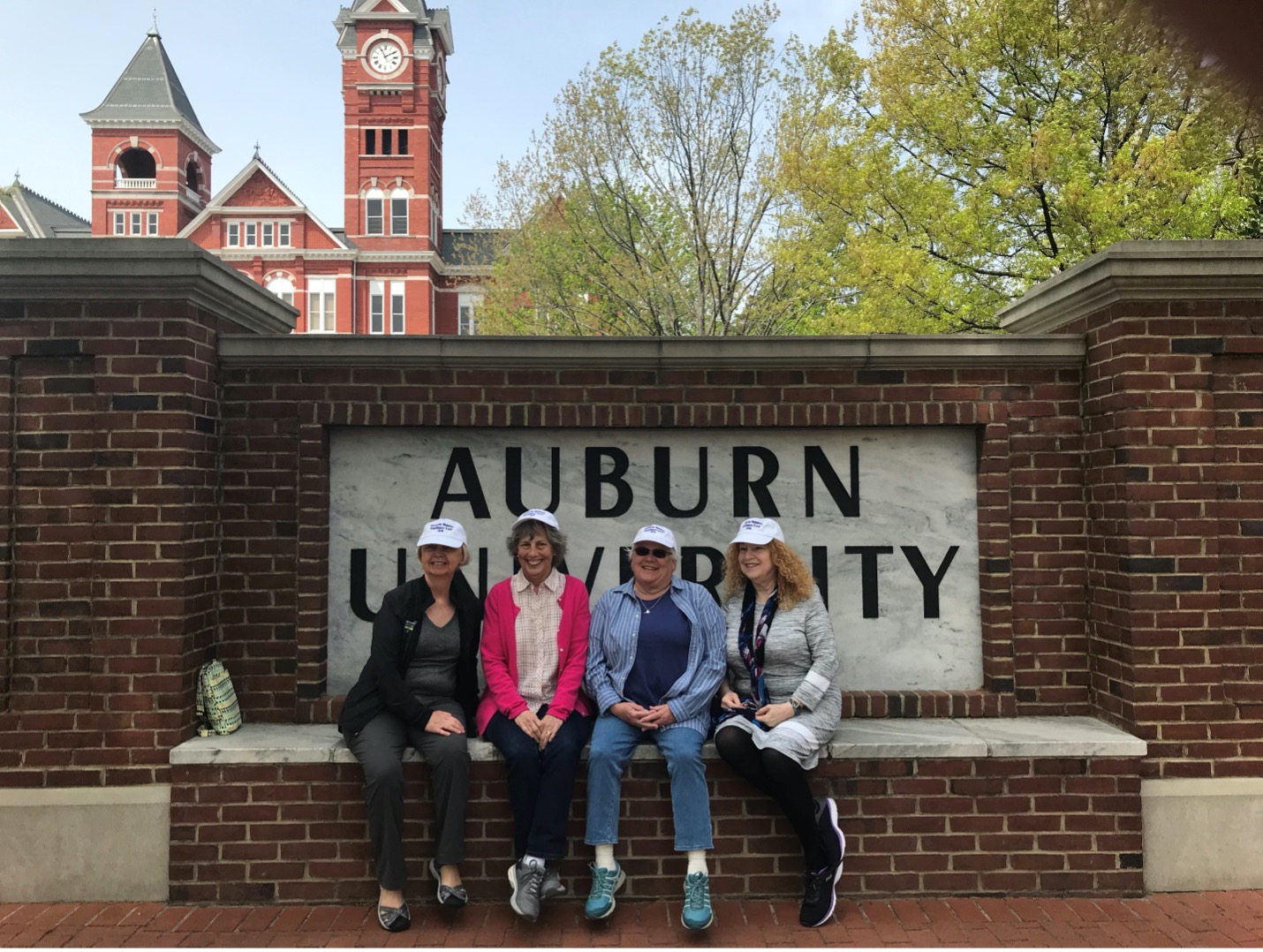 Nancy Morris died at her home in New Mexico on October 8, 2020, after a short, but strong, fight against ovarian cancer. At the time of her death, Nancy was retired from a long career as a NICU nurse at the University of New Mexico Hospital in Albuquerque.
After graduation from Whittier College, Nancy became a VISTA volunteer in the Midwest; after her VISTA service, she attended nursing school at Creighton University.  During her long career as a NICU nurse, Nancy provided skilled, loving care to countless fragile infants and their families. She was an avid traveler, both within the United States and internationally. A committed environmentalist, she lived "off the grid" in a hay bale adobe house she built in the magical New Mexico desert between Santa Fe and Albuquerque, New Mexico. 
During her senior year, she and three others lived in campus housing (known then as Hanover House). The four who lived at Hanover House in 1971-72 dubbed themselves The Hanover Honeys (Bonnie MacEwan, Jane Comstock, and Cheryl Avirom '73). An unofficial Hanover Honey, Amy Pulver, periodically escaped from the demands of being an RA in a freshman dorm (Stauffer) to hang with the Honeys.
"We lost Jane to leukodystrophy in 2006, and not long after that, the remaining Hanover Honeys began making somewhat regular trips to spend time together," wrote Amy. "Our last trip, though we did not know it at the time, of course, was in the spring of 2019 when we traveled to Alabama where Bonnie, recently retired as Dean of the Libraries at Auburn University, had planned a powerful trip along the Civil Rights trail. We also enjoyed some lighter excursions to the beach and the University.  We were planning the 2020 trip to spend time with Nancy in New Mexico when the pandemic hit."
The Hanover Honeys are now three, and we will continue to spend time together as public health conditions and living in three different time zones allow. And, we will continue to "cherish the many good times with our departed Hanover Honeys, appreciating the good fortune that brought us all to Whittier College where we built friendships that lasted a lifetime."
Hanover Honeys in April 2019 at Auburn University. Left to right: Amy Pulver, Bonnie MacEwan, Nancy Morris, Cheryl Avirom
 
1973
Don Albert serves as the Director of Strategic Enrollment Management at the Academy of the Sacred Heart in St. Charles, Missouri (where his children attended elementary school). His second passion is volunteering and fundraising for St. Jude Children's Research Hospital. Albert also serves as a St. Jude Hero Ambassador for the Missouri/Southern Illinois Region and on St. Jude/ALSAC National Volunteer Advisory Council. In addition, he co-captains the Team Fleet Feet St. Louis to fundraise for St.Jude at the St. Jude Marathon Race in Memphis every December. They are one of eight national Quarter Million Dollar Teams who will be running and fundraising in Memphis. He ran his third Marathon for St. Jude in Chicago in October. "Running for a Reason" for St. Jude keeps him active and off the couch, he shares. 
Stan Smith has stepped down from two boards including the Long Beach Grunions and Roosters of Orange County. Stan is still a competitor in the US Masters Swimming swim meets.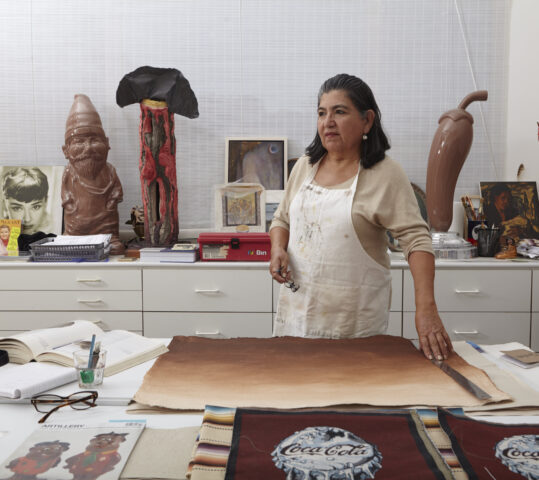 Artist Linda Vallejo has earned the high distinction of a lifetime achievement award. The award was bestowed upon her by the Women's Caucus for Art, a national nonprofit that aims to encourage social activism and feminism through art. Vallejo was among five award recipients for 2022.
Vallejo's most recent work, Brown Belongings, consists of 125 different types of pieces that focus on the politics of class and color. This collection began with an awakening she had while looking at salt and pepper shakers molded as pilgrims. She decided to paint them brown to honor the true heroes of the first Thanksgiving, the Indigenous Americans. She then went on to buy antique models and figures, some consisting of historical figures like presidents and royalty, and painted them brown.
Vallejo hopes she can spark conversations with her work. "(The goal) is to begin a conversation, to begin a dialogue about what it means to be a person of color in the United States today," Vallejo said. "To share our thoughts and insights with each other, and to begin a dialogue about this on multiple levels and have a friendly dialogue where people with difficult questions are respectful to each other and are kind to each other as Americans."
Vallejo has a long history in the art field, gaining experience and recognition through a myriad of art forms. She aims to create work that reflects her experiences and commentary on the implications of existing as a person of color in American society. She incorporates her decades-long research on Chicano, Latino, and Indigenous American culture into her art. Vallejo has permanent works in many museums including the Museum of Sonoma County, National Museum of Mexican Art, and East Los Angeles College Vincent Price Museum, among others.
 
1974
Carol Tenopir was featured in the University of Tennessee Knoxville News about her legacy of pioneering distance learning in the subject of Information Sciences. Before her very recent retirement, Carol devoted 27 years of her life to developing distance learning at the University of Tennessee. During her retirement, Carol is planning to continue UT research projects as well as work with doctoral students. She also plans to spend much of her free time during retirement with her family and doing activities she enjoys like hiking, bird watching, and kayaking.
1976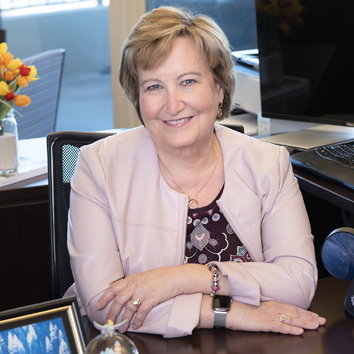 Elizabeth Reich retired from her position as president and chief executive officer of Make-A-Wish Arizona. She has positioned the Arizona chapter for success for years to come and left a legacy of excellence for the staff, board, volunteers, and donors to follow. 
 
1977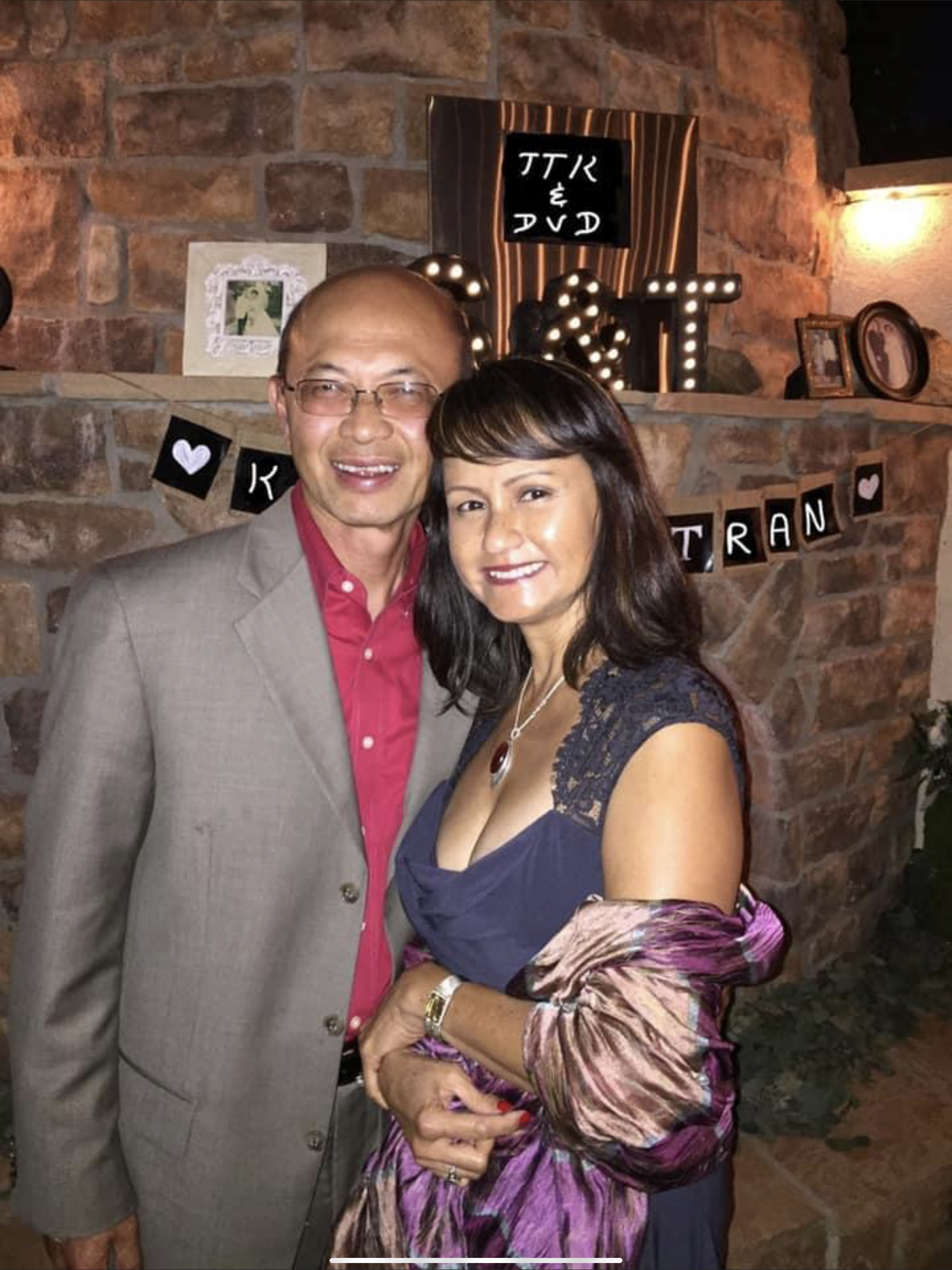 Khanh Tran recently retired from his full-time professional career. Khanh currently continues to serve on nonprofit and corporate boards. Khanh is spending his retirement time with his family, granddaughter, and friends and is looking forward to traveling beyond the 65 countries he has already visited. He is also focusing his retirement on getting fit.
1979
James Baca is a new managing partner at Atkinson, Andelson, Loya, Ruud & Romo (AALRR). Baca has been with AALRR for over 30 years and has served in many leadership positions, including chair of the firm's largest practice group, the Southern California Education Law Practice Group, for over 10 years; as a member of the executive committee; and, most recently as chief operating officer (COO). Baca is recognized as one of the most skillful education attorneys in the state and has litigated precedent-setting cases over the course of his career.  During his tenure as COO, AALRR has grown into one of the largest California-based law firms in the state and has attracted well-respected and talented attorneys from other prestigious law firms, as well as recruited top students from the finest law schools in the country.
Basketball Hall of Famer and All-American Ralph Dudley passed on August 16, 2022, at home with family.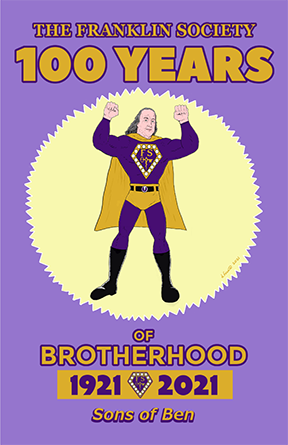 Neal Fugate commemorates the 100-year anniversary of the Franklin Society. "I pledged the Franklin Society in 1976 and have kept in touch with many of my Franklin brothers over the years. I created the attached graphic design to commemorate the 100 year anniversary of the Franklin Society!"
1980
John Mohl retired from his accounting career in entertainment and retail in December 2021, after a 40-year-long career. His life currently consists of relaxation and daily trips to the gym. In April and May, John and his wife took an "Amtrak-focused" vacation and are planning to embark on a Christmas cruise on the Danube. He is looking forward to many more trips to come.
1981
Kim Jorgenson retired after being an elementary school teacher for 41 years. She spent her last 36 years teaching at two Hispanic-serving school districts, including migrant and newcomer students. "I'm proud to have worked with other educators who believed in and supported them, respecting their culture while giving them the tools they would need to achieve their goals," Kim stated. Kim plans to get caught up on sleep and raise her chickens. She also is thinking about traveling after the pandemic slows down some more.
1984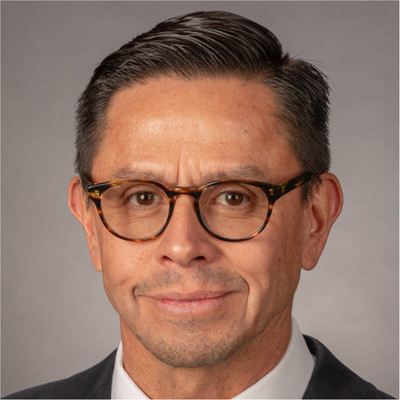 Adan Ortega joined the Metropolitan's Board representing the San Fernando Valley. From February 2019 to February 2021, he had been serving as the city of Fullerton's representative in the Metropolitan board. Working in government relations for 30 years, Adan has been leading efforts to assist disadvantaged communities in California through providing technical assistance to community water systems.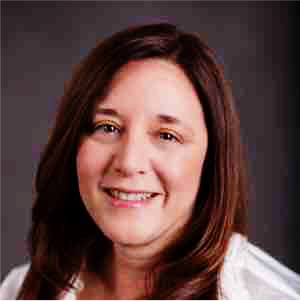 Attorney Alene Taber joined the Los Angeles office of Hanson Bridgett LLP. Alene represents many clients, including land developers, businesses, government agencies, and citizen groups. She primarily represents clients before city council meetings, hearing boards, and federal/state court on issues like air quality compliance, climate change, greenhouse gas emission, and other environmental issues.
1985
William Ayares paused his world travels and decided to buy a ranch in New Mexico and adopt many animals to give them a loving forever home. William has 36 chickens, four mini horses, three mini pigs, three cats, two mini donkeys, and a rabbit.
Peter Fuller was welcomed as a new Rotarian by the Rotary Club of Southwest Eureka, a club that aims to provide service to communities local to international. Peter is the 56th member of the Southwest Eureka Rotary.
1986 
Leading personal injury and worker's compensation attorney Steve M. Oser WLS, who represents clients in and around Virginia, reached a milestone of 30-plus years as a dedicated and professional workers' compensation and personal injury attorney in June 2022. 
1987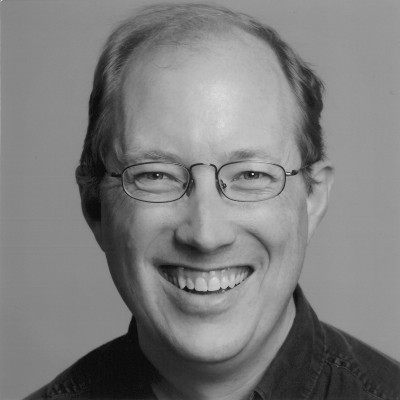 Rev. Kent H. Gilbert was named a member of the Foundation for a Health Kentucky Community Advisory Council. As a council member, Gilbert will be providing recommendations and advice to ensure that the Foundation's mission is being carried out as well as addressing the unmet medical needs of their fellow Kentuckians. He will be serving a three-year renewable term. Gilbert is currently a pastor at Union Church in Berea.
 
1988
Jessica Layton retired last year from the Los Angeles County Office of Education after 27 years. She is living in Whittier and is currently caring for her mother.
1989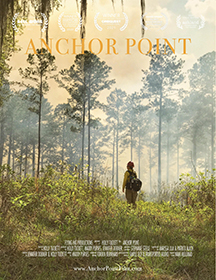 Veteran storyteller, filmmaker, and cinematographer Holly Tuckett's newest film Anchor Point had its world premiere at the 2021 Cinequest Film Festival. The documentary film about women changing the culture of firefighting on our nation's public lands is Tucket's second feature-length documentary film.
1990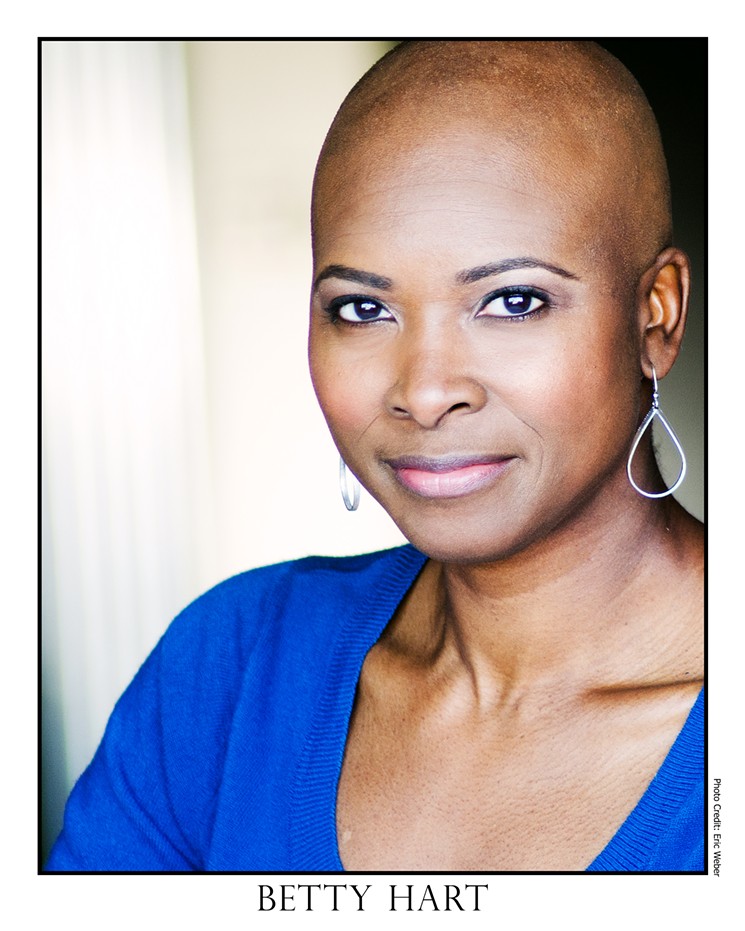 Actor and director Betty Hart is using her background in the arts to lead conversations about health and race as a senior community health specialist for Kaiser Permanente's Colorado Arts Integrated Resource Team.
As part of her work, Hart organizes educational theatre and interactive exercises to help students learn about health and safety. Read more in FastCompany. 
Since earning her BA in theatre and English from Whittier College, Hart has made a name for herself in the world of professional theatre. 
Last fall she was elected president of the Colorado Theatre Guild board and she recently curated the video series Amplify: Black Artists Speak for the Arvada Center. The Amplify series features the voices of Black performers—"whose voices have not been heard loudly enough"—from across Colorado. 
1991
The Tri-County Mental Health Board has named Al Barton as the new executive director of Mid-Columbia Center for Living. Barton previously served as deputy director. Barton received a master of science degree with a focus on agency counseling from the University of Arkansas and is an Oregon licensed professional counselor and counselor supervisor, as well as a certified mental health examiner and protective service investigator. Barton lives in the Hood River with his wife, Megan J. Peterson-Barton '92, as empty nesters with three grown children living in Oregon. He enjoys the outdoor activities available in the Gorge, including Nordic backcountry and alpine skiing in winter, and hiking, camping, and biking in all seasons. Weekends usually find him volunteering as a Mt. Hood ski patroller in winter and a bike patroller in summer.
Michael Beasley is the President and CEO of Trisura-US which currently owns two National insurance companies and writes business in all 50 states. Trisura is an international specialty insurance organization with a market cap of over $1B and is publicly traded on the Toronto Stock exchange. Michael was a co-founder of Trisura Group, LTD, and Trisura US. Michael has served on the President's Poet Council twice and has been active over the years as a Whittier volunteer. Michael currently resides in Edmond, Oklahoma and he is proud to say his daughter, Lauren Beasley currently attends Whittier and is a JWGS scholarship winner. 
1992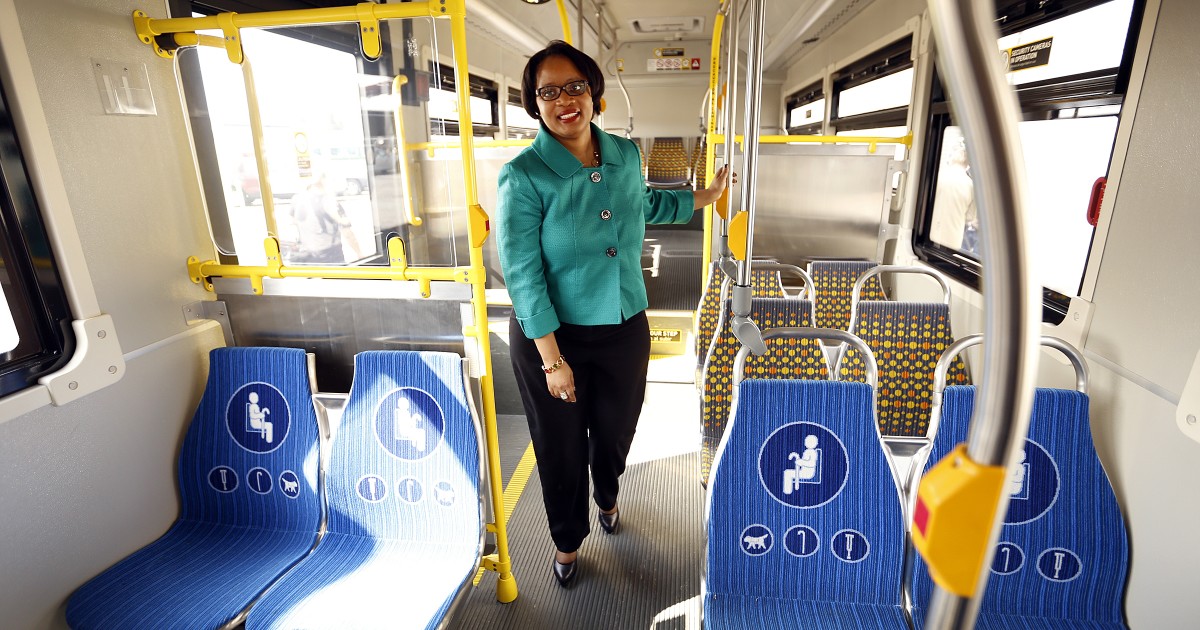 Whittier College Trustee Stephanie Wiggins was appointed CEO of the Los Angeles County Metropolitan Transportation Authority (Metro) in 2021.
As Metro's CEO, Wiggins manages a budget of nearly $7 billion, oversees up to $20 billion in capital construction projects, and oversees an agency with 11,000 employees that transports more than a half-million boarding passengers daily on a fleet of 2,200 buses and six rail lines.
Wiggins previously served as the CEO of Metrolink and was the first woman, and first Black woman, to serve in this role at Metro.
1993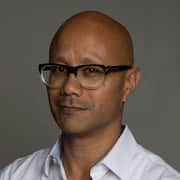 Alumnus Josh du Lac was named The Washington Post's director for global live news coverage. 
Based in Washington D.C., du Lac works with foreign editor Douglas Jehl to coordinate fast-paced 24-hour coverage with hubs in Seoul and London. 
The international hubs' primary focus will be covering news as it unfolds in the United States and across the globe during nighttime hours in Washington—allowing The Post to operate "energetically and rapidly 24 hours a day and seven days a week, in partnership with the general assignment news desk and other breaking-news teams."
As the new director of global live news, du Lac is charged with helping to oversee, hire, and train staff for the news hubs. The role is an expansion of his previous responsibilities as live news editor, a position he's held since 2018. Du Lac has been with The Post since 2004. He majored in business administration at Whittier College.
1994
Deana Miller joined the Brea Olinda Unified School District School Board Trustee Area #2 by running unopposed in November 2020. She was thankful for fellow Poet Anthony Otero's advice when organizing her campaign.
1995
Writer/director Sandy Sternshein's latest film project is a fun-loving venture through the uncertainty that carries on from high school all the way to middle-age adulthood. 
The film, Later Days (released in 2021), is written, directed, and produced by Sternshein and long-time friend Brad Riddell. The film was shot and set in Chicago with much of the cast being veteran performers from Second City Mainstage, Steppenwolf, and the Goodman Theater. The filmmakers paid homage to iconic Chicago filmmaker John Hughes with a soundtrack of ultimate 80s hit songs.
Sternshein has won multiple awards for his work in film including the Sydney Web Fest Award 2020 for his web series Distant Learners. Sternshein also is the co-creator of the production company Wry Wash Media, working to create content for the web, television, and film. 
After completing his undergraduate degree at Whittier College, Sternshein earned an MFA in Writing for Film and Television from the University of Southern California.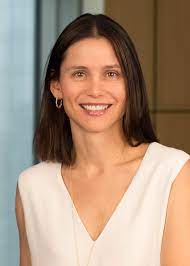 Carey (Baker) Halio was appointed as head of investor relations in 2021, making her one of four female Goldman Sachs Group Inc. partners promoted to senior leadership.
Halio has been at Goldman Sachs for over 20 years and was previously chief executive officer of Goldman Sachs Bank USA and deputy treasurer of Goldman Sachs. She chairs the Goldman Sachs Bank USA Management Committee and serves on several other committees, including the Firmwide Asset Liability Committee and Firmwide Enterprise Risk Committee.
Halio graduated from Whittier College with a degree in business administration, and she then went on to earn an MBA from Columbia Business School.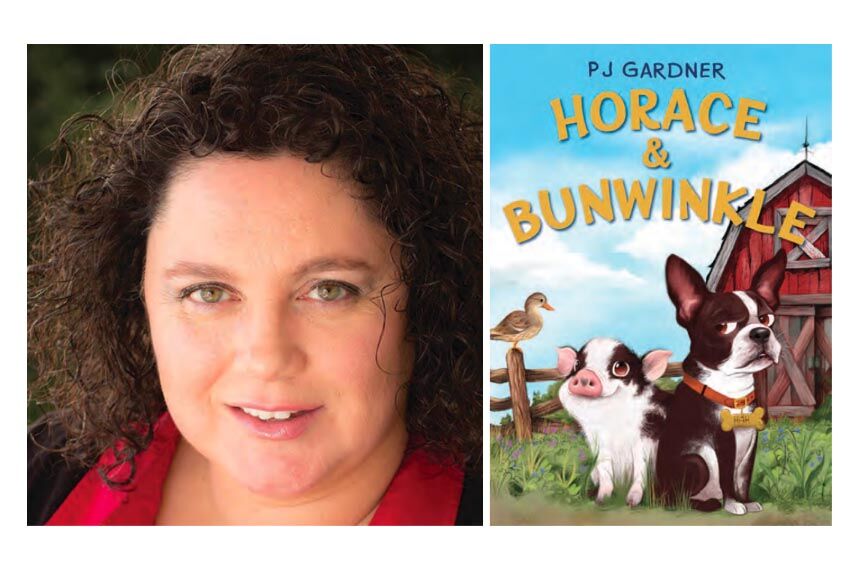 Alumna PJ Gardner Switzer's newest children's book, Horace & Bunwinkle, revolves around an anxious Boston Terrier and an exuberant potbellied pig who team up to solve crimes in their barnyard. According to Gardner, the original idea came from a news story she read about a dog and pig duo who saved their human's life when she had a heart attack. 
Gardner is working on two new books, a children's book and a YA novel she describes as an "allegorical fairy tale." Learn more on her website.
1996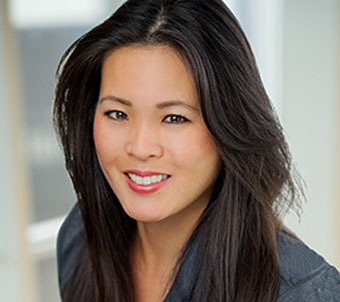 Holly Engelmann has joined Duane Morris LLP as a partner in the firm's Intellectual Property Practice Group in its Dallas office. Prior to joining Duane Morris, Engelmann was a principal at McKool Smith.
Engelmann is a results-oriented and client-focused litigation and trial attorney with nearly 20 years of experience handling complex litigation involving claims of patent infringement, bankruptcy, contract disputes, and more.
After graduating from Whittier, Engelmann earned her law degree at Southern Methodist University, Dedman School of Law. During law school, she interned with Justice Craig T. Enoch of the Supreme Court of Texas and Justice David W. Chew of the Eighth Court of Appeals of Texas. Prior to law school, Engelmann taught high school mathematics and continues to work with students as an adjunct professor at the University of North Texas, College of Law, teaching practice foundations courses to first- and second-year law students. She is also a member of the Dallas Women Lawyers Association, Attorneys Serving the Community, and the Dallas Bar Association.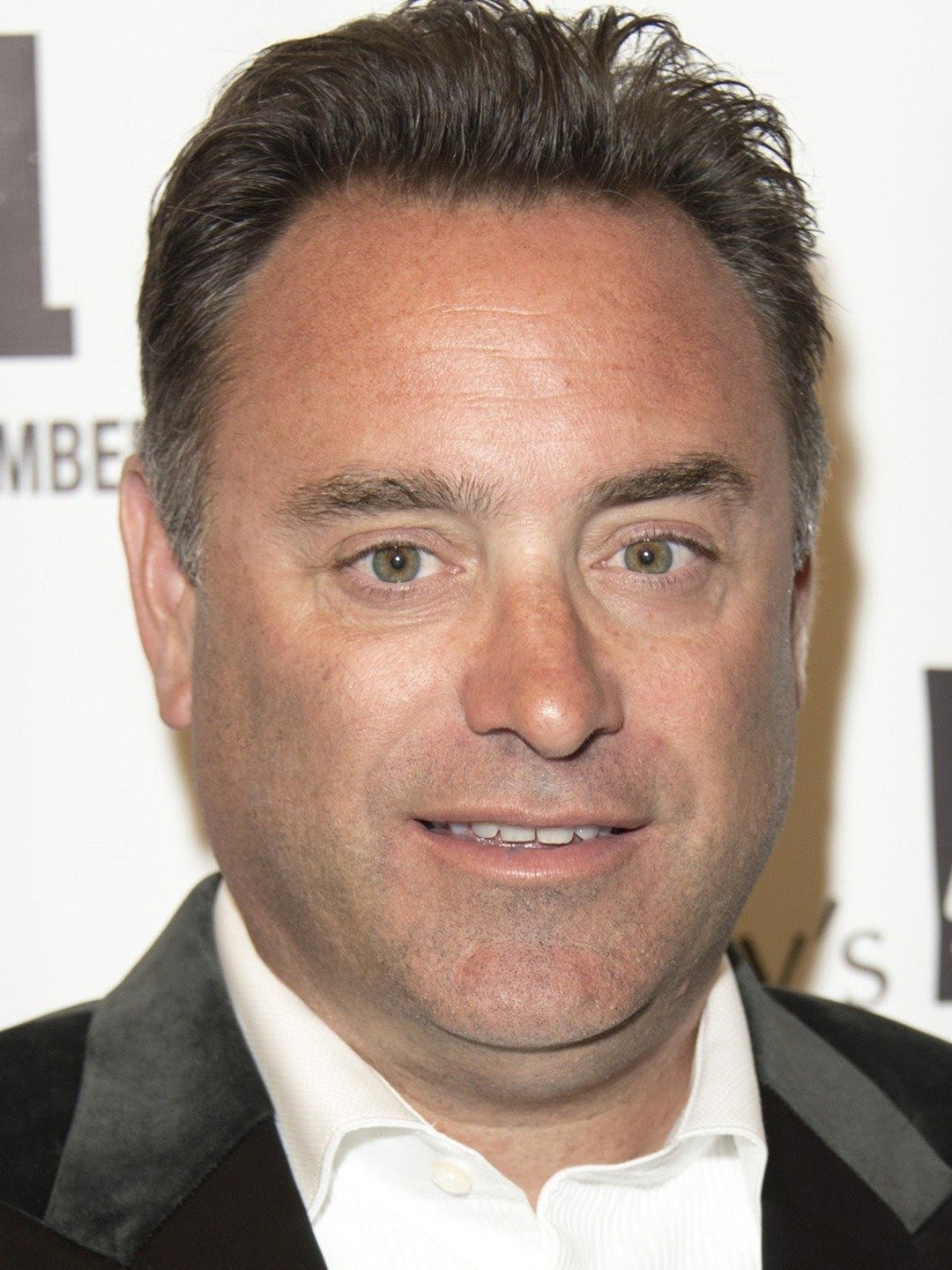 Film producer Ryan R. Johnson's latest film project, Meet Cute, stars Kaley Cuoco and Peter Davidson and was released in September 2022.
Seasoned film producer Johnson is the president of production and principal at Sprockefeller Pictures. He co-founded the company in 2012 with Martin Sprock. Johnson has a long history in the entertainment industry. Starting out as the Green Power Ranger on the hit TV series, he transitioned into physical production and development for Mandalay Pictures. He eventually founded his own production company, Pretty Dangerous Film, and became president of production for Night Fox Entertainment.
Johnson and Sprockefeller Pictures have been busy with multiple projects including The Comeback Trail, starring Hollywood veterans Morgan Freeman, Tommy Lee Jones, and Robert DeNiro; Asking for It; and 12 Mighty Orphans.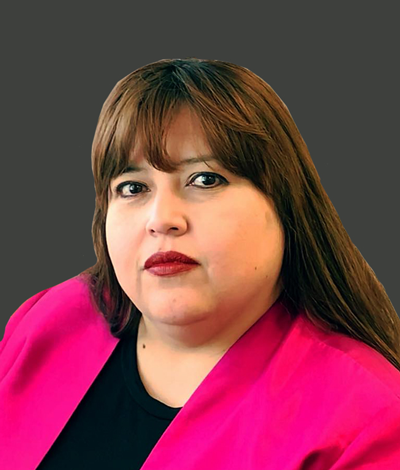 Perla Hernandez Trumkul completed her doctorate of education from USC. She now has an MPA and EdD.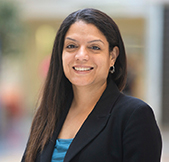 Lorraine Ortiz was selected as the new vice president of human resources at Butler University. She is leading the transformation of Butler University's HR division and the implementation of process and technological improvements in order to ensure the division's efficiency and dependability. 
2000
Justin Balser WLS'00, an experienced litigator and compliance attorney has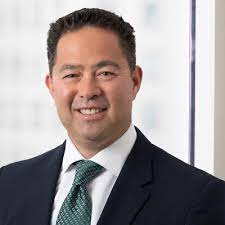 joined Troutman Pepper's nationally recognized consumer financial services practice group as a partner. Balser joins from Akerman where he was managing partner of the firm's Denver office. Balser works with financial institutions, mortgage lenders, loan servicers, and other credit-related entities throughout the United States on consumer finance litigation and compliance matters. He previously served as legal counsel and advisor to senior management at Lehman Brothers' mortgage subsidiary, Aurora Loan Services LLC, and its affiliated companies.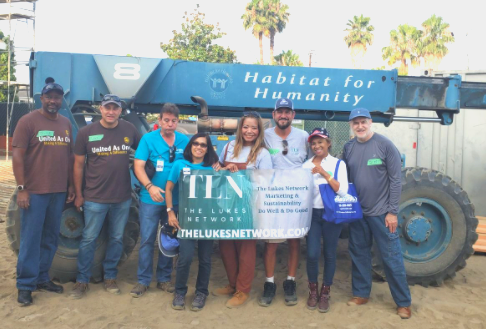 Anna Lisa (Biason) Lukes WLS'00 is a Habitat for Humanity Orange County Board Member and CEO of The Lukes Network, LLC, an Orange County-based full-service marketing and sustainability agency. She and her husband, Jay, COO of TLN, proudly sponsored a Habitat for Humanity of Orange County team build at a new development in the City of Stanton on Friday, July 23, 2021. 
TLN believes in HabitatOC's mission of providing decent shelter and affordable housing for all. HabitatOC staff taught TLN guest volunteers how to wrap six new homes to make them energy efficient and reduce the cost of operation when the families move in. 
Ean White graduated from the United States Army War College in Carlisle, Pennsylvania, in July 2022. He earned a Distinguished Graduate Honors and earned a master's degree in Strategic Studies. In his Army Reserve capacity, Ean is the command judge advocate for the 311th Sustainment Command in Los Angeles, California. In his civilian capacity, Ean is the police legal advisor for the Chandler Police Department in Arizona. He currently resides in Phoenix, Arizona with his wife, Leanna, and their two children, Thomas and Teagan.
2001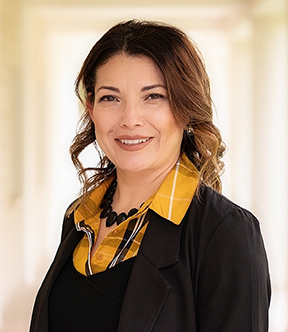 Elizabeth Coria was appointed Cuesta College's Assistant Superintendent and Vice President of Student Success & Support Programs and College Centers, by the San Luis Obispo County Community College District Board of Trustees. Coria will also oversee the North County campus in Paso Robles and the South County Center in Arroyo Grande. Coria has over 19 years of California Community College Administrative experience. 
2002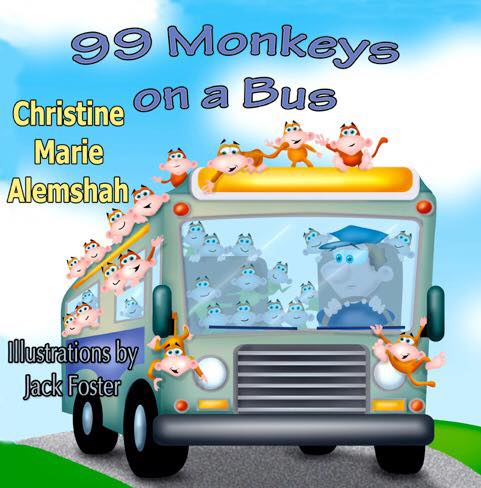 Christine Marie (Apostol) Alemshah is a Southern California-based children's author. Her publications include two picture books, 99 Monkeys on a Bus and Right This Instant. She has also written several short stories for the children's magazines, Our Little Friend, Knowonder, and Stories for Children.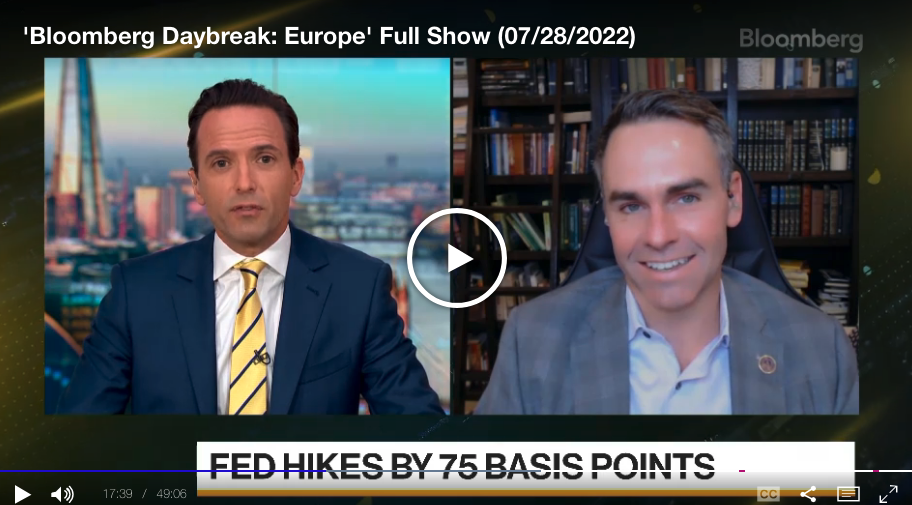 Whittier College alumnus Jeffrey C. Cleveland, chief economist at Payden and Rygel, spoke with Bloomberg Europe to discuss the significance of Federal Reserve Chair Jerome Powell's July 2022 announcement on the economy.
As was anticipated by market watchers, the Federal Reserve had announced an interest rate hike of three-quarters of a percentage point to help curb inflation that has been the highest in 40 years. Powell also stated that the labor market is strong and that the country is not currently in a recession. Yet, Cleveland cautioned against overconfidence, stating that a recession is still likely. 
See the full interview on Bloomberg.com (interview begins @17:20)
Cleveland was also on the Whittier campus speaking to local business leaders, providing expert insights on the current state of the economy. The event was organized by the City of Whittier Chamber of Commerce.  
2004
Euketa L. Oliver WLS'04 has been appointed to serve in San Diego County as a Judge in the San Diego County Superior Court. She will be occupying a vacancy that was created by Judge Kenneth M. Kirkman's retirement.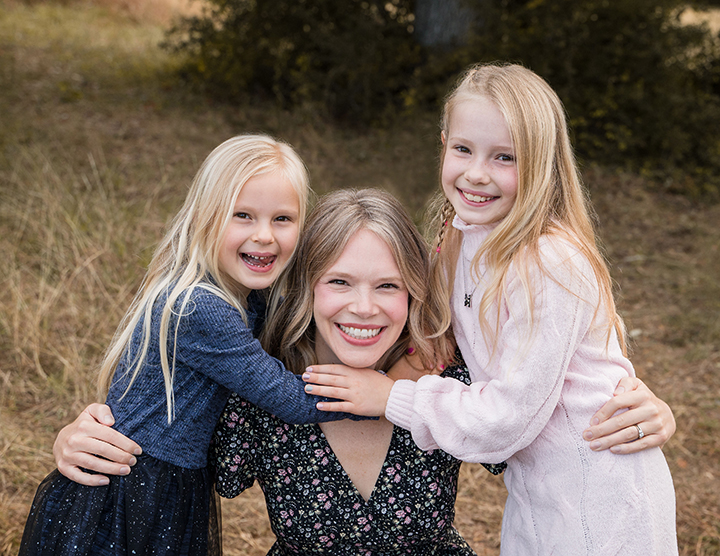 Morgan (Fox) Seaman started 'This Empowered Mom Coaching and Consulting', a firm dedicated to serving women in the corporate world. As a work-life integration coach, she helps high-performing corporate moms with new babies who feel torn between the responsibilities of motherhood and their career. This career change was inspired by her journey in the corporate world with two young children. 
2005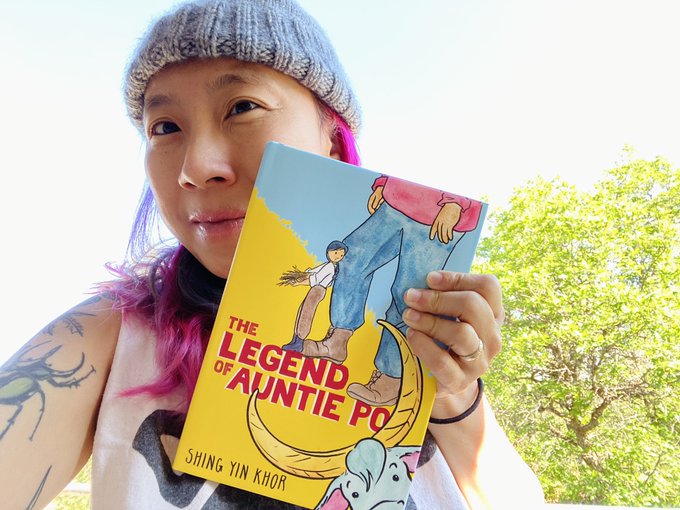 The Legend of Auntie Po, a graphic novel by Whittier College alumna Shing Yin Khor, was a National Book Award finalist in the young people's literature category. 
The historical novel focuses on 13-year-old Chinese American Mei who works alongside her father at a logging camp in the Sierra Nevada in 1885, following the passage of the Chinese Exclusion Act. 
Mei takes the iconic tales of Paul Bunyan and reimagines them as the legends of Auntie Po, sharing them with the women and children at the camp. Via these stories the young character navigates internal issues of identity, race, and culture.
Khor, an installation artist, cartoonist and experienced designer, is also the author of The American Dream?, a graphic novel memoir about driving Route 66, which was one of NPR's best books of 2019.
Attorney Dawn A. Hove joined Nicolaides Fink Thorpe Michaelides Sullivan LLP as a partner in the firm's San Diego office. Dawn brings more than 15 years of experience advising, and litigating on behalf of, insurance companies on coverage-related matters. Her experience includes commercial general liability, commercial property, builders risk, directors and officers (D&O), and professional liability policies, as well as owner-controlled insurance programs, contractor-controlled insurance programs, and risk transfer.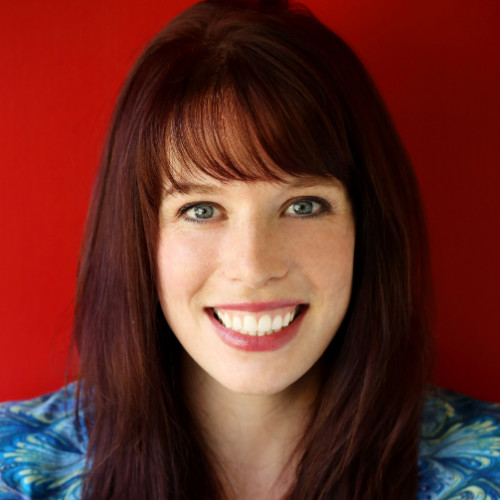 Caitlin McFarland and her husband, Evan Miller, premiered their new short film, Thoughts and Prayers, at the 2022 HollyShorts Film Festival in Hollywood.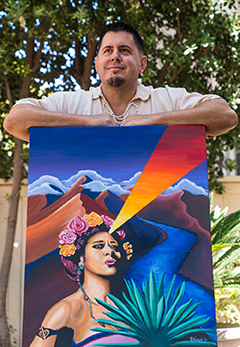 San Diego -based artist Elias Vargas MA'05 is the cofounder of Cosmic Companeros Art, an art-based business that designed and created murals throughout the Southwest U.S. Elias wishes for his art to be a reflection of his visions, experiences, and a universal spirituality. 
2006
Erika Morales and her husband launched a government relations and public affairs firm in the City of Whittier in December 2020.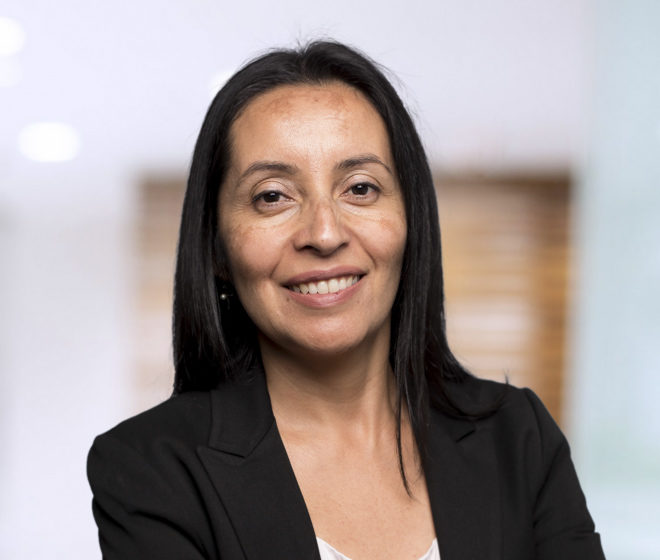 Helen Mosothoane has been named Co-Chair of the National Association of Women Lawyers (NAWL) Diversity and Inclusion Committee. Helen loves that with NAWL she will be working to address important issues that impact all women. As a representative of NAWL, Helen will work to promote programs and events that emphasize diversity and the unity of people of different backgrounds.
2007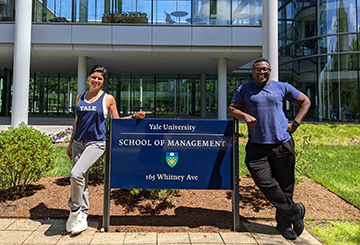 Donato J. Clay earned an MBA in May 2021 from the Yale School of Management MBA for Executives program, and Georgia Faye Hirsty completed her first year in the same program.
Donato and Georgia Faye have been close friends since they were first year students studying political science at Whittier College 18 years ago, and Donato encouraged Georgia Faye to apply to the MBA program during his first year at Yale. "It was wonderful studying together at the same institution all these years later." 
2009
Author Matt Carney's short story, In Fresno, One Last Bath in Dust, was published in 2023 in the anthology This Side of the Divide: New Myths of the American West. From Baobab Press, in coordination with the University of Nevada, Reno's Master of Fine Arts in Creative Writing program, This Side of the Divide is the second installment in the anthology series attempting to capture the newness, vastness, territoriality, and sense of transience alive in the American West.
2010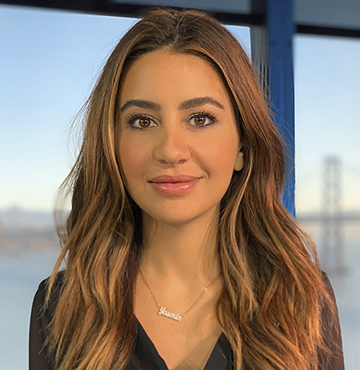 Yasmin Khorram is a San Francisco-based field producer for CNBC, and covers various sectors in the tech industry and reports for CNBC.com. Khorram is also the 2019 recipient of the Outstanding Young Alumna Poet Award.
2012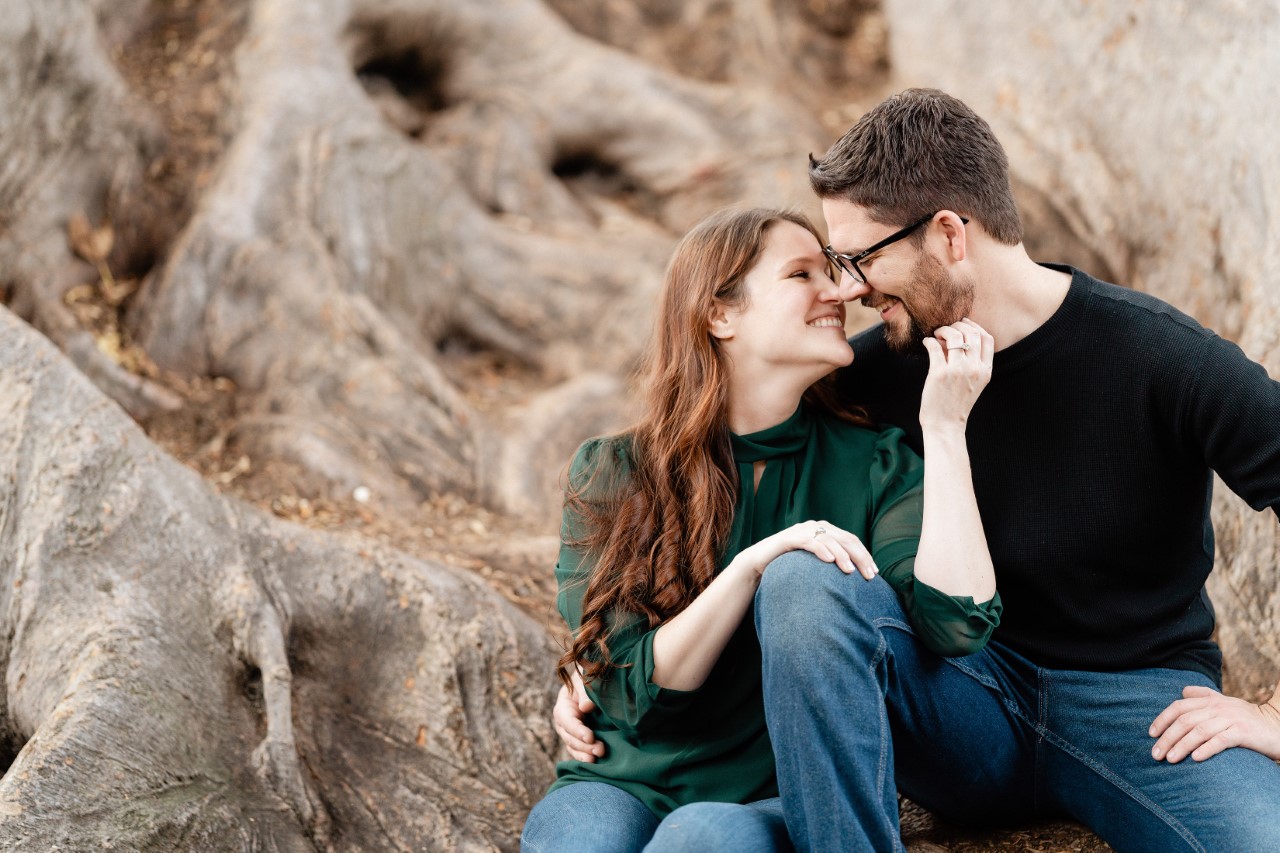 Cameron Greene '13 and Courtney Smith '12 tied the knot in October 2021. The Poet couple met while doing a theatre production of Rent at Whittier College and have been dating since June of 2015. Greene is the Lead Finance Director for the Y of San Diego and Courtney is a registered nurse for Scripps Health. They currently live in San Diego.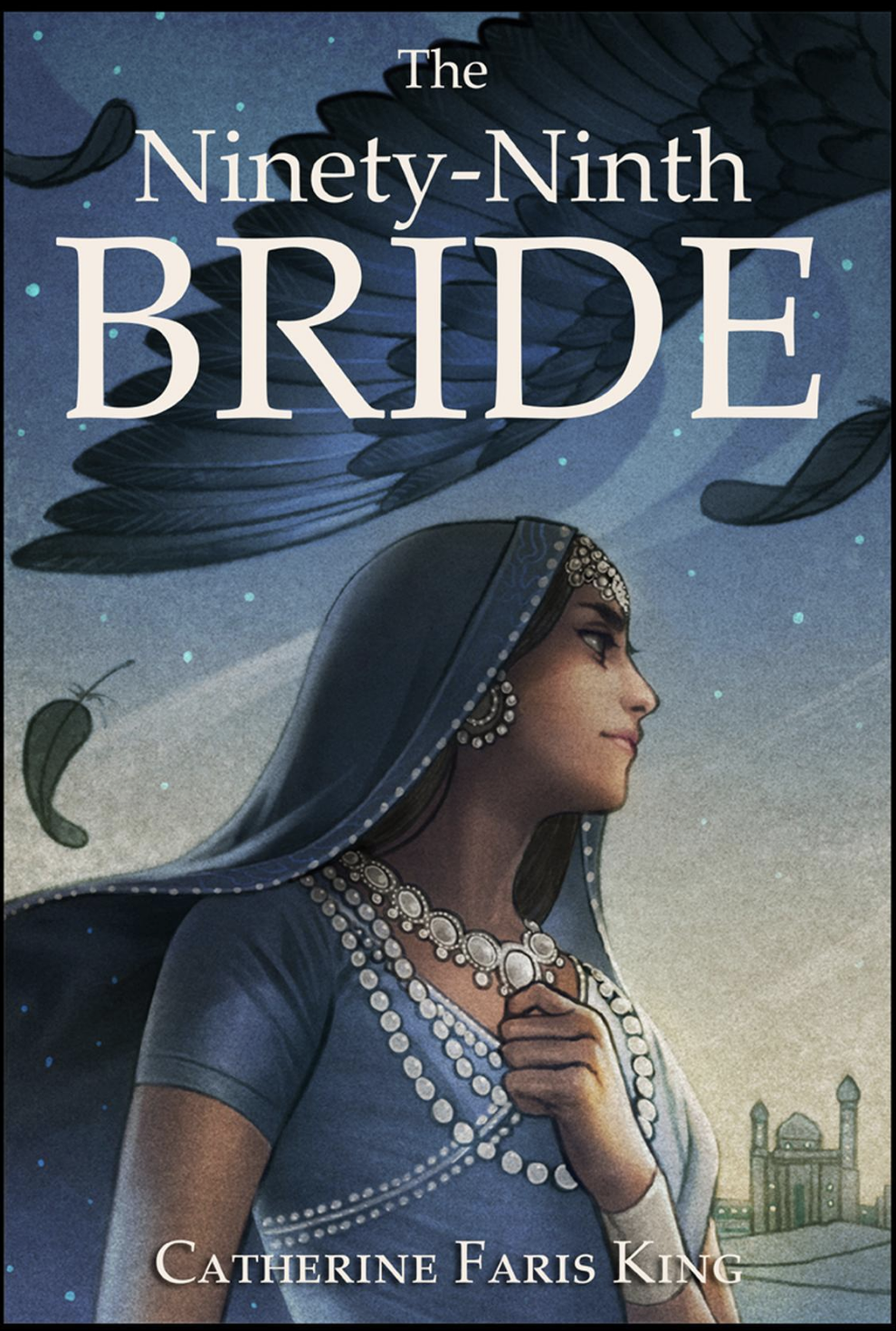 Catherine King reprinted her first novel The Ninety-Ninth Bride, a feminist, YA fantasy retelling of The One Thousand and One Nights. Her self-published novel from Ingram Spark is currently available online.
2013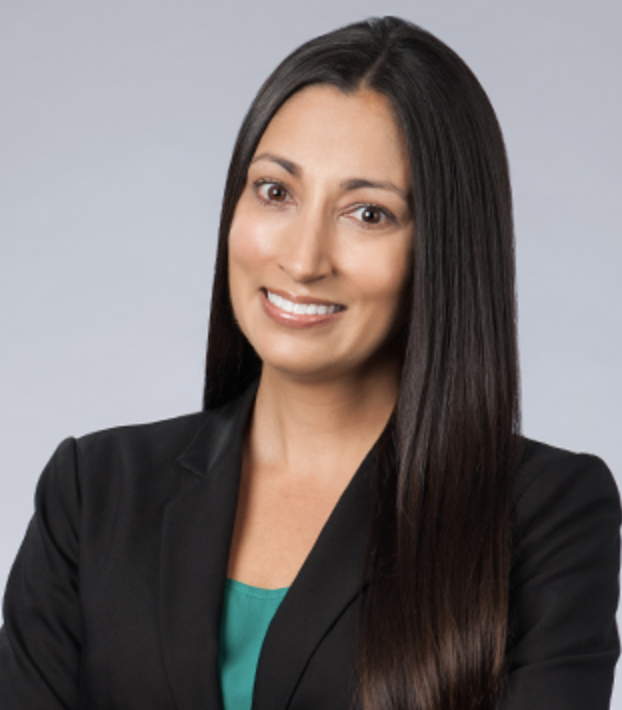 Orange County-based attorney Celeena Pompeo '13 has been elected partner of the law firm Sleman Breitman LLP, which has offices in Orange County, California, and Phoenix, Arizona.
2015 - 2018
Whittier College alumna Jessica Iribe '18 placed 3rd overall among 1,318 in the 2021 Rose Bowl Half Marathon held in late September. Joshua Ehinger '15 and Ruben Solorza '17 placed first and third, respectively, at the accompanying Rose Bowl 5K. Ehingerwon the 5k in 15 minutes, 55 seconds. All three former Poet Track and Field team members were National Championships qualifiers during their time at Whittier. Ehinger still holds our 3000m Steeplechase school record, Uribe holds the 10,000m school record, and Solorza is the former school record holder at 10,000m.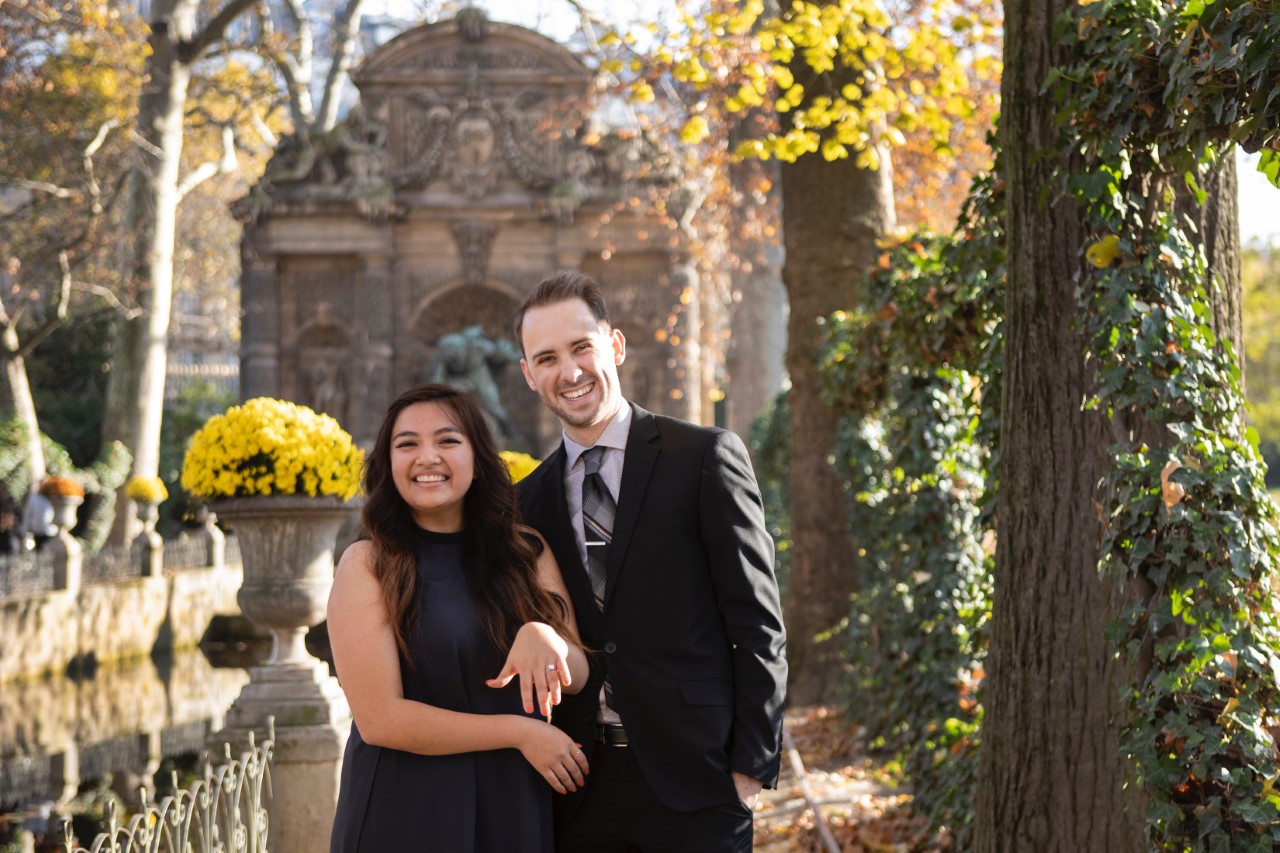 Ruth Barrera '16 and Hunter Alexander '17 met in Professor Lagan's physics class in 2013 and started dating in 2015. After Whittier, they both moved to San Diego and have been working in the technical fields. Hunter is a business intelligence analyst for ITron and Ruth is a product manager for user experience at Yellowbrick Data. 
 
The couple got engaged in 2019 in Paris, France, where Hunter popped the question at the Luxembourg gardens. "Like everyone, things got postponed during COVID, but on February 21, 2022, we eloped in Big Sur, CA.," wrote Ruth. "Whittier College holds a special place in our hearts and we can't wait to go back and visit soon." 
Dylan DeBrouwer '16 has been named the head baseball coach at the University of Saint Katherine. Dylan attributes the beginning of his years worth of baseball experience to joining and being the captain of the Whittier College baseball team. Dylan was previously employed at Westmont College where he was an Assistant Coach. He played a great part contributing to an extremely successful 2021-2022 season for the Westmont Baseball Team.
Mathew Johnson '16 and Amanda (Rickon) Johnson '17 met in 2015 in Professor Devin Imoto's biochemistry class. The couple was engaged on New Year's Eve of 2016 and married in November 2018. They now live in Wisconsin while Mathew finishes up his Ph.D. at the University of Wisconsin, Madison.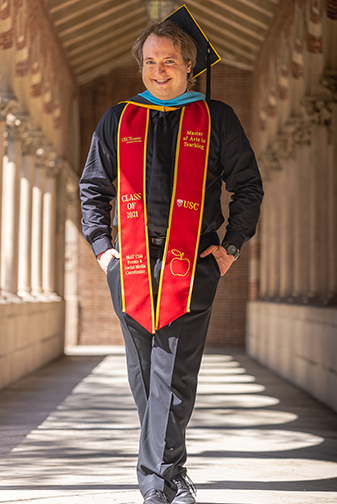 Devin Morrissey '16 recently graduated from the University of Southern California with his Master's Degree in Education in May. In addition to earning his Master's Degree, Devin also writes on and runs an informational Autism blog called "Autistic Super Power" where he shares experiences living as an Autistic adult on the Autism spectrum and promotes acceptance and opportunities for children and adults with Autism.
2018
Attorney Matthew P. Hytrek WLS'18 was hired to Goldberg Segalla's transportation group in Orange County. Hytrek counsels and defends clients in a variety of complex civil litigation matters with a focus on transportation and logistics. He handles all aspects of the litigation process from beginning to end, including mediations, depositions, appeals, and trials. Hytrek draws on a background in estate planning and tax case law, as well as civil litigation defense, including matters involving employment and labor; construction, property, and premises liability; and insurance coverage.
2019
Elizabeth Durr shared that it took 17 years to earn her degree. Elizabeth is proud to be part of the "Class 2002 + 17"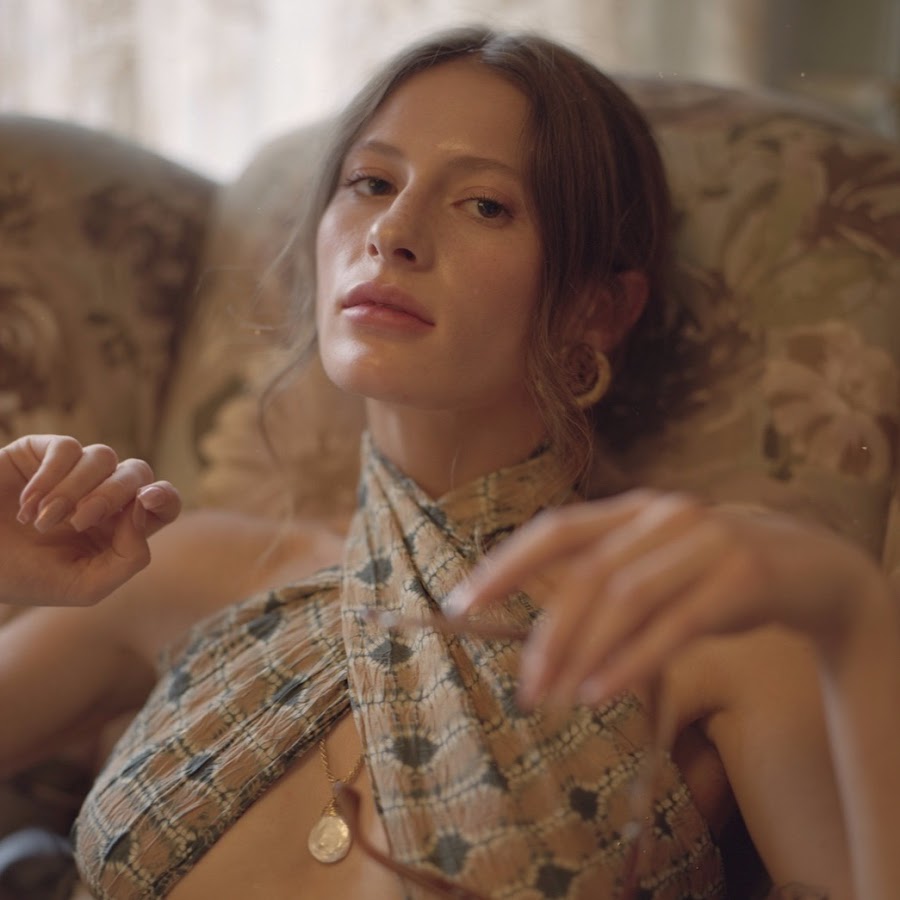 All proceeds from Charlie Marie Lyons' latest music video, Change, will support the construction of a new school for a low-income community in the Democratic Republic of the Congo (DRC). The singer-songwriter's original single and video is inspired by the humanitarian work of NBA Global Ambassador Dikembe Mutombo. For nearly 25 years, Mutombo has worked to improve healthcare, disease prevention, and education in his homeland, the DRC. Mutombo's latest project is the construction of a primary school in a region where over 240,000 children have no access to formal education.
Lyons donated all revenue from her latest single and music video toward the Dikembe Mutombo Foundation's construction of a new school outside Mbuji-Mayi, DRC. Upon opening in October 2021, the Samuel Mutombo Institute of Science and Entrepreneurship welcomed 440 children into its classrooms. 
Detrick Manning is serving as the press secretary for the U.S. House of Representatives Committee on Agriculture in Washington, D.C.
 
2020
Media and Communications major Sarah Brown is the social media manager for Red Canary magazine. Brown currently resides in Boston and is pursuing a master's degree in social media management and communications at Northeastern University. 
In addition, Red Canary featured the work of recent graduate Shannon Aguiar '20, co-written by Angelica Escobar '23, Rising Seas, Increasing Unease & Coastal Erosion. 
2021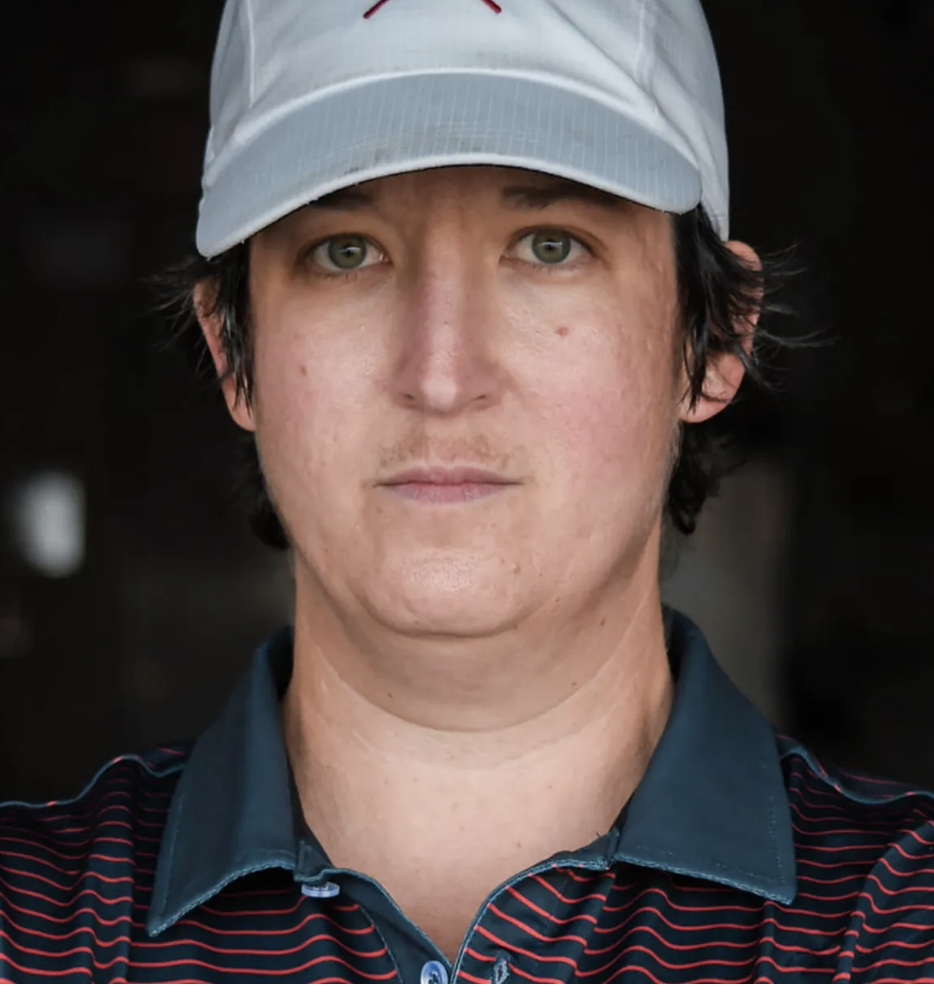 Rower Laura Goodkind participated in the 2020 Summer Paralympics Games in Tokyo which were rescheduled for 2021. This is Laura's second trip to the Paralympics.
Goodkind was one of three Paralympians in Tokyo who identify as gender-neutral. "Having the opportunity to speak about who I am to the world is an honor, and, potentially, a huge undertaking," Goodkind told Outsports magazine. "I will continue to be myself no matter what. And now perhaps others will feel more comfortable, being able to display their congruent whole self at all times."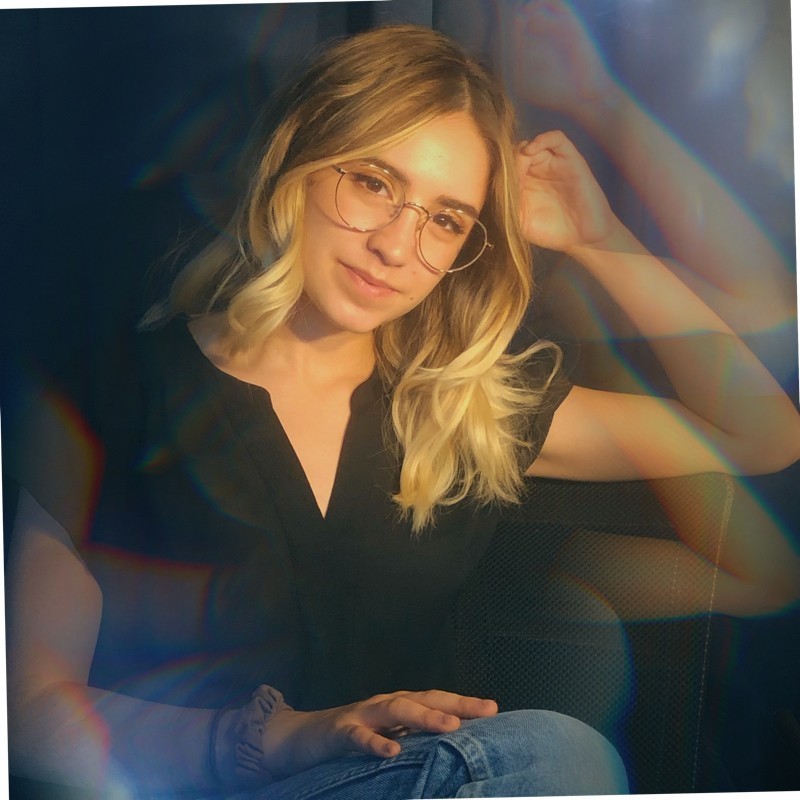 Former Quaker Campus editor-in-chief Tori O'Campo is now serving as an associate editor at the independent publication Red Canary that focuses on such themes as social justice, equity, and the environment. An English major, O'Campo was also the creative director for the College's literary magazine, the Greenleaf Review.