Alum Jeffrey Cleveland Offers Financial Insights
July 28, 2022
Whittier College alumnus Jeffrey C. Cleveland '02, chief economist at Payden and Rygel, spoke with Bloomberg Europe to discuss the significance of Federal Reserve Chair Jerome Powell's recent announcement on the economy.
As was anticipated by market watchers, the Federal Reserve today announced an interest rate hike of three-quarters of a percentage point to help curb inflation that has been the highest in 40 years. Powell also stated that the labor market is strong and that the country is not currently in a recession. Yet, Cleveland cautioned against overconfidence, stating that a recession is still likely. 
"The labor market is always the last to go," said Cleveland during the broadcast. "You can still be adding jobs, even at the cusp of a recession that starts in the next six months or so. So, I wouldn't put all my eggs in the labor market basket." 
"There are also some mixed signals that we are seeing—in the payroll survey, the establishment portion of that looked very good, but the household surveys is more mixed. We've had two of the last three months in negative territory. Also, layoffs have picked up since April and May… I'd be reluctant to dismiss that," 
See the full interview on Bloomberg.com (interview begins @17:20)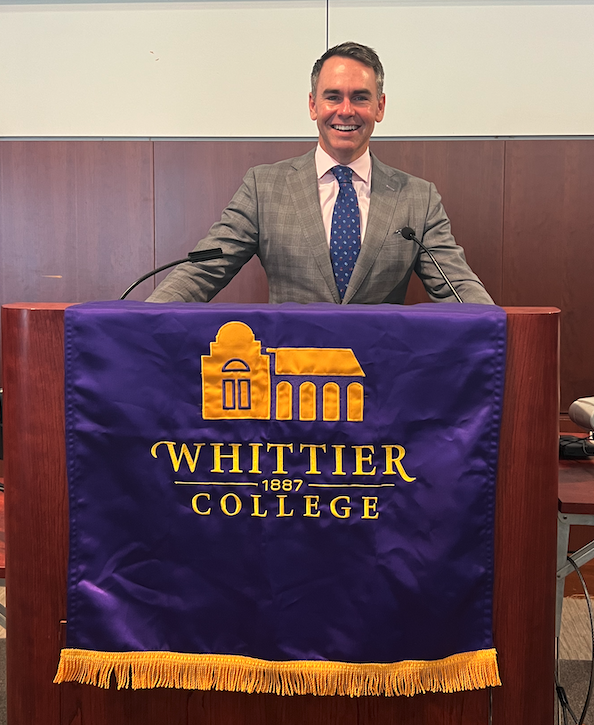 Cleveland was also on the Whittier campus on Tuesday morning speaking to local business leaders, providing expert insights on the current state of the economy. The event was organized by the City of Whittier Chamber of Commerce.  
Cleveland is a principal and the chief economist at Payden & Rygel, a global asset management company with more than $115 billion in assets under management. He is responsible for developing views on the U.S. and global economy. His research areas include macroeconomics, central banks and the money markets, money supply, and credit cycles. Cleveland is a frequent speaker at industry forums and is often quoted in the financial media on topics related to the economy and investing. He has appeared on CNBC, Bloomberg Television, and Fox Business News.
Cleveland earned a master's degree in international political economy with an emphasis in international money and finance from Claremont Graduate University, and a bachelor's degree in economics/global political economy from Whittier College through the Whittier Scholars Program.