Research & Fieldwork
On
23 Apr, 2013
By
Anonymous (not verified)
0 Comments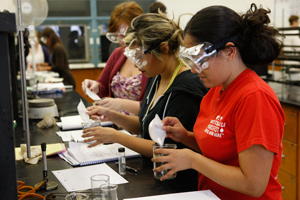 At Whittier College, our student body works in close, active collaboration with professors who are leaders in their fields. Together, this team of learners conducts research projects that push the boundaries of knowledge and inquiry.
For example, select students support faculty members with their professional academic investigations. At other times, it is the faculty which assists the efforts of students in pursuing groundbreaking new research. As a result of these experiences, and with confidence in their own abilities, Whittier students regularly go on to participate in conferences (such as the Southern California Conference on Undergraduate Research) and other academic conclaves across the nation.
Students further interact with faculty members in programs that are part of the College's Centers of Distinction and take place at Garrett and Hartley Faculty Masters' Houses, on-campus residences where professors live for a multi-year term and coordinate and host an array of educational and social activities.
While students at large universities struggle merely to gain face-time with professors, here at Whittier, students interact with the faculty personally and on a daily basis.
---
Academics in Action

IN THE LAB
Chemistry and Biochemistry Majors Take
Full Advantage of Collaborative Research Opportunities
The importance of an undergraduate research experience for chemistry and biochemistry majors at Whittier College is best illustrated by the following quote from Miles Kubota '13.
"Research was an integral part of my education because it helped me improve my lab skills and find out what my future had for me. Lab skills are learned in lab, but are truly developed in research. Research also helped guide me into what I would like to do in graduate school." Read more.