Bach Festival
On
24 Apr, 2013
By
Anonymous (not verified)
0 Comments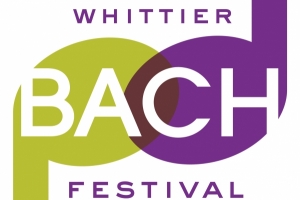 The Department of Music at Whittier College hosts its annual Bach Festival to support its educational mission and to enhance the musical experiences of our students and the Southern California community.
Each spring, we bring a special emphasis to our Bach Festival. Past foci have included women who affected Bach's musical compositions and the influence of his music in Latin America. In 2015 our focus will be "Bach and his Family."
Please join us for a week filled with the music of J.S. Bach. All concerts are presented in Memorial Chapel. ​For more information, please call 562.907.4237.
---
78th Annual Whittier College Bach Festival
Bach Musicale
Friday, March 27, 2015
​Noon @ Memorial Chapel
Event is free and open to the public.
Student and faculty performances of music by Bach and his contemporaries.
Chamber Music Concert
Friday, March 27, 2015
8 p.m. @ Memorial Chapel
$20 general admission. $15 for seniors. $5 for students.
Free to Whittier students, faculty, and staff.
Horizon Chamber Players &  Soloists
​The Horizon Chamber Players conducted by Christian Campos perform chamber music by Johann Christian Bach and Georg Philipp Telemann and others. Soloists will include David J. Muller, bassoon and Danilo Lozano, flute.
Choral Concert – Chorale Bel Canto "Music of the Bach Family"
Saturday, March 28, 2015
4 p.m. and 7 p.m. @ First Friends Church
$25 general admission. $10 for seniors. $10 students, $5 student rush at the door.
For tickets to this concert only, 888-460-9222 or www.choralebelcanto.org
Chorale Bel Canto and Orchestra
Stephen Gothold, Conductor 
 
Lecture / Masterclass  TBA
Sunday, March 28, TBA
Bach Festival Concert TBA
Sunday, March 29, 2015
8 p.m., Location TBA
$10 general admission. $5 for seniors and students.
Free to Whittier students, faculty, and staff.