Bach Festival
On
24 Apr, 2013
By
Anonymous (not verified)
0 Comments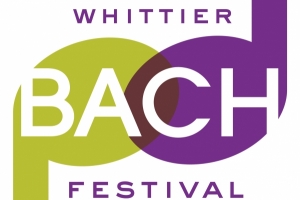 The Department of Music at Whittier College hosts its annual Bach Festival to support its educational mission and to enhance the musical experiences of our students and the Southern California community.
Each spring, we bring a special emphasis to our Bach Festival. Past foci have included women who affected Bach's musical compositions and the influence of his music in Latin America. In 2015 our focus will be "The Bach Family."
Please join us for a week filled with the music of J.S. Bach. All concerts are presented in Memorial Chapel. ​For more information, please call 562.907.4237.
---
78th Annual Whittier College Bach Festival
Bach Musicale
Friday, March 27, 2015
​Noon @ Memorial Chapel
Event is free and open to the public.
Student and faculty performances of music by Bach and his contemporaries.
Chamber Music Concert
Friday, March 27, 2015
8 p.m. at Memorial Chapel
$20 general admission. $15 for seniors. $5 for students.
Free to Whittier students, faculty, and staff.
Horizon Chamber Players &  Soloists, Christian Campos, Musical Director
Soloists: David Muller, bassoon, David Castillo, baritone, Danilo Lozano,  flute        
Johann Christian Bach, Bassoon Concerto in E-flat (C82288/4)
Johann Sebastian Bach, "Schlummert ein, ihr matten Augen" from Ich habe genug (BWV 82)
Georg Philipp Telemann, Suite in a minor for flute*, strings, and continuo  (TWV 55:a2)                                                   
Choral Concert – Chorale Bel Canto "Music of the Bach Family"
Saturday, March 28, 2015
4 p.m. at First Friends Church, 13205 Philadelphia Street
$25 general admission. $10 for seniors. $10 students, $5 student rush at the door.
For tickets to this concert only, 888-460-9222 or www.choralebelcanto.org
Chorale Bel Canto and Chamber Ensemble
Stephen Gothold, Director
Heinrich Bach (1615-1692) Ich danke dir, Gott
Johann Bach (1604-1673), Sei nun wieder zufrieden
Johann Christoph Bach (1642-1703) Es Erhub sich ein Streit
Johann Sebastian Bach (1685-1750) Motet: Lobet Den Herrn and Motet: Singet dem Herrn
Lecture - Raymond Erickson '63 - "The Musical Bach Family"
Saturday, March 27, 7 p.m., Arnold Hall, Free admission
Bach Festival Concert - Trio á Due Flauti
Saturday, March 28, 2015
8 p.m., Memorial Chapel
$10 general admission. $5 for seniors and students.
Free to Whittier students, faculty, and staff.
Patricia Lawson, Asuncion Ojeda, Baroque flutes, Don Simons, harpsichord
Pietro Locatelli (1695-1764), Sonata Prima, from VI Sonate a 3 (1736)
Wilhelm Friedemann Bach (1710-1784), Trio No. 2 in D Major, BR B14
Carl Philipp Emmanuel Bach (1714-1788) Triosonate in e minor, H.577
Georg Muffat (1653-1704), Passacaglia in g minor, from Apparatus musico-organisticus (1690)
Johann Sebastian Bach (1685-1750), Triosonate für zwei Floten and Continuo, G-dur, BWV 1039