Wellness Coalition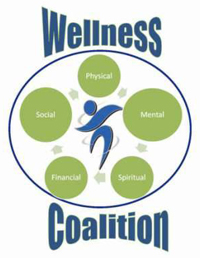 The Wellness Coalition, comprised of faculty, staff, and students, was founded to increase the emphasis on wellness awareness and education on the Whittier College campus.
This supportive environment is met through a variety of programs, events, and services, such as the Walk to Wellness semester competitions and "Next InSTALLment" wellness letter.
Faculty, staff, and student participation in the Coalition is encouraged and welcomed! Download an application below, or for more information, contact Paul Carbajal at pcarbajal@whittier.edu or 562.907.4239.
Faculty/Staff Application
Student Application
Walk to Wellness
March 3rd-12th
​Walk as a team (Faculty/Staff) or an individual (Students) for better health and prizes!  Pick up your pedometer @ our Kick-Off  Event (Monday, March 3rd, Mendenhall Lobby @ 9-10am) or at the Counseling Center during regular business hours (M-F, 8am-5pm).  Click here to sign up today (Staff/Faculty OR Students). Keep walking!
FREE Vision Screening
Tuesday, March 4th, 9:00-11:45AM
​Club 88
Open to ALL faculty, staff, and students
Have your vision tested this month to make sure your eyes are in perfect shape for school! Optometric interns from Western University will test for near and farsighted vision, proper movement of the eye muscles, eye tracking, focusing, and refraction. Refreshments will be served.
FREE Karate Class
Every Sunday, 12-2pm
Dance Room of the GAC
Students, Staff, & Faculty welcome!
​Contact: mjensen@whittier.edu
Wellness Coalition Monthly Meeting
Thursday, March 13th, 2014, 3:00 - 4:00 p.m.
Ball LLC
Cancer Awareness Tabling Event
Tuesday, March 25, 2014, 11 a.m. - 1 p.m.
Tables in front of CI