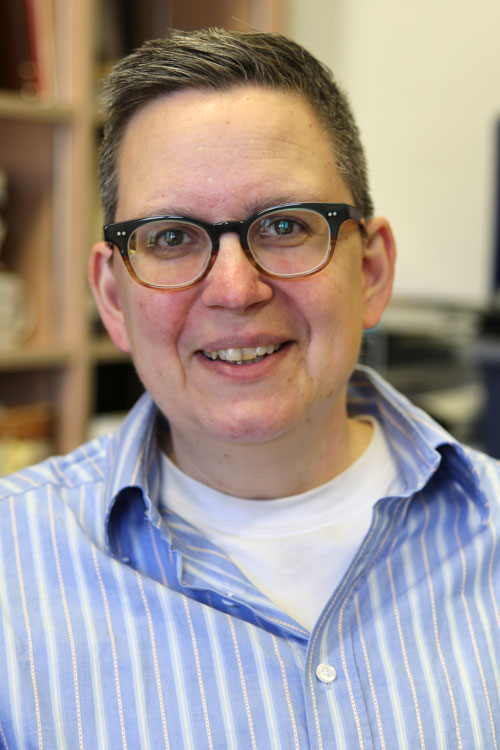 Professor
Department of Anthropology
562.907.4200, ext.4341
akakalio@whittier.edu
Website
Academic History
B.A., Hamline University
Ph.D., University of North Carolina
Academic Focus
History of Science, Cultural studies of physical anthropology, Native American repatriation, NAGPRA (Native American Graves Protection and Repatriation Act), Bioarchaeology, Human osteology
Bio
Professor Ann Kakaliouras teaches courses in biological anthropology, archaeology, Indigenous Studies, Gender Studies, Science and Technology Studies, and theory in anthropology. Since obtaining her doctorate, Kakaliouras has retooled her expertise toward the historical and ethnographic study of the phenomenon of repatriation and the history of relationships between Native American Tribes and Nations and physical/biological anthropologists.
Likewise, Kakaliouras has corollary interests in contemporary and historical science studies and material culture studies within anthropology. Her most recent publications address the ways in which the physical anthropological subdiscipline of bioarchaeology has responded to the demands and legislative successes of the repatriation movement. Her current research investigates how the "Indian" (Native American) was constructed in physical/biological anthropology in the 20th century.
Professional Activity
Memberships and Service
American Anthropological Association
Ethics Committee, American Association of Biological Anthropologists
Recent Publications
2021 "The Ancestors Should Go Home: Bioanthropology, Collaboration, and Repatriation in the 21st Century." In Working With and for Ancestors: Collaboration in the Care and Study of Human Remains, edited by Chelsea H. Meloche, Laure Spake, and Katherine L. Nichols. New York: Routledge.
2019 "The Repatriation of the Palaeoamericans: Kennewick Man/The Ancient One and the End of a non-Indian ancient North America." BJHS (British Journal for the History of Science): Themes 4: 79-98
2018 "NAGPRA and Repatriation in the 21st Century: Shifting the Discourse from Benefits to Responsibilities. Bioarchaeology International 1 (3-4): 183-190.
2017 "Theory for a Bioarchaeology of Community: Potentials, Practices, and Pitfalls." In The Bioarchaeology of Community, edited by Sara Becker and Sara Juengst, special issue of the Archaeological Papers of the American Anthropological Association 28: 13-23.