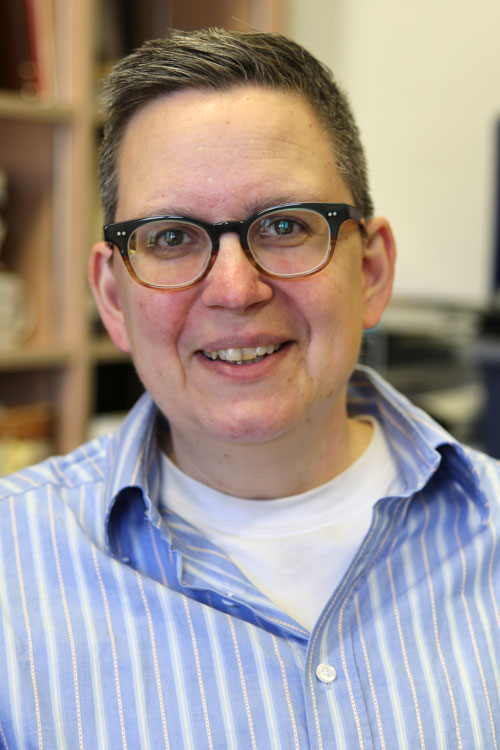 Associate Professor
Department of Anthropology
562.907.4200, ext.4341
akakalio@whittier.edu
Academic History
B.A., Hamline University
Ph.D., University of North Carolina
Academic Focus
History of Science, Cultural studies of physical anthropology, Native American repatriation, NAGPRA (Native American Graves Protection and Repatriation Act), Bioarchaeology, Human osteology
Bio
After having received her Ph.D. from the University of North Carolina at Chapel Hill in 2003, Associate Professor Ann Kakaliouras served as an Assistant Professor of Anthropology at Appalachian State University, in Boone, North Carolina until 2006. At Whittier College, she teaches courses in biological anthropology, archaeology, Native American studies, gender studies, Science and Technology Studies, and theory in anthropology. Although she is trained as a human osteologist, bioarchaeologist, and biodistance researcher with specializations in the American Southeast and Midwest, since obtaining her doctorate Kakaliouras has also been retooling her expertise toward the historical and ethnographic study of the phenomenon of repatriation and the history of relationships between Native American people and physical/biological anthropologists.
Likewise, Kakaliouras has corollary interests in contemporary and historical science studies and material culture studies within anthropology. Her most recent publications address the ways in which the physical anthropological subdiscipline of bioarchaeology has responded to the demands and legislative successes of the repatriation movement. Her current research investigates how the "Indian" (Native American) was constructed in physical/biological anthropology in the 20th century.
Professional Activity
Memberships and Service
Manuscript reviewer for the American Anthropologist, American Journal of Physical Anthropology, International Journal of Osteoarchaeology, Transforming Anthropology, School for Advanced Research Press, University of New Mexico Press, and The University Press of Florida.
American Anthropological Association (Biological Anthropology Section, Feminist Anthropology Section, SOLGA)
Zeta Chapter of Phi Beta Kappa (Hamline University)
Recent Publications
(Forthcoming, under contract) People in Pieces: The Making of Anthropology's American Indian. University of Minnesota Press.
2018 (accepted) "NAGPRA and Repatriation in the 21st Century: Shifting the Discourse from Benefits to Responsibilities. Invited commentary for Bioarchaeology International (issue 2).
2017 "Theory for a Bioarchaeology of Community: Potentials, Practices, and Pitfalls." In The Bioarchaeology of Community, edited by Sara Becker and Sara Juengst, special issue of the Archaeological Papers of the American Anthropological Association 28: 13-23.
2014 "Archiving Anthropos: Tracking the Ethics of Collections across History and Anthropology" (with Joanna Radin) and "When Remains are "Lost": Thoughts on Collections, Repatriation, and Research in American Physical Anthropology," Curator: The Museum Journal 57:2, pp. 147-151 and 213-223 (special issue co-editor).
2013 Book review: The Skull Collectors: Race, Science, and America's Unburied Dead, Ann Fabian, Chicago: Chicago University Press, 2010, in American Anthropologist Vol 115, Number 4, pp. 689-690.
2012 "An Anthropology of Repatriation: Contemporary Physical Anthropological and Native American Ontologies of Practice," Current Anthropology Vol 53, Number S5, pp. S210-S221.
2010 "Race is…Only as Race does: Essentialism and Ethnicity in (Bio)archaeology and Skeletal Biology, Dongoske, K. and Zimmerman, L. (eds.) Invited contribution for SAA (Society for American Archaeology) Archaeological Record issue on "Race and Racialism in American Archaeology."