Terry Riley with Gyan Riley: Live at 85!
Location:
Ruth B. Shannon Center For The Performing Arts
Event Description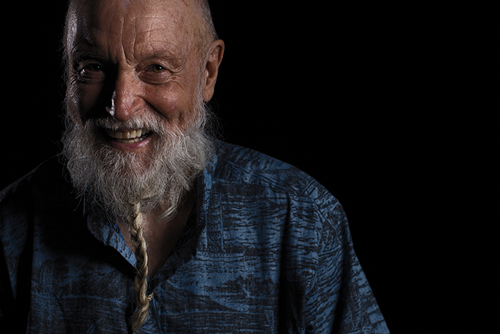 A Special Evening at the Shannon Center with Terry Riley (piano/synthesizer/melodica, voice) featuring Gyan Riley (electric guitar).
In 1964, California composer, Terry Riley, launched what came to be known as the Minimalist movement, with his revolutionary classic "In C". This ground-breaking work provided a fresh concept in musical form based on interlocking repetitive patterns "In C" has changed the course of 20th Century music. The composition's influence is heard in the work of prominent modern composers, including Steve Reich, Philip Glass and John Adams, and in the Rock music of The Who, The Soft Machine, Tangerine Dream, and Curved Air. Terry Riley's hypnotic, multilevel, poly-metric, brightly orchestrated, eastern-flavored improvisations and compositions, have set the stage for today's prevailing interest in a new tonality!
Terry Riley speaks to his profound appreciation of performing with his son, guitarist Gyan Riley, saying, "Nothing I have done in this life has given me more satisfaction than improvising on these songs with Gyan. Nothing I have done can match the intuitive synchronicity we have shared, many times, on the stage. Gyan supplies a brilliant counterpoint to the strands and moods of these pieces, always surprising me with a virtuosity which serves and energizes his musical invention. I could not have dreamed up a better marriage of mind and spirit than this collaboration."
In addition to his solo piano concerts,  Mr. Riley performs  extensively with his son, classical guitarist Gyan Riley and also appears in duo with saxophone virtuoso, George Brooks.  Over his career, he has worked with Zakir Hussein, Chet Baker, Krishna Bhatt, John Zorn, Leonard Slatkin and the Kronos Quartet.
Gyan Riley won his first guitar in a raffle when he was 12 years old. Shortly after learning all of the songs in his cassette collection by ear, he became the first full-scholarship graduate guitar student at the San Francisco Conservatory.  Gyan's diverse work now focuses on his own compositions, improvisation, and contemporary classical repertoire. Gyan has been commissioned by the Kronos Quartet, New Music USA, the Carnegie Hall Corporation, the American Composers Forum, and the New York Guitar Festival. He has performed with Zakir Hussain, Lou Reed, John Zorn, the Kronos Quartet, Lee Ranaldo (of Sonic Youth), Iva Bittova, Julian Lage, the Bang-On-A-Can All-Stars, Bryce Dessner, Nico Muhly, Secret Chiefs 3, the San Francisco Symphony, the Philadelphia Chamber Orchestra, and his father, the composer/pianist/vocalist Terry Riley.  Various tours have taken him throughout Europe, Canada, Latin America, Asia, and the US, both as a soloist and in various ensembles. Gyan resides in New York City and frequently performs with the duo Proboscis, the trio Eviyan, the electric guitar quartet Dither, guitarist Julian Lage, and his father Terry Riley. Terry and Gyan recently scored a new film by writer/director François Girard (The Red Violin) entitled Hochelaga, Terre des Âmes, premiering at the 2017 Toronto Film Festival.  Gyan has four solo CD titles and many ensemble/collaborative recordings, most recently working with the Tzadik Records label in New York.
 
For tickets, contact the Ruth B. Shannon Center For The Performing Arts.