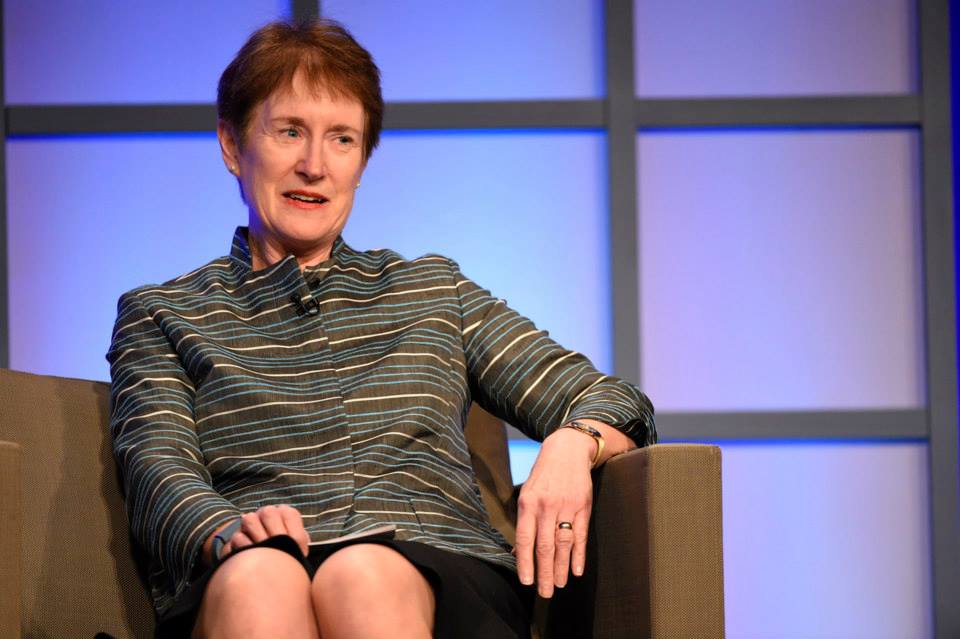 Fulfilling her duties as chair of the NCAA Division III Presidents Council, President Herzberger attended the NCAA Convention in Washington D.C. this week where she represented the Division's more than 170,000 student-athletes and 444 institutions. Joining her counterparts from Divisions I and II and NCAA President Mark Emmert onstage during the convention's opening business session, President Herzberger highlighted the benefits of intercollegiate play and the importance of maintaining sustainability in Division III.   
"We're very proud of the fact that our Division III student athletes not only graduate and have academic success rates above the non-athletes," said President Herzberger during the panel session, "but we still have improvements to make." She went on to outline the challenges currently facing Division III programs and the difficult decisions that Division III schools will face as the cost of competitive play increases.
Asked where she'd like to see the NCAA in 2025, President Herzberger said she hoped Division III schools will keep the value of sports participation in mind when facing difficult budgetary decisions. "My hope is that we'll find ways to continue to have varied and full sports programs on our campuses and that we'll be able to reduce the cost of intercollegiate athletics but not reduce teams," she said.
The convention's opening business session ended with an inspiring video featuring one athlete from each NCAA division. Representing Division III and Whittier College was Travis Driskell '12, a former football player who embodies the student-athlete experience. Driskell is currently working at the Aerospace Corporation, the company he interned with during his time at Whittier.  He is also attending UCLA working towards his Masters in electrical engineering.
"Playing sports at Whittier really helped instill discipline and helped me manage my time to keep me on the right track to complete my goals," said Drsikell. "It's also helped me work with my co-workers as a team rather than individually to achieve a common goal."
The NCAA convention continues through January 18.