January 17, 2017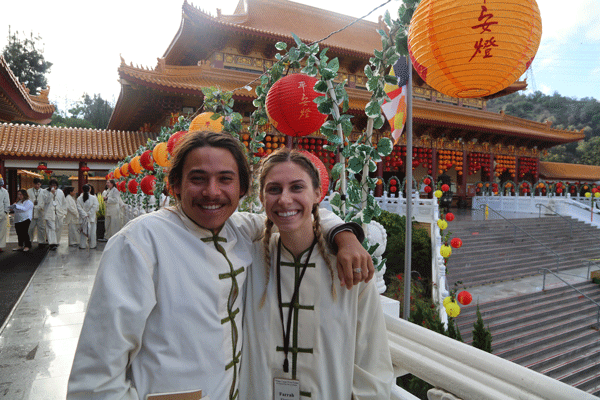 Students take a literal step outside of their comfort zone by taking the Jan Term course Simplicity taught by Professor of Philosophy Paul Kjellberg.
The course teaches students simplicity, mindfulness, and meditation and participants have the opportunity to live in a Buddhist temple for one week with no connection to the outside world, including being free of cell phones, tablets, electronics, and other devices that can be distracting. 
In addition to the trip to the Buddhist temple, students read works by Henry David Thoreau, Mahatma Gandhi, and John Woolman. By learning from such authors, they are able to reflect on their lives and the impact their environment has on them. The goal is for them to take what they have learned and apply it to their own lives.
The retreat at the Hsi Lai Temple in Hacienda Heights happens during the second week of the course. All participants wear the same ivory robes and take part in daily tasks with the monastics, including mediation. They also spend an entire day in complete silence.
"It's been a struggle for me to be away from my life, but it's definitely been a positive experience," said Jenna Gilb '20. "It has made me see that I can be more independent and I learned a lot about myself."
Kjellberg has taught the course since 2008. He hopes students learn to identify worthwhile things to pass on to a younger generation and the value of wanting less.
"[The course] taught me a lot about patience and I'm used to a fast-paced environment," said Joshua Thomas '17. "I've learned to take in what's going on now and to live in the moment."