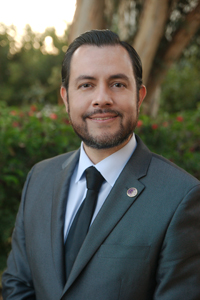 Steve Delgado has been appointed vice president for advancement for Whittier College. Prior to his appointment, Delgado served as director of development and alumni programs at the College. In this new role, Delgado will oversee development, communications, and alumni relations. In addition, he will help identify and implement signature programs to bring new audiences to Whittier, spread the College's reputation for excellence throughout the world, and generate important new revenue.
Since arriving at Whittier College in 2010, Delgado has led a team of professionals whose efforts have led to all-time highs in the number of yearly leadership donors as well as the Whittier Fund and has been instrumental in driving forward the successful campaign for the renovation of the College's Science and Learning Center.  He has worked closely with many faculty members on transformative initiatives, always striving for successful outcomes for students and improvements to the education Whittier College can provide. 
"Steve's work to build an engaged Poet nation of alumni, parents and friends through innovative events around the country has built a stronger community willing to serve this College as donors, volunteers or mentors," said President Herzberger.
A Los Angeles native, Delgado spent eight years in magazine publishing, rising to president and group publisher with Portico Publishing, Ltd., based in Charlottesville, Virginia. He earned his MBA at the Darden School of Business at the University of Virginia and is a graduate of the Wharton School at the University of Pennsylvania where he earned his B.S. in Economics.
Delgado and his wife reside in Whittier with their two young daughters who are students at Broadoaks School.