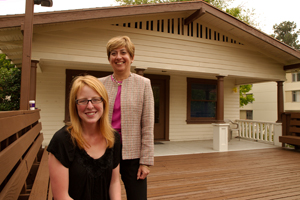 Whittier College's Center for Engagement with Communities (CEC) has been awarded a $423,524 grant from the BCM Foundation to assist Professor of Political Science and CEC Director Joyce Kaufman with the continuing work of the Center to engage with neighboring communities and provide much needed service learning resources through after-school, peer mentor, cultural outreach, and fellowship programs for the CEC.
In particular, the grant will fund after school programs run by Whittier College students such as Fifth Dimension. This after school program takes place at local Boys & Girls Clubs and provides computer-based learning, homework help, and reading programs to local youth ages 6 to 12.
Other programs such as peer mentor programs in local high schools are a primordial part of the Center's mission. Since 2009, and thanks in part to BCM's generous funding, Whittier College students have mentored more than 100 Southern California high school students through CEC programs and inspired them to go to college and reach higher.
BCM funds will also provide special grants and stipends for Whittier College faculty who integrate community-based learning into their classes as well as a fellowship program for the Center.
"Whittier College faculty in the areas of chemistry, child development, kinesiology and nutrition, education, and history are participating in CEC community engagement initiatives with their classes and research and are even publishing their work in peer-reviewed journals," said Kaufman. "We look forward to encourage more faculty members to think about how to turn community engagement into the scholarship of engagement which is good for them, the College, but especially their community."