June 29, 2016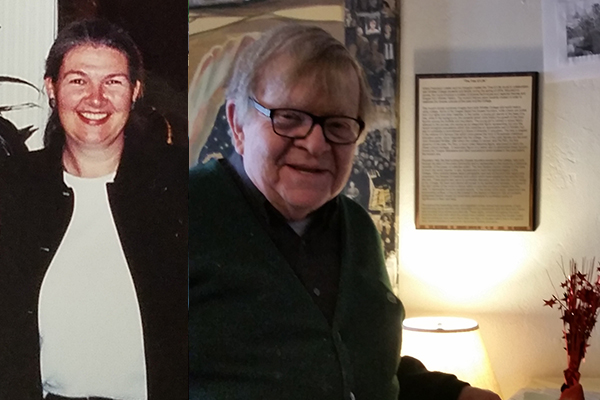 Two Whittier College professors — John Neu, associate professor of political science and business administration, and Ria O'Foghludha, associate professor of art history — are retiring after years of dedicated instruction and service to their students.
Neu came to Whittier College in 1971 with impressive academic and legal credentials, including a master's degree from Harvard University, a Juris Doctor degree from Creighton University School of Law, and a Ph.D. from the University of Nebraska. He also speaks at least three languages and has traveled to almost two-dozen countries, including six in West Africa where he conducted research.
With this experience and knowledge, Neu served the College community for 41 years, specializing in courses related to law and African politics. His courses, from constitutional law to judicial process, sparked thousands of students' interest in the legal field. In fact, Neu has a "cabinet of letters" from former students — a testimony to both his decades of success and his devotion to teaching.
Neu's dedication to students reached far beyond the classroom. He served as a longtime advisor for the Orthogonian Society. Likewise, he has been active in the gay rights movement, working closely with Whittier's TOBGLAD Club (Transgender, Other Identified, Bisexual, Gay, Lesbian, and Allies for Diversity). He continues to write a book on how the law relates to LGBT issues.
In 2012, the Whittier College Alumni Association named Neu an honorary alumnus.
O'Foghludha is also retiring this month after 23 years with the College — and more than 10 trips overseas with its students.
She earned her Master of Arts degree at Duke University and her Ph.D. at Columbia University. Upon arriving at Whittier College in 1993, O'Foghludha taught art history, from the artwork of ancient Greece and Rome, to the High Renaissance, to Colonial Latin America. She possessed a particular knowledge of Augustan Rome and Roman Egypt, and with a solid grounding in ancient, medieval, and modern Ireland, as well. O'Foghludha applied that knowledge and passion for art history outside of the classroom, too: She took hundreds of students on January-term trips in Italy and Ireland.
As associate director of the Whittier Scholars Program since 2001, as well as acting director in both 2007-08 and 2014-15, she also helped lead highly motivated students as they created their own majors, minors, or courses of study.
"The Whittier Scholars Program will wholeheartedly miss Ria's steadfast commitment to interdisciplinarity and her expertise at guiding students to take charge of their own educational paths and educations," said Doreen O'Connor-Gomez, director of the Whittier Scholars Program.
O'Foghludha also sponsored several dozen senior projects, chaired multiple committees, and exceptionally led both the Rhodes and Marshall scholarships. During her tenure, the College had one Rhodes winner, two Rhodes regional finalists, seven Rhodes state finalists, and a Marshall national finalists.