August 5, 2015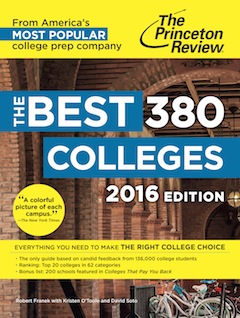 The Princeton Review has named Whittier College one of the nation's best institutions for undergraduate education. The College is featured in the education services company's new 2016 edition of its annual college guide, "The Best 380 Colleges" which was published this week.
About 15% of the country's 2,500 four-year colleges are profiled in the book, which is The Princeton Review's flagship college guide. It includes detailed profiles of the colleges with rating scores for all schools in eight categories based on The Princeton Review's surveys of 136,000 students attending 380 top colleges.
In the College's profile, The Princeton Review raves about Whittier's academics and emphasis in interdisciplinary studies According to the guide, "there's a proud emphasis placed on the interconnectedness of all of the liberal arts disciplines."
Students are challenged to learn things relevant to their field and encouraged to take courses in seemingly unrelated fields and then make connections to see how they actually all relate. In being allowed "to pursue their educations in a comfortable and friendly environment," students enjoy how the school allows for a "strengthening of student integrity" by providing a tight-knit community.
The Princeton Review has published these rankings since 1992 in its annual Best Colleges guide and its methodology uses a five-point Likert scale to convert qualitative student assessments into quantitative data for school-to-school comparisons. 
The Princeton Review 
Founded in 1981, The Princeton Review (www.PrincetonReview.com) is a privately held education services company headquartered in Framingham, MA. The Company has long been a leader in helping students achieve their education and career goals through its test preparation services, tutoring and admissions resources, online courses, and more than 150 print and digital books published by Random House, Inc. The Princeton Review delivers its programs via a network of more than 5,000 teachers and tutors in the U.S.A., Canada, and international franchises. The Company also partners with schools and guidance counselors worldwide to provide students with college readiness, test preparation and career planning services. 
Whittier College

Founded by Quakers in 1887, Whittier College is an independent, four-year college offering a traditional liberal arts program integrated with both professional and pre-professional courses of study. With an emphasis on diversity, community, and curricular innovation, the College's primary mission is to endow students with the education, skills, and values appropriate for global leadership and service. Whittier College is a designated Hispanic-Serving Institution (HSI).